Updated at 9:25 p.m. ET: A driver who said he was 101 years old jumped a curb and crashed into a group of pedestrians Wednesday afternoon outside a south Los Angeles elementary school, injuring 11 people, mostly children, officials said.
The accident occurred about 2:30 p.m. just after Main Street Elementary School let out for the day, NBCLosAngeles.com reported.
"I was backing out of the parking lot (of a grocery store) to go home and lost control," Preston Carter, the driver of the powder blue 1990 Cadillac, said.
See more about this story at NBCLosAngeles.com
"It was not on purpose, because I love everybody," Carter told NBCLosAngeles.com. "I put God first."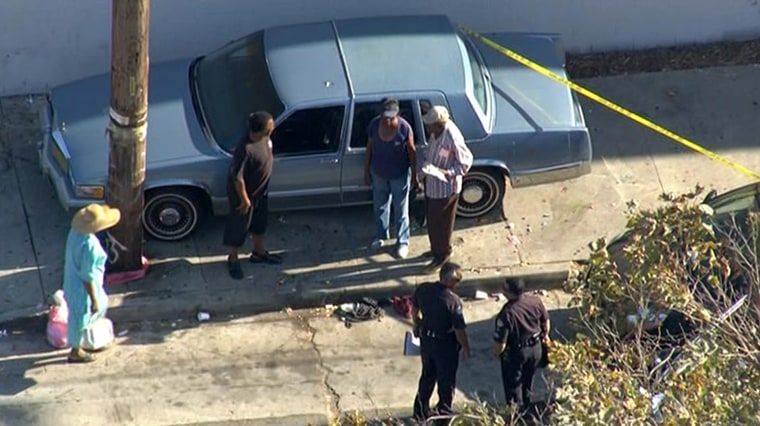 His daughter, Rose Jenkins, told the station that she had wanted Carter to stop driving for the past year.
"I think this is a wakeup call for him and I don't think he will be driving any more," Jenkins said.
After saying he was 101, Carter gave his birthdate as Sept. 5, 1911, making him only 100.
Watch US News videos on NBCNews.com
Carter has a current driver's license valid until 2013, the Los Angeles Times reported. He was required to wear corrective lenses while operating a vehicle but had a clean driving record, according to the DMV, the Times said.
Aerial footage provided by the station showed a child in a pink t-shirt being loaded into an ambulance as firefighters and police officers interviewed witnesses at the scene.
Stay informed with the latest headlines; sign up for our newsletter
Los Angeles County USC Medical Center said six accident victims, including five children and one adult, were brought there. The adult was discharged, four children were stable and one child was in critical condition. 
Related stories:
The Associated Press contributed to this report.
More content from NBCNews.com: