A suspected bank robber was dead Tuesday after a 45-minute chase that ended when police pinned his fleeing SUV against a barrier in Tempe, Ariz., and opened fire on the driver, authorities said.
Police told NBC News that the driver was pronounced dead at the scene.
The chase began after a bank was robbed in a Phoenix suburb and a suspect shot at police, authorities said. Two other "people of interest" in the bank robbery were in custody, and no suspects were at large, police said.
Video of the chase showed two unmarked vehicles forcing the SUV to spin to the right as it made a right turn and a third vehicle then pinning it against a fence — a tactic known as a "precision immobilization technique," or PIT.
An officer from the first vehicle approached and opened fire into the front seat of the SUV as local television stations broadcast the encounter live.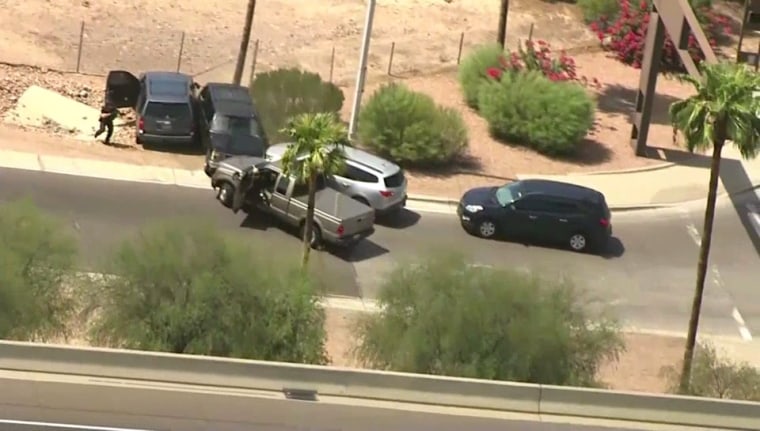 "We know that he intended to escape at all costs and put anybody in danger," Phoenix police Sgt. Jonathan Howard told reporters, adding that the driver was on his phone during the pursuit and was likely getting updates from live news coverage.
"He already shot at police officers. He's endangered the public for half an hour now as he's driven throughout the city recklessly," Howard said. "It's important to stop him before someone else gets hurt."
Avondale police told NBC News that the chase began about 11:49 a.m. (2:49 p.m. ET) with the robbery of Credit Union West in the Phoenix suburb of Avondale. The suspects fled in a black SUV, opening fire when police tried to pull them over.
Two people were captured, but the third took off on Interstate 10 toward Phoenix as police Avondale and then Phoenix police gave chase.
No one was injured at the bank scene, Avondale police Officer Ray Emmett said. The pursuit continued through Phoenix until it ended with the deadly shooting in Tempe.
The FBI was on the scene of the bank robbery in Avondale, authorities said.