A man who crashed his truck spent five days trapped in a 100-foot ravine in Southern California last week until a passerby noticed the wreck, heard screams for help and saw the man being ejected from the truck, the passerby said.
The Kern County Fire Department responded Saturday morning to Comanche Point Road, outside Bakersfield, after a caller reported an injured man was at the bottom of a 100-foot cliff. The man "had been immobilized at the bottom of the ravine since Tuesday, August 29th," it said.
His "badly damaged" pickup truck was also at the bottom of the ravine, the fire department said.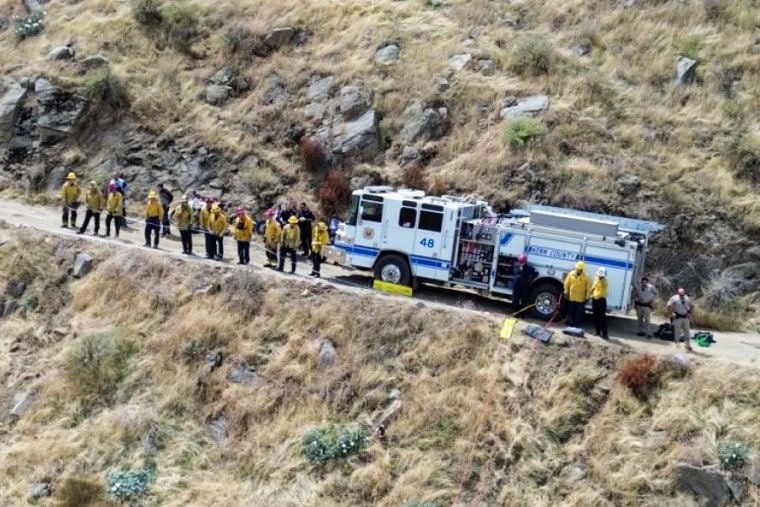 The fire department put together a "rope rescue system" to lower four firefighters into the ravine. Firefighters secured the man into a basket before they carefully raised him to safety.
He was flown to a nearby hospital, the fire department said.
Cory Sizelove, 50, and his friend were on a morning ride on their motorcycles when they saw the truck at the bottom of the ravine.
"I turned off my motorcycle and took my helmet off. Then I could hear him yelling for help down there," Sizelove said. "But I still couldn't see where he was at, because he wasn't inside the truck, because he had been ejected during the accident."
The Kern Fire Department did not immediately reply to a request to confirm whether the driver was ejected.
The cyclists eventually spotted the man about 30 or 40 feet away from the totaled vehicle, Sizelove said Thursday in an interview with "NBC Nightly News with Lester Holt." Sizelove went down into the embankment on his bike while his friend called 911.
He said it was a miracle he and his friend were able to come across the man.
"I was shocked and really surprised and amazed that someone had lived through that, because ... I was just praying that I didn't find someone that was passed away," Sizelove said, "because it's just pretty far down there."
The first thing the man asked for was water, Sizelove said. After that, he asked to call his wife.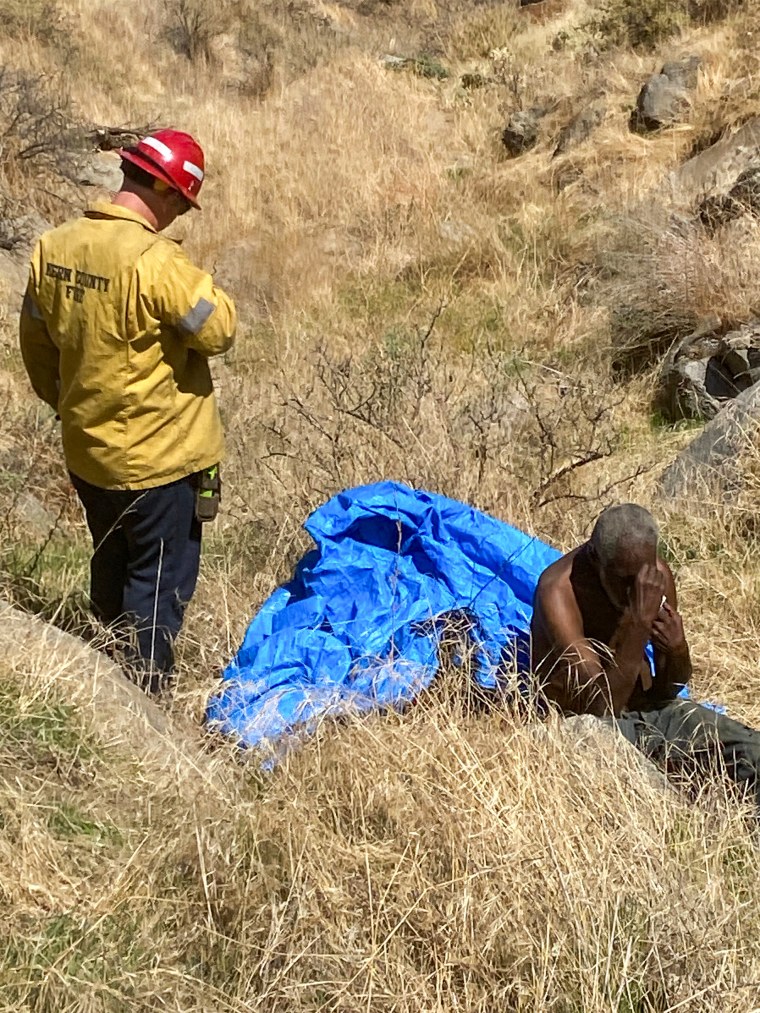 Sizelove said he did his best not to move the man and to keep him shaded from the sun while they waited for help. The man did not appear to have any bleeding, but whe as complaining of back pain, he said.
"He was able to sit there and hold his head in his hands and support his head a little bit," Sizelove said. "And that was the best he could do to just kind of stay immobile."
The driver, Calvin Smith, identified himself in an interview with KTLA-TV on Wednesday and said his truck went down an embankment.
He told the station he suffered a broken back and ribs and was unable to move before help arrived.
"I kept asking God, saying, 'Please don't let me die out here," Smith told KTLA. "It was ice cold at night and burning hot during the daytime."
Smith did not immediately respond to NBC News' requests for comment Thursday.