The Wisconsin man who struck a Girl Scout troop while they were picking up trash on the side of a road, killing three children and a parent and injuring a fourth girl, admitted that he was inhaling chemical vapors before the crash, police said Monday.
Colten Treu, 21, is being held at the Chippewa County Jail on four counts of homicide by negligent use of a motor vehicle, five counts of hit and run and four counts of homicide while intoxicated, Lake Hallie Police Chief Cal D. Smokowicz said.
Treu made his first court appeared Monday via video and had his bond set at $250,000. His next court appearance is scheduled for Tuesday. Prosecutors said Treu was involved in a similar incident in September when his vehicle rolled over while he was under the influence of drugs.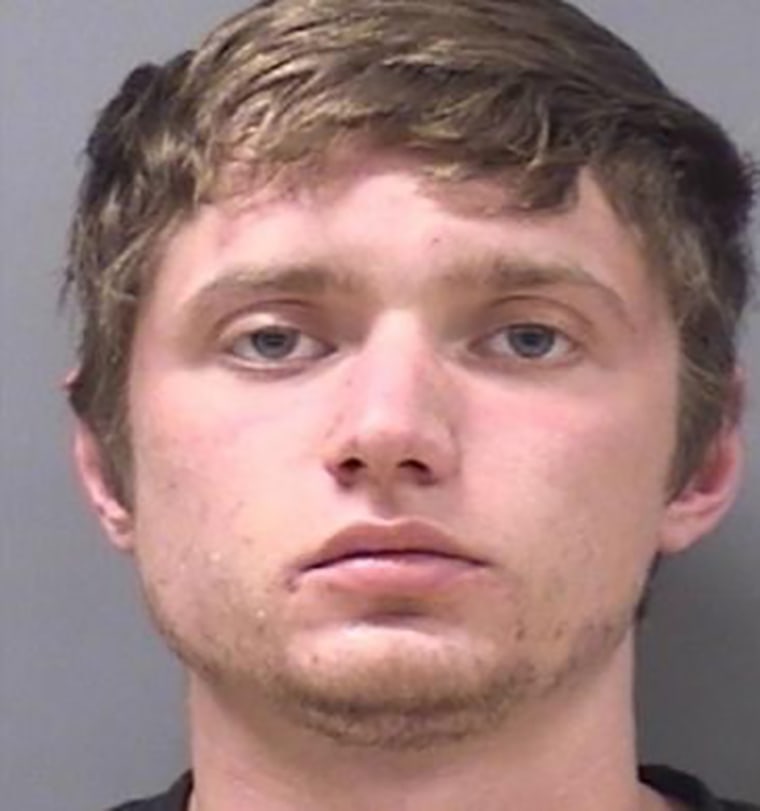 Treu was arrested Saturday afternoon after police said he ran into the Girl Scouts around 11:40 a.m. while they were doing community service on County Highway P in Lake Hallie, a village in Chippewa County northeast of Eau Claire.
Seven children and five adults, all wearing green safety vests, were in a ditch on the side of the road picking up trash, police said.
The three Girl Scouts killed were identified by police as Jayna Kelley, 9; Autumn Helgeson, 10; and Haylee Hickle, 10. The parent killed was Haylee's mother, Sara Jo Schneider, 32.
A fourth girl was injured and taken to the hospital in critical condition. Police said Monday that she is now in stable condition. The Lake Hallie Police Department said the girls were members of Troop 3055 in Chippewa Falls.
Brent Michael Kelley, Jayna's uncle, told NBC News that she loved being a Girl Scout and serving her community. Jayna's mother was the troop leader and her older sister, Terra, was also a Girl Scout, he said.
Jayna "was smart and funny and creative," he said in an email. "She loved everything about the Girl Scouts - going to Girl Scout camp and working on her merit badges. She recently got her swimming badge, and she was so proud."
"Anybody who knew Jayna knew she was sweet and bright and caring. I know one of Jayna's favorite things was getting to go with her mom and dad and sister to see the Packers play at Lambeau field."
Treu's black Ford F-150 pickup truck was traveling north when it crossed over a lane into the ditch and hit the group, police said. Treu fled the scene after the crash, but later surrendered, police said.
Treu and a passenger said they were intentionally inhaling chemical vapors, known as "huffing," before the accident, the Lake Hallie Police Department said.
The three girls killed in the accident attended Halmstad Elementary School and Southview Elementary School in Chippewa Falls, school officials said in a statement Sunday.
Girl Scouts of the USA CEO Sylvia Acevedo said the organization was heartbroken over the deaths.
"We ask for privacy for the council, and for the families who are mourning the tragic loss of loved ones today. The Girl Scout movement everywhere stands with our sister Girl Scouts in Wisconsin to grieve and comfort one another in the wake of this terrible tragedy," she said in a statement.