A drone carrying drugs, blades and other contraband crashed into an Oklahoma prison yard on Monday, according to the Oklahoma Department of Corrections.
Staff at the Oklahoma State Penitentiary in McAlester noticed the drone on prison grounds at around 9 a.m., according to a statement from the Oklahoma DOC. The drone had apparently hit a razor wire, which caused it to crash.
A package attached to the drone with fishing line contained two 12-inch hacksaw blades, 5.3 ounces of marijuana, .8 ounces of methamphetamine and less than a gram of heroin, according to the state.
The package was also carrying a cellphone, cellphone battery and hands-free device; two packs each of Newport cigarettes and Black & Mild cigars; and two tubes of Super Glue.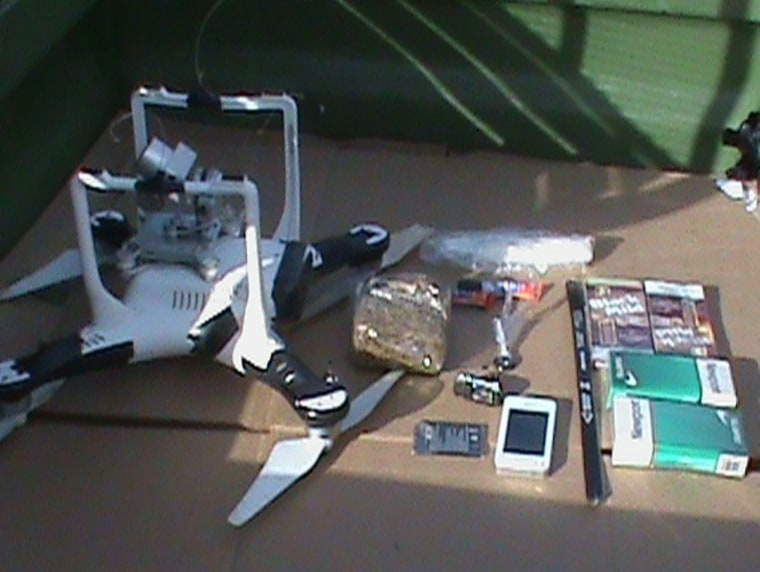 The drone was turned over to the state's Office of the Inspector General, which is investigating who sent the drone and for whom it was intended, said DOC spokesman Alex Gerszewski.
Nearly 800 male inmates are housed at Oklahoma State Penitentiary, Gerszewski told NBC News. More than 80 percent of the inmates housed at the maximum security prison have been charged with violent crimes, according to the facility.
"I applaud and commend the quick action and diligence on the part of the staff who noticed the UAV that entered the prison grounds," said DOC director Robert Patton. "We must maintain vigilance and stay one step ahead of the game in terms of the technology being used in and around facilities."
The DOC is aware of similar drone incidents in other states and has directed prison staff and personnel to watch out for similar future attempts, Patton said.
In early August, a drone dropped drugs into an Ohio prison yard, sparking a fight among the inmates. Later that month, two people were arrested for allegedly planning to fly a drone with drugs and pornography into a Maryland prison.