As drought-stressed forests burn across much of the South — including a blaze scorching a Manhattan-size area of north Georgia — some traditional outdoor activities are now banned.
Starting campfires, lighting fireworks, smoking cigarettes, even parking a car off-road are prohibited, for fear that dry leaves could ignite.
Adam Rondeau, a spokesman for the U.S. Forest Service, has said the agency is tracking wildfires that have burned a total of 80,000 acres across the South.
The Tennessee Valley Authority issued a burn ban Tuesday on its public lands across Tennessee and in parts of Alabama, Georgia, Kentucky, Mississippi, North Carolina and Virginia. The authority said its ban applies to anything that might produce an open flame.
Tennessee Gov. Bill Haslam, meanwhile, banned outdoor burning in more than half of Tennessee's counties through Dec. 15.
Related: Authorities Suspect Arson as Wildfires Spread Across the South
Meanwhile, two men were arrested Monday on charges related to setting separate fires along roadsides in Tennessee. Of the 1,238 wildfires in the state so far this year, officials suspect arson in almost half of them.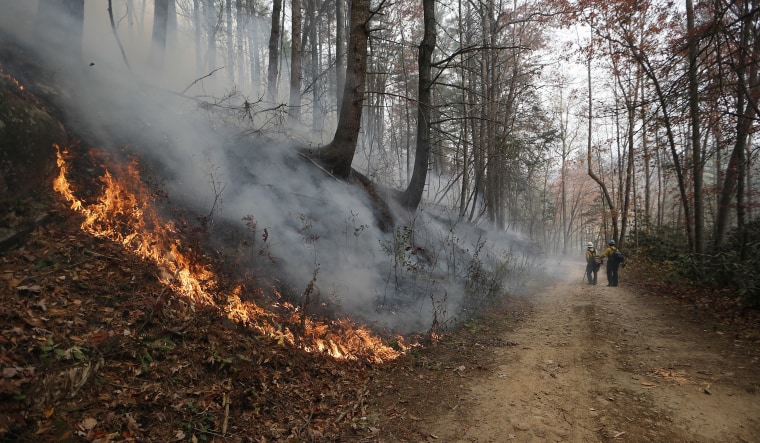 In Alabama, Fire Marshal Scott Pilgreen said state officers are investigating two of nearly 1,100 statewide wildfires as possible arson-related incidents. No arrests have been made, but officers have issued misdemeanor citations for violations of the statewide no-burn order.
Georgia Gov. Nathan Deal has banned the ignition of all fireworks in much of the state because of the wildfire risk. Fire officials said the largest active wildfire in the South has now burned more than 19,000 acres in the North Georgia mountains — an area larger than Manhattan.
The fires in North Carolina cover more than excess of 40,000 acres. Federal and state forestry officials said Tuesday that cloudy conditions allowed firefighters to make progress on containment.