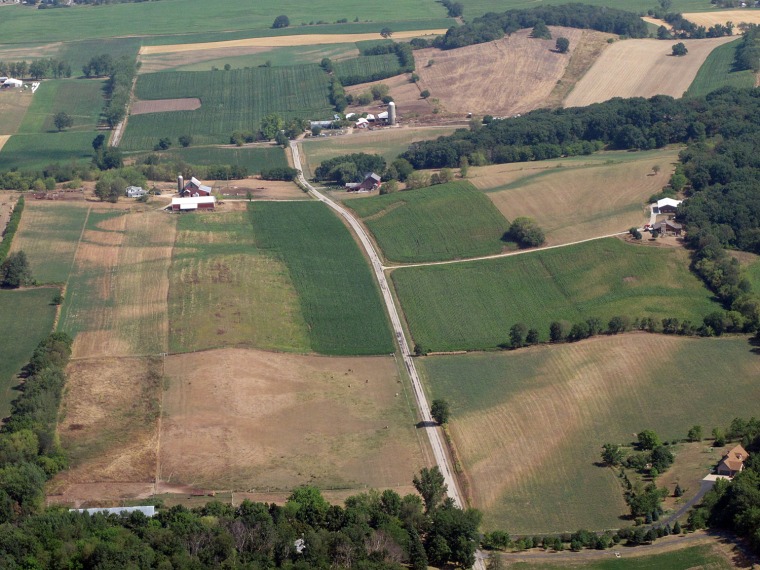 WEST ALLIS, Wisc. – Farmer Scott Bayer normally looks forward to the Wisconsin State fair, spending all year, preparing his prize beef cattle. But this year's preparations have been a lot harder for him than normal.
Bayer's cows are losing weight since they are not eating as much as usual. And he is getting a lot less sleep because he has been forced to do most of his work at night: all due to the searing heat wave which has blanketed his farm in Central Wisconsin.  
"It takes a lot more work to make sure cows are cool and relaxed, to make sure they put on weight. The drought has been very difficult on us producers, our stress levels are definitely higher," Bayer said.
But it was not all doom and gloom at the 161-year-old state fair. Despite the record heat, attendance at the 11-day fair reached record highs, and some farmers found help – from others farmers.  
'Farmer to farmer support'
"There is a real feeling of let's get together, let's be a team, let's be a partner, let's make this work and get through this tough time," Wisconsin State fair CEO Rick Frenette told NBC News.
"The fair has brought rural and urban people together. It's allowed rural people to get together as one big family and talk about what's going on with the drought. And it lets our urban guests know what's going on with this drought and how hard it is for our people in Wisconsin right now to put food on the table," added Frenette.
Farmers in the southern half of Wisconsin have been hardest hit, with many losing their crops to the historic drought. Some have been looking at reducing livestock numbers due to a lack of feed, but farmers in northern and central parts of the state are all chipping in to help. 
In central Wisconsin, potatoes, sweet corn, beans and peas are grown with the help of irrigation, harvested in July and early August, and then the fields normally sit idle until a new crop of vegetables is planted in the fall. But this year, farmers from that part of the state are planting an extra crop of grass to be used as feed by their drought-affected neighbors.
"That's farmer to farmer support," Wisconsin's Secretary of Agriculture Ben Brancel told NBC News. "In mid-July I would say the farmers were very depressed. They had put all their effort into planting their crops, only to see them start, and then wither and not produce anything."
But with recent rainfalls easing up the situation a bit, spirits are lifting a bit, too. "Farmers are very resilient and there is a lot of optimism they will make it through this challenging year," said Brancel.   
The state government has also opened up conservation land for the growing of feed. Brancel has also urged farmers to consider alternatives for getting feed – since negative cattle sales have a ripple effect. It can mean there are fewer cows to produce milk for Wisconsin's cheese companies and a reduced need for equipment and supplies from other businesses.
In addition Wisconsin's Gov. Scott Walker and the University of Wisconsin-Extension program have collaborated to create a "Farmer to Farmer Network" to help connect farmers online who are in need of feed because of the drought, with others who have it.
Since most show vegetables and plants are grown specifically for the fair, and prize fair animals receive special feed and care, the drought had little impact on the size and quality of this year's exhibits, according to Kristin Chuckel, the state fair's media relations manager. Although, one sign of the drought might be that no state record ribbons were awarded this year.  
More coverage of the drought: 
Drought sends Mississippi into 'uncharted territory' 
'Best year ever' for some farmers outside drought region   
Forced to sell cattle during drought, dairy farmers 'just keep praying' for rain
Drought expected to take toll at checkout
Americans tell their story of #Drought2012 
In drought-stricken Wisconsin, farmers helping farmers  
Emergency well drilling brings relief to farmers stricken by drought
Have you been affected by the worst drought in more than 50 years? Share your photos with us on Instagram, Tumblr or Twitter with the tag #Drought2012. You can also upload your photos in the box below.