A withering drought that has turned California rivers and reservoirs to dust now threatens to devastate the agriculture business in the country's top farming state.
President Barack Obama on Friday pledged millions of dollars in federal assistance to the state during a visit to Fresno, the biggest city in the state's once-lush San Joaquin Valley.
"The truth of the matter is that this is going to be a very challenging situation this year, and frankly, the trend lines are such where it's going to be a challenging situation for some time to come," Obama said Friday during a meeting with local leaders in Firebaugh, Calif., a rural enclave not far from Fresno.
Obama promised to make $100 million in livestock-disaster aid available within 60 days to help the state rebound from what the White House's top science and technology adviser has called the worst dry spell in 500 years.
For the farmers in a state that produces a third of the country's fruits and vegetables, the help couldn't come soon enough.
"It's really a crisis situation," Kenneth McDonald, city manager in drought-ravaged Firebaugh in Fresno County told NBC News. "And it's going to get worse in time if this drought doesn't alleviate."
The historic drought — which Gov. Jerry Brown has called an "unprecedented" emergency — has imperiled the region's $44.7 billion agriculture business. It could cost the state $2.8 billion in job income and $11 billion in annual state revenue, according to data from the California Farm Water Coalition, an industry advocacy group.
In the state's Central Valley — where nearly 40 percent of all jobs are tied to agriculture production and related processing — the pain has already trickled down. Businesses across a wide swath of the region have shuttered, casting countless workers adrift in a downturn that calls to mind the Dust Bowl of the 1930s.
"A lot of people don't realize the amount of money that's been lost, the amount of jobs lost. And we can't recapture that," Joel Allen, the owner of the Joel Allen Ranch in Firebaugh, told NBC News.
"It's horrible," Allen added. "People are standing in food lines and people are coming by my office every day looking for work."
Allen — whose family has been in farming for three generations — and his 20-man crew are out of work.
He said: "We're to the point where we're scratching our head. What are we gonna do next?"
At the local grocery store, fruit prices are up — but sales are down. The market was forced to lay off three employees — and many more throughout the town are packing their bags and leaving town.
McDonald said farming communities like Firebaugh run the risk of becoming desolate ghost towns as local governments and businesses collapse.
"It's going to be a slow, painful process — but it could happen," McDonald said. "It's not going to be one big tsunami where you're gonna having something get wiped out in one big wave. It's gonna be a slow, painful, agonizing death."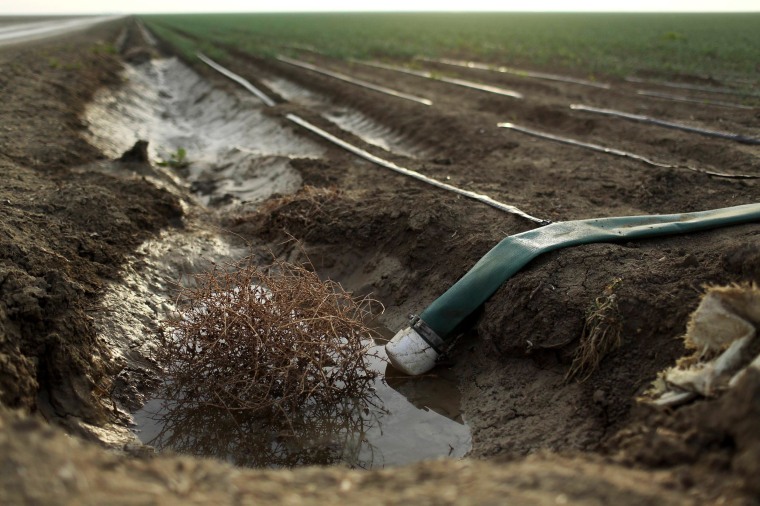 Federal agencies are scrambling to intervene. The White House has said that the millions of federal aid — which was contained in a $956 billion farm bill that Congress passed and Obama signed last week — is a crucial step.
Agriculture Secretary Tom Vilsack told reporters in a preview of the announcement that Obama will offer "a message of hope and a message that the federal government will do all it can to try to alleviate some of the stress connected with this drought."
The problem is not just in California. Federal agriculture officials in January designated parts of 11 states as disaster areas, citing the economic strain that the lack of rain is putting on farmers. Those states are Arkansas, California, Colorado, Hawaii, Idaho, Kansas, New Mexico, Nevada, Oklahoma, Texas and Utah.
Obama on Friday announced $15 million in assistance to help farmers and ranchers institute water conservation practices — a sum that includes $5 million for California and $10 million for parched areas across the Southwest.
He also said that, among other measures, he has called on federal facilities in California to immediately curb water use — including a moratorium on new landscaping projects that are not deemed essential, according to Reuters.
Reuters and The Associated Press contributed to this report.