The pharmaceutical company boss under fire for increasing the price of the drug Daraprim by more than 5,000 percent said Tuesday he will lower the cost of the life-saving medication.
Martin Shkreli did not say what the new price would be, but expected a determination to be made over the next few weeks.
He told NBC News that the decision to lower the price was a reaction to outrage over the increase in the price of the drug from $13.50 to $750 per pill.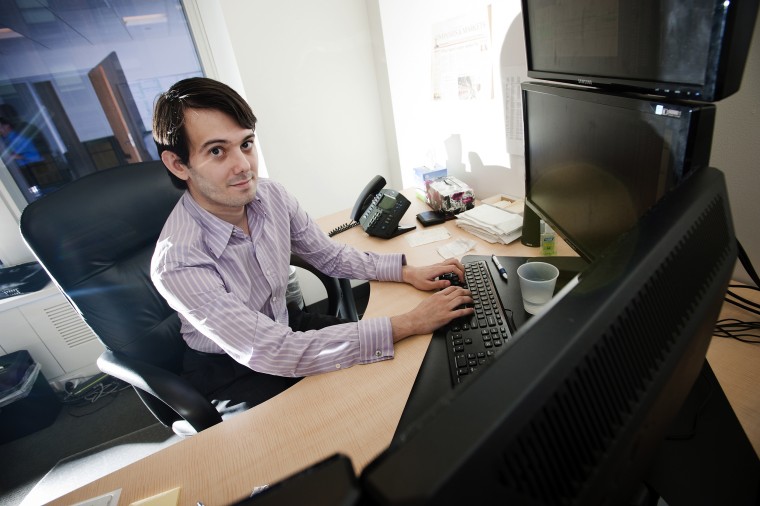 "Yes it is absolutely a reaction — there were mistakes made with respect to helping people understand why we took this action, I think that it makes sense to lower the price in response to the anger that was felt by people," Shkreli, 32, said.
Turing Pharmaceuticals of New York bought the drug from Impax Laboratories in August for $55 million and raised the price. Shkreli said Tuesday the price would be lowered to allow the company to break even or make a smaller profit.
RELATED: Drug That Fights Potentially Deadly Infection Goes From $13.50 to $750
Daraprim fights toxoplasmosis. The infection is particularly dangerous for people who have weakened immune systems, like AIDS patients, as well as for pregnant women, according to the Centers for Disease Control and Prevention.
The New York Times first reported the price increase on Sunday.
Shkreli, the founder and CEO of Turing, had said the money from the increase would be used to develop better treatment for toxoplasmosis that have fewer side effects. He told NBC News Tuesday that drugs like Daraprim will not exist if small companies cannot get a return on their investment.
"It's very easy to see a large drug price increase and say 'Gosh, those people must be gouging.' But when you find out that the company is not really making any money, what does that mean?" Shkreli said in a phone interview with NBC News Tuesday. "It's very hard stuff to understand."
The Infectious Diseases Society of America and the HIV Medicine Association objected to the price increase, saying "this cost is unjustifiable for the medically vulnerable patient population in need of this medication."
Democratic presidential candidate Hillary Clinton was among those who expressed outrage over the price increase. On Tuesday she outlined a plan she said would limit how much patients have to pay out of pocket for medications each month.
RELATED: Hillary Clinton Blasts Daraprim Price Increase, Vows Plan
"I think in the society we live in today it's easy to want to villainize people, and obviously we're in an election cycle where this is very, very tough topic for people and it's very sensitive. And I understand the outrage," Shkreli said.
Shkreli said on Twitter Tuesday afternoon that he planned to "set the record straight on misconceptions and announce some adjustments to our plan." He planned to make his Twitter account private after that.
Shkreli acknowledged that the cost to produce the drug is low — but he said that doesn't take into account "the quality control, the regulatory costs, and all of the other things that come with having a drug company."
"We'll know in several weeks how profitable the drug is, if it at all," Shkreli said in the NBC News interview. "It may turn out that's it not even profitable at all, even at this price."