Secure checkpoints along the American-Mexican border have become an increasingly popular entrance for drug smugglers entering the United States, a fact that could undermine President Donald Trump's argument for a border wall.
Customs agents at the San Ysidro Port of Entry, the busiest land border crossing in the world, check 50,000 vehicles and 20,000 pedestrians on an average day — and they do it 24 hours a day, seven days a week. Located just south of San Diego and a few miles north of Tijuana, there are countless attempts to bring drugs across the border: some successful, some not.
"We're looking at everyone. We're looking at illegal narcotics, heroin, methamphetamine, cocaine, fentanyl, all entering the borders," said Sidney Aki, Customs and Border Protection Director of the San Ysidro Port of Entry.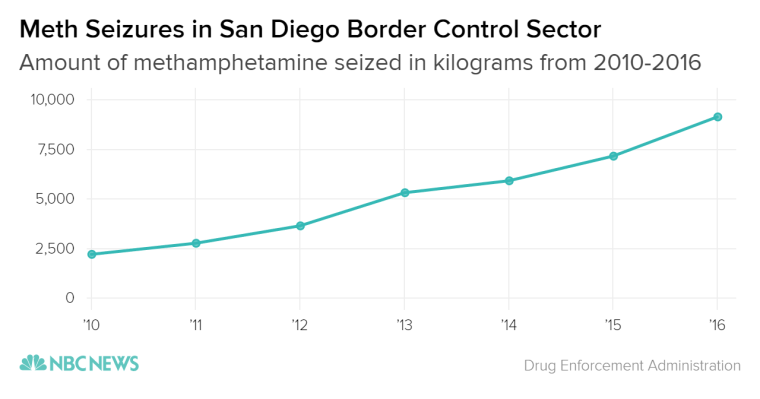 Border agents have seen drug seizures swell, and heroin and methamphetamine have become increasingly commonplace. The amount of heroin nabbed by agents has quadrupled since 2010 and meth seizures have tripled.
Smugglers hide the drugs wherever they can: often tucked deep inside the cars they're driving across the border.
Related: Here's What You Need to Know About the new DHS Illegal Immigration Crackdown
"For us hard narcotics are trending, particular heroin and methamphetamine — the packages are getting a little bit smaller for us," said Pete Flores, CBP Director of Field Operations, San Diego Sector. "The number of them have increased obviously because the packaging is smaller and in order to put them in deeper concealment in the vehicles."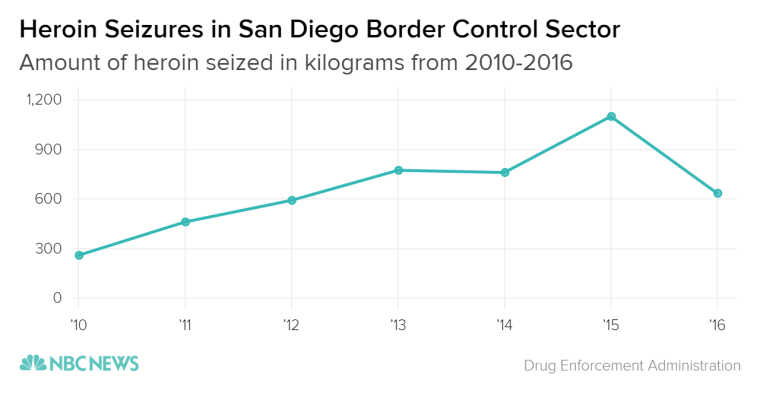 San Diego County — where the popular entry point is located — is unique as it has as many as three border fences along some sections. The first fence was put up in the 1950s, the second was built as part of 1994's Operation Gatekeeper and the third was constructed under 2006's Secure Fence Act.
Smugglers aren't intimidated by the three hurdles in San Diego County or the nearly 700 miles of barriers currently built along the border. Instead, they target the numerous legal entry points to pass into the U.S.
Trump made building a wall along the American border with Mexico a cornerstone of his campaign. It was part of his June 2015 presidential announcement speech, and his promise continued throughout the election season alongside his supporters' chants of "Build that wall."
Related: As Tensions Over Immigration Rise, Paul Ryan Visits Border
The then-candidate reasoned that it would support drug enforcement policies.
"We're going to build a wall and it's going to be a great wall," Trump said at a campaign stop in Dayton, Ohio, mere days before the election. "And Mexico is going to pay for the wall; we're going to stop those drugs from pouring in and poisoning our youth."
He continued to push that message after taking office.
"We have to build the wall," Trump said in an interview with ABC only five days after he took the oath of office. "We have to stop drugs from pouring in."
The president signed an executive order on the same day as the ABC interview. Named "Border Security and Immigration Enforcement Improvements," the federal action authorized "the immediate construction of a physical wall on the southern border, monitored and supported by adequate personnel so as to prevent illegal immigration, drug and human trafficking, and acts of terrorism."
It remains to be seen whether a longer border wall to cover the nearly 2,000-mile boundary that divides the U.S. from Mexico will stem the flow of drugs or if smugglers will continue to take advantage of the dedicated entry points.
At San Ysidro alone, border agents aren't surprised if they grab as many as six or seven loads of drugs during an average day.
"On a yearly basis, we're going to deal with 75 million travelers, coming across the border," Director Flores said. "Drug smugglers feel there are opportunities to mix in with the general population, who are vastly compliant with what the laws are."