Drugs were discovered in the cabin where two former Navy SEALs' bodies were found Tuesday on the Maersk Alabama Vessel — a ship made famous by a pirate attack dramatized in the movie "Captain Phillips" — a spokesman for the ship's company said Thursday.
Security contractors, Mark Daniel Kennedy, 43, and Jeffrey Keith Reynolds, 44, were found dead by an officer while the ship was moored in the Seychelles, a cluster of islands in the Indian Ocean, Seychelles Police said in a statement.
U.S. Navy spokeswoman Lt. Cmdr. Sarah M. Flaherty confirmed to NBC News that Kennedy and Reynolds had served in the SEALs, an elite special operations force. The men worked for a security firm called The Trident Group.
Maersk Line Ltd. spokesman Kevin Speers said a report by the Seychelles Police noted investigators discovered drugs and paraphernalia in the room where the men were found dead, but didn't specify what kind.
Police spokesman Jean Toussaint also said Thursday that autopsies were underway, but "As far as I know there is no evidence of physical trauma."
Trident Group spokesman Tom Rothrauff said the company won't confirm the "brown substance" the police found was drugs. "We're waiting on the autopsies to tell us what's going on," Rothrauff said, adding that the autopsies are scheduled for Monday.
The Maersk Alabama is a Virginia-based container ship that delivers to the east coast of Africa and uses security contractors to thwart piracy. The ship was famously commandeered by pirates in 2009. Capt. Richard Phillips was taken hostage before being rescued by SEALs.
The Maersk Alabama departed from Seychelles after the on-board investigation, Speers said. The U.S. Coast Guard is investigating the incident, according to the U.S. State Department.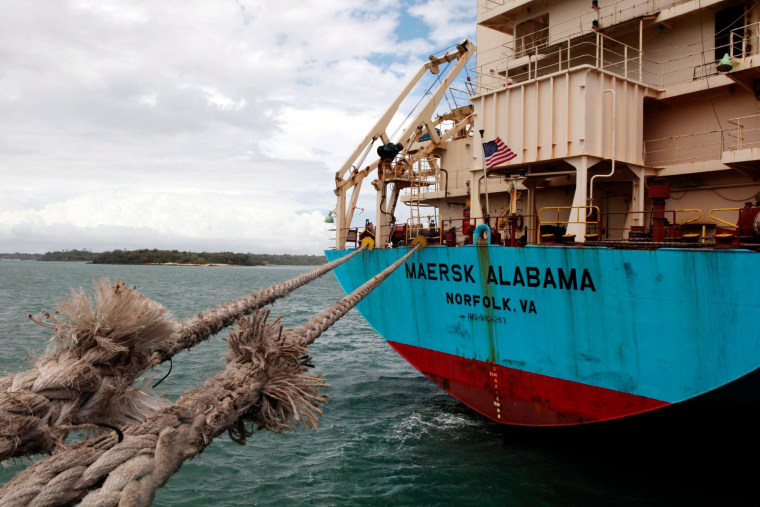 — Elisha Fieldstadt
The Associated Press Contributed to this report.