For cities plagued with rat infestations, there is another weapon to help in the fight to freeze the vermin out: dry ice.
With New York City inundated by thousands of complaints each year about the furry critters, the Environmental Protection Agency recently approved New York state's access to this solid form of carbon dioxide — typically used to preserve food — as a way to suffocate them inside their holes.
Rat Ice, a product by Bell Laboratories, was added last month to the official pesticides list in New York state, making it legal to use on the burrowing rodents, said EPA spokeswoman Tayler Covington.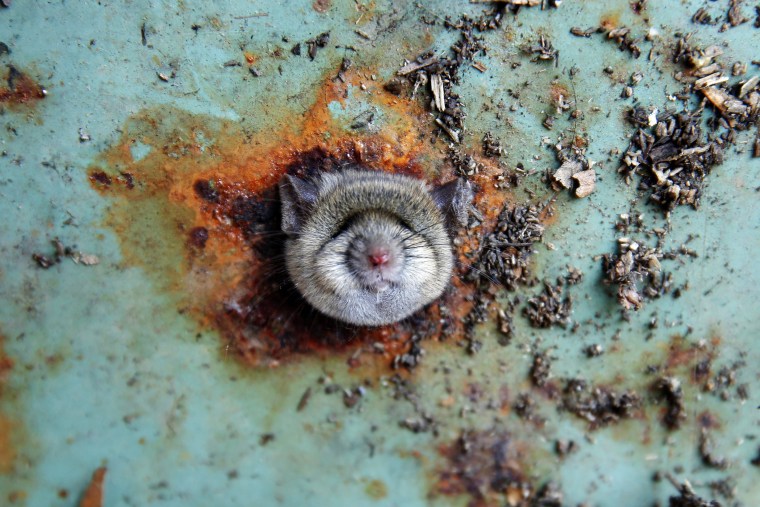 She told NBC News that dry ice can serve as "another tool in efforts to control these pests."
New York is one of a handful of large cities, including Boston and Chicago, that have tested dry ice in the past year.
The ice is shoved into a rat burrow and turns into carbon dioxide when it melts. The fumes then choke the animals and they are left to decompose, NBC Chicago reported.
Jim Fredericks, a senior entomologist at the National Pest Management Association, said his organization hopes the product will make it easier to control rats and mice.
"We've been in touch with multiple researchers who have been working on and with dry ice for rat control and the results have been great," he said.
Related: Rats Depress People More Than Crime Does, Study Finds
Fredericks explained that the technique is especially helpful in urban settings, where rats build nests underground in public parks. The availability of food debris and garbage left in those places compete with traditional baits that attract rodents, he added, making dry ice a more effective solution.
The state approval comes ahead of New York City Mayor Bill de Blasio's announcement Wednesday that he wants to spend $32 million to severely decrease the rat population using a variety of methods, including high-tech trash cans, NBC New York reported.
De Blasio is aiming to reduce the rat population by up to 70 percent in certain neighborhoods with the biggest broods. The rats in the city have long been notorious, but social media has made stars out of the ones that can schlep pizza slices or dinner rolls.
Last year, New Yorkers reported more than 17,200 rat sightings to the 311 hotline, according to The New York Times. So far this year, more than 10,000 complaints have been logged.
While dry ice is now permitted throughout New York state, the process is not widely approved and the substance is not on official lists of rodenticides for other states — forcing Boston and Chicago to discontinue its use.
Residents in Chicago, however, thought the method was effective after the city launched a pilot program last August. After it ended, however, rat complaints were up by 30 percent, NBC Chicago reported in May.
Both Boston and Chicago have pushed to get permission for their programs to be reinstated.
Boston's Inspectional Services Commissioner Buddy Christopher said the pesticide has its advantages.
"It's cheaper than poison — less likely a child or animal will ingest this," he told NBC Boston in December.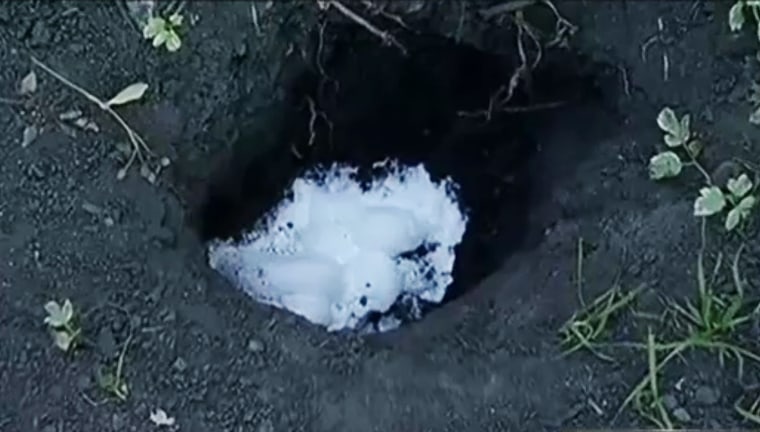 Covington said pesticide products must be properly labeled with instructions and precautions that explain how they're being applied.
But animal rights groups say cities should still consider nonlethal alternatives to dry ice.
Stephanie Bell, the senior director of cruelty casework for the People for the Ethical Treatment of Animals, told DNAInfo last fall that the method is harmful to rats, which she argued have the "capacity to feel pain, fear, loneliness and joy, just as humans do."
"Wild animals of any sort are attracted to places where there's a reliable food supply, and until that changes, the city will always find itself two steps back if it depends on killing," she said.
To reduce the rat population, she advocates the use of trash cans that are properly sealed and devices that emit high-frequency sounds that repel the creatures.
In Washington, D.C., rodent-proof trash cans and "smart" litter bins are being used to help in its fight, according to The Associated Press. The devices compact trash and weigh the amount of waste, alerting city workers via censors when they're full and need to be cleared.
By going high-tech, the nation's capital is taking a "comprehensive and 21st-century approach to an old problem," Mayor Muriel Bowser said in a statement last month.