Anti-abortion groups rallied at Planned Parenthood clinics in scores of U.S. cities on Saturday to urge Congress and President Donald Trump to strip the health services provider of federal funding.
With organizers expecting protests at up to 225 clinics nationwide, Planned Parenthood supporters in turn organized 150 counter-demonstrations at sites such as city parks, politicians' offices and government buildings.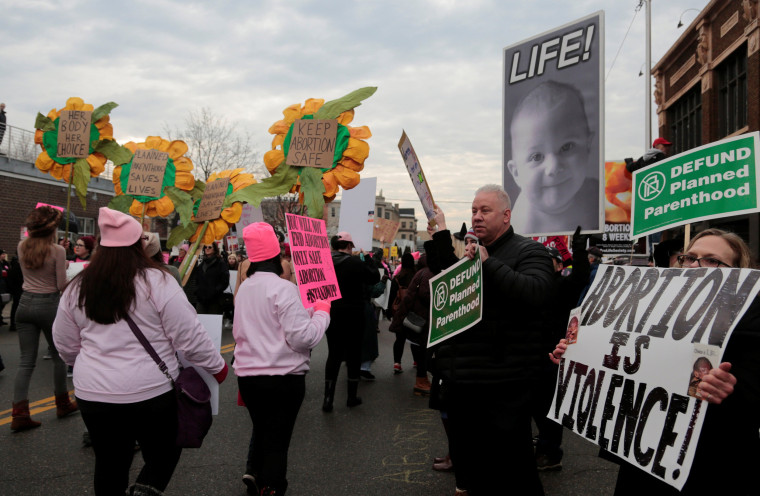 Supporters also showed up at some clinics where the anti-abortion demonstrations were being staged, and in some cases, outnumbered those who were protesting against federal funding for Planned Parenthood.
In Washington, demonstrators carried a banner that read: "The butchering and selling of the parts of unborn babies by Planned Parenthood is a heinous sin," while about 100 counter-demonstrators chanted: "Women must decide their fate."
Related: DC's 'March for Life' to Highlight Gains by Abortion Opponents
At some points, Planned Parenthood supporters formed lines to block about 50 people marching from the Supreme Court to a Planned Parenthood clinic but police officers moved them aside.
"Abortion, to me is the greatest evil of our time," said Delia Tyagi, 36, an accountant who lives in Arlington, Virginia. "Planned Parenthood has wronged women in a lot of ways. I feel like we have the momentum to finally defund them."
Demonstrations were called in 45 states. For instance, as many as 6,000 people turned up for competing rallies in St. Paul, Minnesota, according to local police.
In some places, the two sides in the long-simmering issue in U.S. culture wars positioned themselves on opposite sides of the street. Initial reports indicate the rallies were vocal and peaceful.
They come on the fourth weekend of the presidency of Donald Trump, whose policies on immigration, the environment and other hot-button issues have drawn opposition from more liberal corners.
Related: Trump Backlash Could Make 2018 a New 'Year of Women' at Ballot Box
A massive crowd energized in downtown Raleigh, North Carolina, on Saturday against him and a state law limiting LGBT rights. The so-called "Moral March on Raleigh" also promoted issues from gerrymandering to public education.
In the Atlanta suburb of Marietta, anti-abortion and abortion-rights groups took opposite sides of a four-lane highway and waved signs at traffic and shouted slogans.
At the competing abortion-rights demonstration, about 50 people gathered and held signs that included: "Women's rights are human rights."
"Trump is going to hear our trumpet call," said anti-abortion activist Sandy Prescott, 61, a homemaker from Roswell, Georgia, who was part of a group of about 100 people calling for defunding Planned Parenthood.
Many protesters wore the pink "pussy hats" that became an anti-Trump symbol during the Women's March against Trump, staged in dozens of U.S. cities on Jan. 21, the day after the Republican's presidential inauguration.
The 100-year-old organization provides birth control and other women's health services in addition to abortion at 650 health centers, according to its website.
Anti-abortion activists have said they are energized by the election of Trump, who has promised to restrict abortions. He selected their long-time ally, Mike Pence, and nominated conservative jurist Neil Gorsuch to the U.S. Supreme Court.
On Jan. 27, tens of thousands converged on Washington for the 44th March for Life, where Pence, formerly governor of Indiana, became the most senior government official to speak in person at the annual anti-abortion rally, organizers said.
Planned Parenthood leaders say abortions rights supporters also have been energized by Trump's election, as exemplified by the hundreds of thousands who flooded Washington a day after Trump's inauguration in favor of women's rights, including abortion rights.
The pro-Planned Parenthood events on Saturday were organized spontaneously, without the group's initiative, a spokeswoman said.