A student activist said a Dunkin' employee in Portland, Maine, refused service and called police on her after a dispute started because she was speaking Somali with her family.
Hamdia Ahmed, 20, said she and her family were having a conversation in their car while waiting in the Dunkin' drive-thru on Monday when the employee working at the window asked them to stop yelling.
"We were just speaking in our native language. We weren't yelling," Ahmed told NBC News.
Ahmed captured the resulting argument on video, which she posted to Twitter.
"You're going to disrespect me cause I speak a different language than you. Is that what it is?" Ahmed asked the employee in the video.
The employee immediately responded with a threat to call the police.
"You can leave. I don't want to hear it. I'm done with it. You can leave or I will call the cops," she can be heard saying in the short video.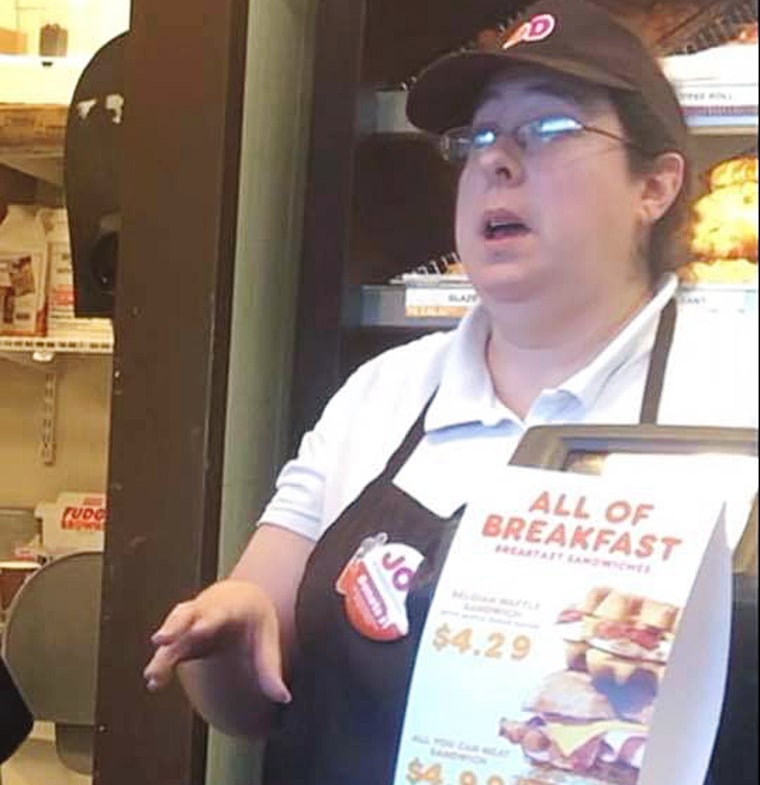 Ahmed then went inside the coffee shop to see if she could resolve the issue.
She noted that her brother stayed in the car when she went inside the Dunkin' because they realized the police might be on their way, and "he was afraid as a black man in America — you never know what's going to happen."
Police arrived within five minutes and issued Ahmed a no trespassing notice, barring her from going to the store for a year.
The reason police listed for the notice was "disturbance — yelling at staff."
The order has since been rescinded after the store owner, Dave DaRosa, stepped in, Ahmed said. DaRosa met with the family Wednesday to apologize and let them know that his staff would be better trained so nothing similar happens in the future.
DeRosa met Ahmed and "sincerely apologized to her for the poor experience and is working on providing additional customer service training to his store crew," Dunkin' said in a statement.
Ahmed is a refugee from Somalia who arrived in the U.S. about 14 years ago. A student at the University of Southern Maine, she describes herself as a model and an advocate for immigrants' rights who has organized rallies and spoken at the United Nations.
"I'm proud of myself for speaking up against this because it's not right," Ahmed said. "My family did not deserve to be treated that way, and I hope I started a conversation about why the police are called on black people for no reason."
In the past two weeks, at least three videos of white people calling police on black people who have done nothing wrong have gone viral.