Dylann Roof began his videotaped confession with 11 chilling words: "I went to that church in Charleston and I did it."
And then for the next two or three hours, the self-declared white supremacist described to the FBI how he gunned down nine black worshippers last year at a historic South Carolina church in a bid to spark a race war.
"What I did is still minuscule to what they're doing to white people every day," Roof insisted at one point.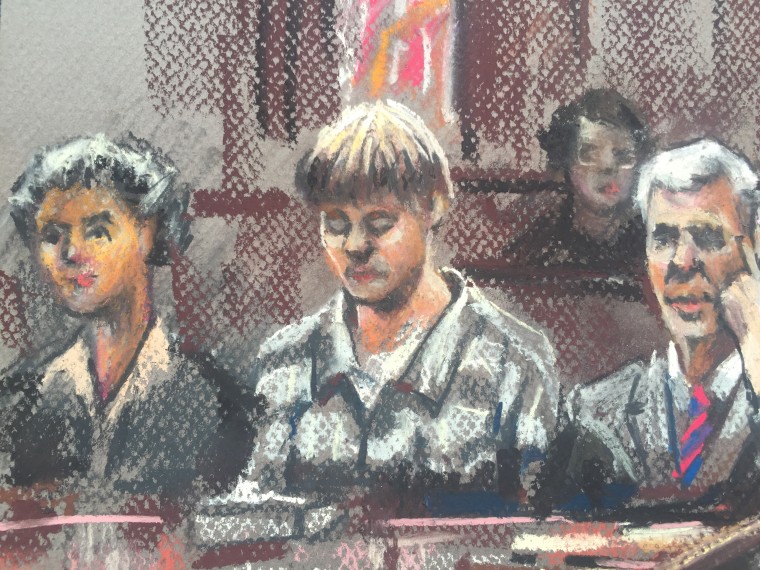 The recording of Roof was played Friday for the jurors weighing the fate of the 22-year-old for the first time at his federal death penalty trial.
In the video, FBI agents could be seen reading Roof his rights and making sure he understood that he was giving a statement without a lawyer present.
Roof did not appear to be under the influence of anything when he made the statement following his arrest on June 18, 2015 in Shelby, North Carolina, FBI investigator Michael Stansbury testified.
And Roof was not sure how many people he killed at the Emanuel AME Church.
"Five, not really sure, " he said. "Maybe four?"
When asked if he said anything to the victims, Roof answered, "I didn't say anything to them before."
"It was very fast," he said on the video.
In a matter-of-fact tone, Roof told the FBI he researched his target and went on the killing spree because blacks were raping white women.
"I do consider myself a white supremacist," he admitted on the footage.
Roof also said he was "in absolute awe" that there were no police outside the church when he came out. He said he would have killed himself if there were.
In the course of the recorded conversation, Roof spoke about seeing a 1980's TV movie about a racist skinhead called "Made in Britain." And when asked if he regretted what he'd done, Roof said, "Yeah, I'd say so."
Told the death toll was actually nine people, Roof appeared to react with disbelief and then remorse. "Well, it makes me feel bad," he said, when asked how he felt.
"Are you guilty?" an FBI agent asked.
"Yes, I am guilty," Roof replied. "We all know I'm guilty."
Also entered into evidence was a journal found in the back of Roof's car.
"I was not raised in a racist home of environment," he wrote, referring to himself as Dylann Storm Roof.
But in there, Roof wrote that Florida security guard George Zimmerman was in the right when he fatally shot unarmed black teenager Trayvon Martin and he disparaged African-Americans as "stupid and violent." The journal also contained Nazi swastikas and the white supremacist code numbers 14 and 88.
Sitting at the defense table, Roof did not look at Stansbury. But the wrenching footage is likely to ratchet-up the anguish at the already emotionally fraught trial.
On Wednesday, Roof's mother suffered a heart attack after prosecutors laid out for the court how her son plotted the murders of the black Bible study participants on June 17, 2015 in the fellowship hall of the Emanuel AME Church.
Before Stansbury took the stand, Roof's lawyer told U.S. Judge Richard Gergel they intend to present more evidence about his state of mind at the time of the shooting. They have not contested that Roof was responsible for the killing, but they are trying to save him from the death penalty.
So far Roof, who has admitted targeting the Charleston church, has barely uttered a word at his trial.
While the proceedings have been punctuated at times by the sobs of the victims' loved ones, Roof has sat stone-faced and has rarely looked at the people whose lives were torn apart by the massacre.
Until Wednesday, when Roof showed up in court wearing a gray sweater and slacks, the go-to getup for the admitted killer with the bowl haircut had been his striped jail jumpsuit.