A commercial passenger plane caught fire Thursday while preparing for departure from Florida's Fort Lauderdale-Hollywood International Airport, federal officials said.
Twenty-one people were taken Broward Health Medical Center, including a 62-year-old man who suffered a head injury, officials said. None of the injuries was considered life-threatening.
The airport was closed for much of the afternoon, causing long delays on flights in and out of Fort Lauderdale.
The Dynamic Airways Boeing 767, with 101 passengers and crew on board, was preparing for a 12:30 p.m. ET takeoff to Caracas, Venezuela, when occupants of another plane reported seeing fuel leaking from its left engine, according to a statement from the Federal Aviation Administration.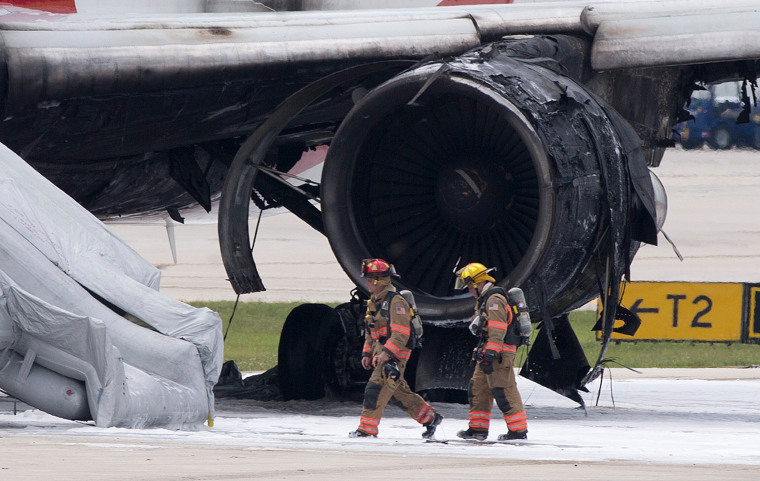 "We averted disaster today," Broward County Aviation Department spokesman Greg Meyer said.
In recordings of air traffic control communications, a pilot is told of the leak and then someone says, "Engine's on fire! Engine's on fire!"
By the time firefighters arrived, passengers were already fleeing the plane using inflatable chutes, officials said.
Using a chemical foam, firefighters put out the flames in a few minutes, officials said.
"This is something we train for," Broward County Sheriff and Fire Rescue spokesman Mike Jachles said, adding that the fire "could have been very easily much worse."
A 4-year-old boy was the youngest transported to the hospital; he was later released, officials said. Two flight attendants were also taken for treatment and they were also later released.
The most seriously injured was a man who suffered a head injury after falling while running away from the aircraft, Jachles said. Most of the 21 taken to the hospital had chest and knee pains or complaints of anxiety, officials said.
The fire caused 42 flights to be cancelled and delayed 187 others at Fort Lauderdale-Hollywood International Airport, Meyer said. One runway remained was closed after the fire, but was opened by Thursday night.
There were 88 adults, 2 children and 11 crew on the plane, Dynamic International Airways said in a statement. "Our primary focus right now is to provide support for the passengers who are in the airport and for those who are being medically treated," the company said.
The National Transportation Safety Board said it was sending a team of investigators that will also include representatives from the FAA, Boeing, Dynamic and Pratt & Whitney, the engine's manufacturer.
Dynamic Airways released a statement that said the flight had been "safely diverted" following an "engine problem" without mentioning the fire or injuries.
The airline, based in Greensboro, North Carolina, began flights from Fort Lauderdale to Caracas in July.
The plane itself is almost 30 years old, first used in 1986 by Kuwait Airways. It has been owned by several other airlines since.