SAN QUENTIN, Calif. — "You can lock up the body, but you can't lock up the mind."
That's one of the things you hear from the men inside San Quentin State Prison. And the voice — you can't lock that up, either. Especially the voices of a couple of inmates who have launched a series of regular audio dispatches from inside what used to be one of America's most notorious prisons.
Earlonne Woods and Antwan Williams created a podcast known as "Ear Hustle," aided and abetted by Nigel Poor, an artist and academic who first came to know the men as a video instructor and later when she helped launch an in-house radio program, "Windows and Mirrors."
It appears to be the first podcast produced entirely from inside the walls of a federal or state prison. "Ear Hustle" debuted last week and quickly climbed to the top ranks of the nation's most popular podcasts. (It was number 12 this week.)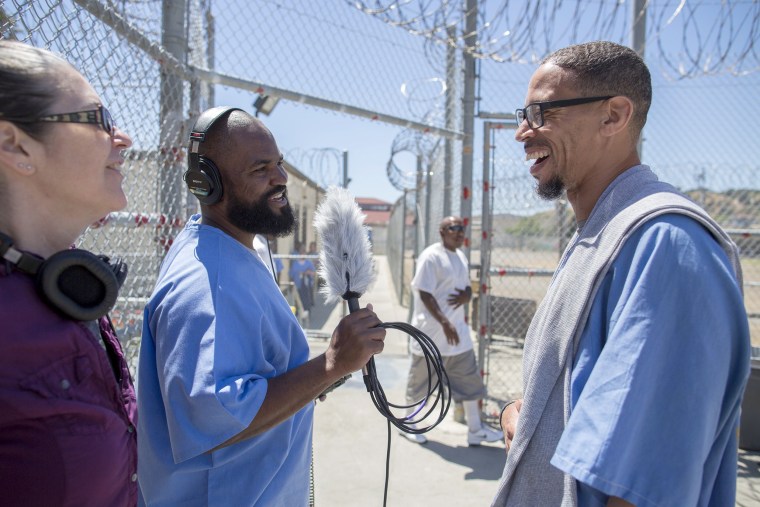 The first episode, "Cellies," explored the tribulations, absurdities and occasional terrors that come with living with another man, for roughly 12 hours a day, in a nine-by-four-foot box. A future program will profile "Roach," an inmate who nurtures creatures small and smaller; another will commiserate with a prisoner about his first conjugal visit in 27 years; and a third will plumb a gang-banger's quiet remorse in a piece called "Misguided Loyalty."
Audio distributor PRX selected the prison podcast last November from 1,537 competitors in an "open call" to promote new voices and fresh talent. Williams, a 29-year-old serving 15 years for armed robbery, recalls that victory as "one of the most beautiful moments of my life," adding: "It was like, man, there is value in us. We need to start acknowledging that and standing on that."
"Ear Hustle" — prison argot for eavesdropping — arrives as just the latest innovation at one of the nation's oldest and most mythologized prisons. San Quentin was the former home of the 19th-century "gentleman bandit" Black Bart, the birthplace of the Black Guerrilla Family, and the scene of Eldridge Cleaver's break with the Black Panthers. Its Death Row once housed cult leader Charles Manson and "Nightstalker" Richard Ramirez.
Threats of violence still loom, and prisoners call the tiny, two-inmate cells the most restrictive of any main-line facility in the state. But outside the foreboding Death Row — the largest in the nation with 726 inmates — San Quentin's sprawling yard thrums with an occasionally hopeful, even uplifting, vibe.
The prison's general population can dive into a panoply of rehabilitative programs — working on a newspaper, producing documentary film projects, attending origami classes, even performing in-house with the Marin Shakespeare Company. So many counselors, teachers, writers and musicians come here to volunteer their time (in non-taxpayer supported programs) that cars spill on to neighboring Main Street from the parking lot beside gray-green San Francisco Bay.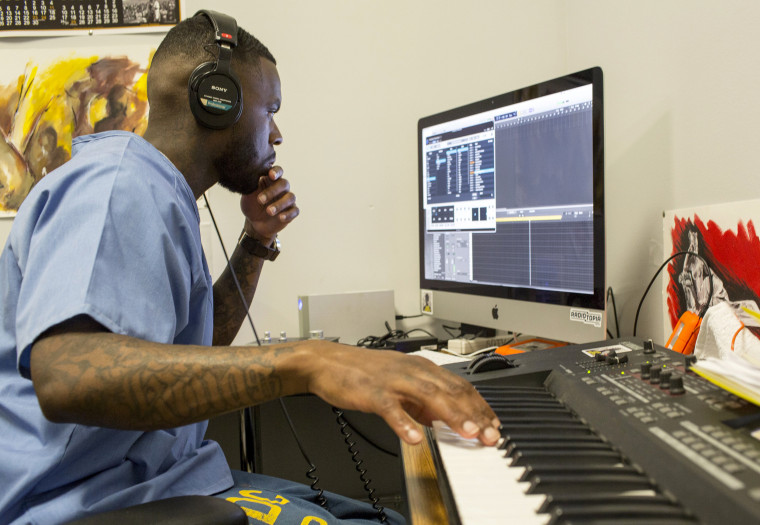 The rush of outside engagement has not been equaled at California's other prisons, most of which are located in the Central Valley, far from the state's large and liberal urban centers. But the push to clear a path for prisoners to change apparently has been embraced by many of the state's residents. Twice in just the last two-and-a-half years, Californians voted to reduce penalties for less serious offenders, via Propositions 47 and 57.
Those initiatives came before the election of Donald Trump and the ascension of Attorney General Jeff Sessions, who in May pushed the U.S. in the opposite direction. Sessions told federal prosecutors to pursue the toughest possible charges and maximum sentences against crime suspects.
California stands apart when it comes to capital punishment, too. Texas and Arkansas, alone, have put eight men to death in 2017, while the lethal injection chamber at San Quentin has not been used since 2006. And there is no effective political or legal drive to reverse that trend.
While not overtly political, at least in its initial episode, "Ear Hustle's" very existence posits that prisons and prisoners can't all be crowded into a few narrow categories, or represented in hyper-violent dramas like HBO's "Oz." San Quentin and its residents have to live down not only such pop-culture clouds but a grim history that includes a 1971 escape attempt that left six inmates and guards dead. A half-century later, images of that bloody episode and attendant riots still fix "The Q" in many minds as the home of hopeless incorrigibles.
But most of San Quentin's population today is classified as "Level 2" — medium security — and the main yard can feel surprisingly loose, with inmates mostly free to move about. Many who aren't playing basketball or tennis or lifting weights mill around with fellow prisoners. Black, Latino, white and Asian inmates stick with their own much of the time, but also allow each other to mix with other races. That would be unthinkable in California's maximum security penitentiaries.
Woods, Williams and Poor have remarkable latitude to record conversations, the odd rap session and happenings around the facility. They invite other prisoners to San Quentin's Media Lab. The bungalow can echo with conversation, so voluble that visitors occasionally must be shushed, so fresh recordings won't be spoiled.
The chatter and bits of discovered sound become part of the "yard talk," a regular leitmotif of "Ear Hustle." In Episode 1, cellmates Sha Wallace-Stepter and Donte Smith break down the relative merits of Denzel Washington vs. Jamie Foxx and Jay-Z vs. Ja Rule. "They're chopping it up," explained Woods, "in a way that is totally compatible, totally acceptable."
Sha and Donte's laughter and easy rapport reveals that their unwanted home as a place of deep connections and even joy — beating back a persistent fog of lost lives and freedom.
Not that "Ear Hustle" shies from the bleak reality that can take hold inside the beige fortress, where inmates live tantalizingly close — and impossibly far — from some of the world's most exclusive communities.
Case in point: Episode 1 introduces listeners to an inmate named Ron Self, a former Marine who might have become hardened after years at the ultra-tough Corcoran State Prison. But even Self, a veteran "professional prisoner," is thrown off-center when he arrives at San Quentin's reception center and immediately is subjected to a fierce stare-down by a prisoner named "Duck."
Self recalls being so unnerved he could not wait to leave the inmate reception center. When he did, minutes later, guards directed him to his new cell, only to find Duck waiting inside. Says Self: "That one six-month period felt more like 60 years."
"We have caused a tear in the Universe that can never be put back together," said "Ear Hustle" sound designer Antwan Williams. "But that gives us an obligation, a responsibility, to… show we actually understand where the wrong was."
Later in the program, Self returns to explain how he later won a single cell, because of multiple medical challenges. Alone, he finally can escape the hundreds of other men and enjoy a slight respite from the unending cacophony of the cell block. "I can go back in there, shut the door," he confides, "and just cry."
One challenge for the "Ear Hustle" team will be to find a way to evoke their common humanity with their audience, without minimizing the crimes that brought them here.
"We have caused a tear in the universe that can never be put back together," said Williams. "But that gives us an obligation, a responsibility, to make sure that, here on forward, we show we actually understand where the wrong was."
Williams said that when he was a teenager growing up in Los Angeles's Crenshaw District, he nearly died in a car crash. Bed-ridden for weeks, he became sad, then agitated, when he wasn't visited by people he thought loved him. "It was like, 'Screw everything, screw everybody,'" he recalled.
He set out on a series of armed robberies. "I made that my excuse to act on my own selfishness," Williams now says. His crime spree earned him a 15-year prison sentence that he hopes will end in parole in another two and a half years. As "Ear Hustle's" sound designer — the man responsible for its beats, keyboard riffs and unique rhythms — he is hoping to find similar work outside.
For Woods, 45, who co-hosts the podcast with Poor, an upcoming episode on California's three-strikes law will be personal. He is serving 31 years and is not eligible for parole until 2028 for an attempted second-degree robbery. His long sentence stems largely from a juvenile crime that counted as two strikes. "I kidnapped and robbed a drug dealer," he said, "and I got a strike for each of those."
Woods, nonetheless, called three strikes "a good law," but one he believes was unfair to him and others who accumulated strikes when they were teenagers and before California voters approved the tough new guidelines, in 1994. Woods helped write a ballot initiative in 2015 that would eliminate strikes accumulated before passage of the law. But with only volunteers gathering signatures, the initiative failed to qualify for the ballot.
When he gets out, Woods hopes to work in video and audio engineering. "I am pretty damn good on this software," he said, adding with a chuckle: "I can make people say stuff!"
Poor, a 54-year-old who lives in San Francisco, is all-in with her "Ear Hustle" partners and the push for systemic reform. But they agree that another change must come first. "We've all said, 'How can you get people interested in changing laws, unless they know the people who are affected by those laws?'" she said.
A professor of photography at California State University, Sacramento, Poor arrived in 2011 to teach the history of photography. She initially thought of making videos with the men, but soon determined that the process of hauling video outside the prison for editing — and securing the requisite security approvals — would be far too cumbersome.
So Poor proposed a jump to the audio world. "I really liked the idea that we would be doing something we had to learn together, with this new medium," Poor said. "I wouldn't be the instructor."
Public radio station KALW in San Francisco was soon accepting the offerings from San Quentin and airing them on a program called "Crosscurrents." But Poor, Woods and Williams wanted to push farther. Poor longed to break the boundaries of traditional journalism and create free-form pieces. "Ear Hustle" is the result.
Besides helping craft the tone and broad themes of the show, Poor lends an every-woman's voice in her role as co-host. She wants to know: How does one plan a funeral or family visit in phone calls limited to 15 minutes? And, isn't looking for a cellie really a bit like dating? She had a nice joust with Woods over that idea.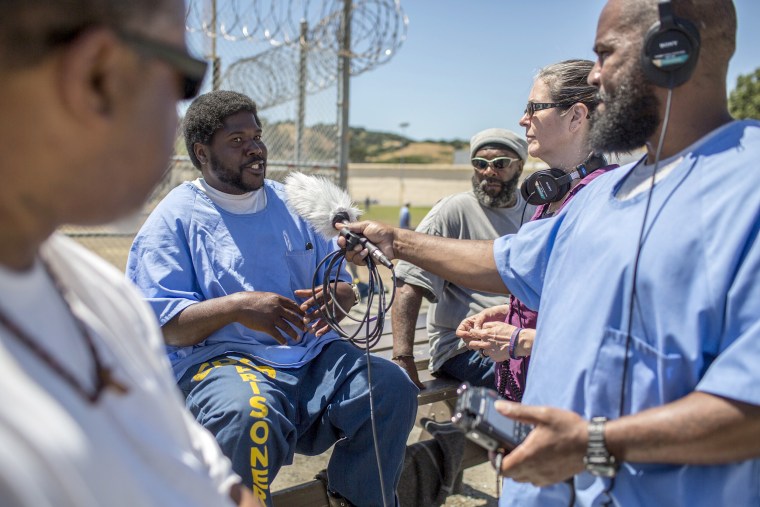 PRX has committed to distribute 10 episodes of "Ear Hustle," each ranging from 22 to 30 minutes. The show's win in the podcast competition also meant it joined in the promotion and ad sales network provided by PRX's Radiotopia network. Though there's not yet a formal agreement for a Season Two, talk has already begun of new topics to explore. And which ones to avoid. A prison guard recently pulled Williams aside to suggest, in all earnestness, that he had a great story about a colonoscopy.
Williams demurred: "I'm sure that's hilarious. We'll have to think about how we're going to frame that."
While "Ear Hustle" looms large, there are other concerns for the partners to tend to. With his current cellmate weeks away from parole, Woods continues to focus on finding a new one. Williams' time is short enough that he can think seriously about life outside. But, for now, there are the microphones, the next bit of ambient sound cued up on Pro Tools and all those other men locked away. Every one could be holding on to a story, one that "Ear Hustle" might set free.
"You come down here and you don't have to pay attention to all the penitentiary stuff," Woods said, toying with a digital recorder in the Media Lab. "You come in, do your work and get lost in it. It's almost like a piece of freedom right here in prison."