A huge storm system over the central U.S. is producing heavy snow and high winds in the Rockies and western Plains, a unusual wintry blast for early autumn.
Weather Channel winter weather expert Tom Niziol said the blizzard-type conditions were "ridiculous" for this time of year. Winter storms are typically not seen until later in October and November in the region.
The same system is expected to spawn hail and even tornadoes later Friday in a number of states as far east as Missouri.
"We are already getting pretty good storms in Des Moines, Iowa, and are looking for large hail, high winds, and even tornadoes through the afternoon," Tom Moore, a coordinating meteorologist at the Weather Channel, told NBC News.
Some 12 to 24 inches of snow has fallen across Wyoming and this, combined with low visibility due to high winds, has affected travel in the state. However, Moore said according to Weather Channel teams in the state most people have been wise enough to keep off the roads. Casper College was closed Friday because of bad weather, The Associated Press reported.
And South Dakota officials are closing Interstate 90 between Exit 30 at Sturgis and the Wyoming state border effective immediately, NBC affiliate KNBN said.
Possible large hail and tornadoes were expected to hit on Friday afternoon in northeastern Kansas, northwestern Missouri, eastern Nebraska, most of Iowa, and the extreme south of Minnesota.
The Associated Press and KNBN contributed to this report.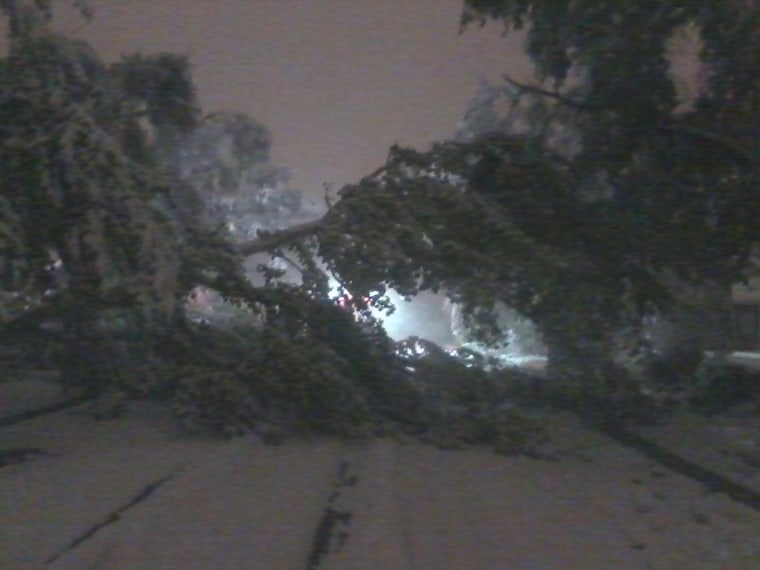 Related: