A 7.0 magnitude earthquake that hit Alaska on Friday shook buildings, damaged highways and prompted a tsunami warning that was later canceled.
The quake hit about eight miles north of Anchorage, the most populous city in the state, at 8:30 a.m. local time, according to the U.S. Geological Survey.
Videos posted to social media showed students taking shelter under desks and grocery store items knocked off shelves.
Gov. Bill Walker issued a disaster declaration and said the Trump administration's response was "tremendous."
"There is major infrastructure damage across Anchorage," the Anchorage Police Department said in a statement. "Many homes and buildings are damaged. Many roads and bridges are closed."
There were no reports of deaths. The USGS estimated there was a low probability of fatalities because most people in the region live in structures that can withstand an earthquake.
"We have a lot to be thankful for," Walker said, adding that "building codes mean something."
Much of the damage occurred in transportation infrastructure, he said.
SIGN UP HERE FOR BREAKING ALERTS FROM NBC NEWS
Abigail Burman told NBC News the earthquake shook the wheel bearings off her truck and cracked the stove at her mother's house in the Anchorage Bowl.
"It actually knocked me down," Burman said. "I had been in the doorway, and I just sat there holding onto the door."
Many of the roads in the area were also closed, she said.
Christopher Helsel, 41, was at work on the east side of Anchorage when desks shook from side to side and computer monitors fell over. But his office in the Muldoon area of Anchorage did not lose power. Still, the experience was nerve-wracking, he said.
"I have been here almost 10 years and have never felt an earthquake as strong as I did today," said Helsel, the brother of an NBCNews.com reporter.
Lisa Demer was also at work, on the sixth floor of the Wells Fargo Building in midtown Anchorage, when the earthquake hit. Her office was evacuated and had to rely on emergency power afterward.
"It was violent," said Demer, a 23-year Alaska resident, in a phone call with NBC News from her home on the west side of Anchorage near the airport. "I've felt a lot of earthquakes. Some, you stop and freeze in place. This one, there was no doubt that it was gigantic and scary."
The earthquake's aftershocks, she said, were frightening and frequent; she said she felt about a dozen.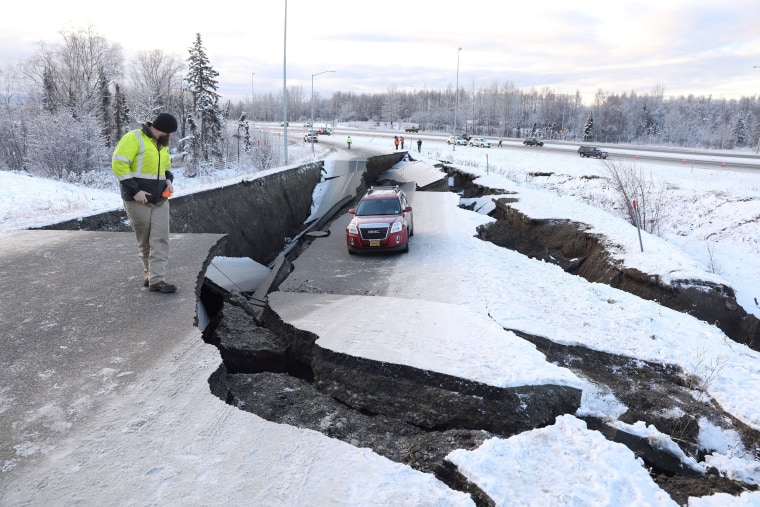 Glenn Highway and Seward Highway, two major arteries into and out of Anchorage, were closed in some areas but were later reopened, Anchorage police said.
An onramp to the interchange of International Airport Road and Minnesota Boulevard, which is less than a mile from where Demer lives, collapsed.
With no significant damage to her home, Demer told NBC News she hoped to spend the rest of the day helping others.
"I still have to check my crawl space. And then I'm going to see if there is something I can do," she said. "I want to see if there's needs that I can help with in any way."
The earthquake is believed to have caused four structure fires, and there were reports of some structural collapse, said Anchorage Municipal Manager Bill Falsey. There were widespread reports of low-level structural damage, "but at this point we are not aware of catastrophic losses, which is good news," he said.
More than 32,000 power outages were reported after the quake, but by late Friday afternoon only about 6,000 customers in Anchorage were without power, including 1,000 downtown, officials said.
The FAA announced a ground stop for flights into Ted Stevens Anchorage International Airport immediately after the quake, but by 11:45 a.m., some departures had resumed. Alaska Airlines said after a safety assessment it was resuming operations, but some delays should be expected.
Airport officials said some terminals sustained cosmetic damage. Water mains were ruptured and elevators and escalators were out of service.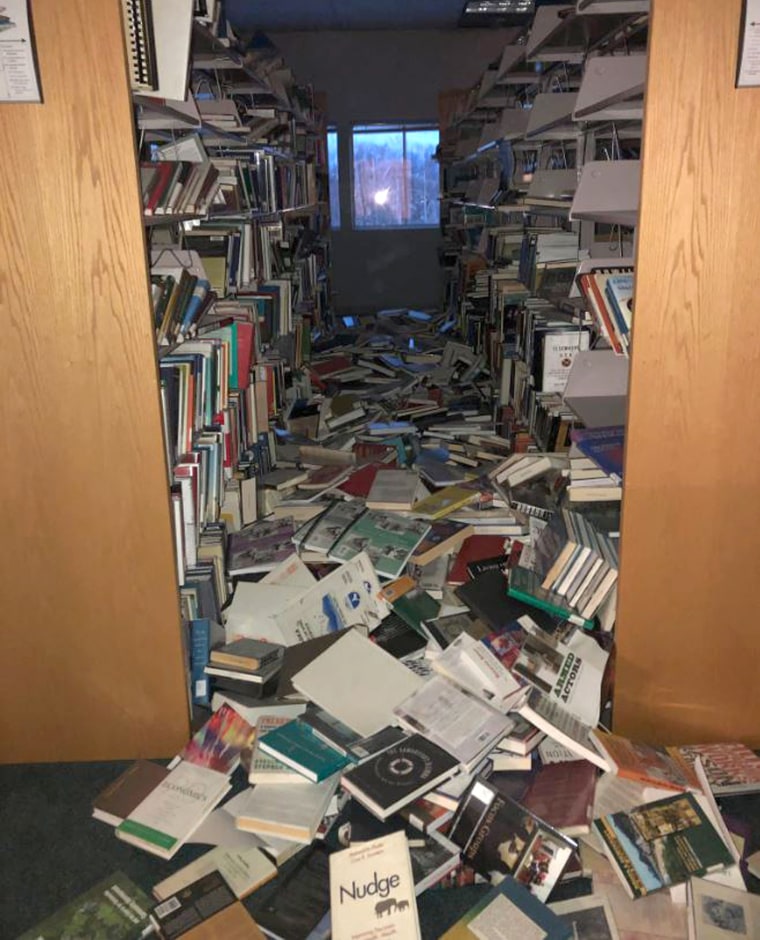 The Anchorage School District canceled classes Monday and Turesday.
White House press secretary Sarah Sanders said President Donald Trump, who is in Argentina for the G-20 Summit, had been briefed on the earthquake and was monitoring damage reports.
"We are praying for the safety of all Alaskans," she said.
Trump tweeted that assistance would be provided: "Your Federal Government will spare no expense. God Bless you ALL!" The president approved an emergency declaration which authorizes federal aid, the White House said.
Former Alaska governor and Republican vice presidential nominee Sarah Palin tweeted, "Our family is intact - house is not ... I imagine that's the case for many, many others. So thankful to be safe; praying for our state following the earthquake."
Earthquakes are not uncommon in Alaska. Michael West, Alaska state seismologist and director of the Alaska Earthquake Center, said they pick up temblors large enough to be reported "about every 12 minutes or so" but "the vast majority of those are teeny, tiny little pops and creaks in the earth."
West, in a Facebook live video, called Friday's earthquake the most significant to hit the Anchorage area since 1964 in terms of how strongly the ground shook during the event. In 1964 a 9.2-magnitude earthquake occurred in Prince William Sound, which was the second-largest quake instrumentally recorded in the world and the most powerful ever recorded in the U.S., according to the USGS.
There were six or seven significant aftershocks in the hours after Friday's earthquake and aftershocks will continue, West said.
"This is a reminder, a deep reminder, of the nature of the state we live in. Earthquakes are part of what makes this place what it is," and its dramatic landscapes comes from the changing Earth, West said.