A controversial visa program that lets wealthy foreign investors earn a fast-track to permanent U.S. residency has come under scrutiny again after reports that Jared Kushner's sister pushed the program in China — while allegedly dropping her influential brother's name.
The EB-5 visa investor program gives foreign nationals who invest at least $500,000 in qualified U.S. development projects, and create or preserve 10 permanent U.S. jobs, faster access to green cards for themselves and their families.
The New York Times and the Washington Post reported that representatives of the Kushner family business had urged wealthy Chinese citizens at a weekend event to consider investing $500,000 a piece in a luxury apartment complex in New Jersey in exchange for an investor visa.
The family ties of Nicole Kushner Meyer, a principal of Kushner Companies and sister of Jared, President Trump's son-in-law and adviser, were touted in promotional materials.
Critics say the program has been plagued by scandals, is little more than a way for the rich to buy their way into the country — and that the Kushner family's EB-5 pitch to foreign investors could be a conflict of interest for the Trump administration.
So what's the truth about the so-called "golden visa" program?
When was the program started and how does it work?
The EB-5 Immigrant Investor Program was created by Congress in 1990 in order to "stimulate the U.S. economy through job creation and capital investment by foreign investors," according to the U.S. Citizenship and Immigration Services website.
The visa program allows foreign nationals who invest required amounts of money in qualifying U.S. property projects to obtain green cards for themselves and their families after two years, a shorter wait than many immigrants have.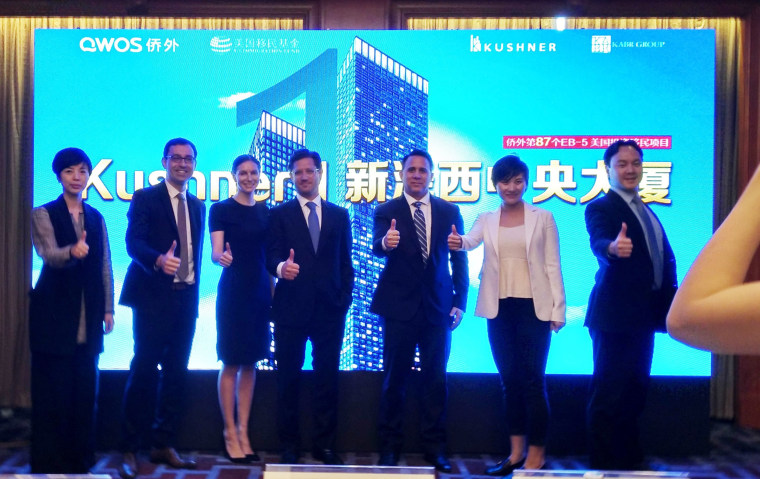 Investors can dish out $500,000 for projects in "targeted employment areas" defined as being economically distressed, or $1,000,000 towards the creation of a new enterprise that creates or preserves at least 10 U.S. jobs.
Roughly 10,000 EB-5 visas can be authorized in a year.
But the program did not really take off until the financial crisis of 2008, experts told NBC News.
"This was kind of a sleepy program, but it came to life right after the crisis and you see a spike in applicants and recipients that has pretty much sustained itself to the present," Seto Bagdoyan, director of audit services at the Government Accountability Office's forensic audits and investigative service team, told NBC News.
Prior to the financial crisis, the number of visas granted never exceeded 1,000, and even dipped below 100 once.
State Department data shows that in 2007, 793 visas were granted, with the number rising to 9,947 by 2016.
Who is coming to the U.S. using the visa program?
Since 2012, at least 70 percent of the visas granted each year have gone to nationals from mainland China, according to the data.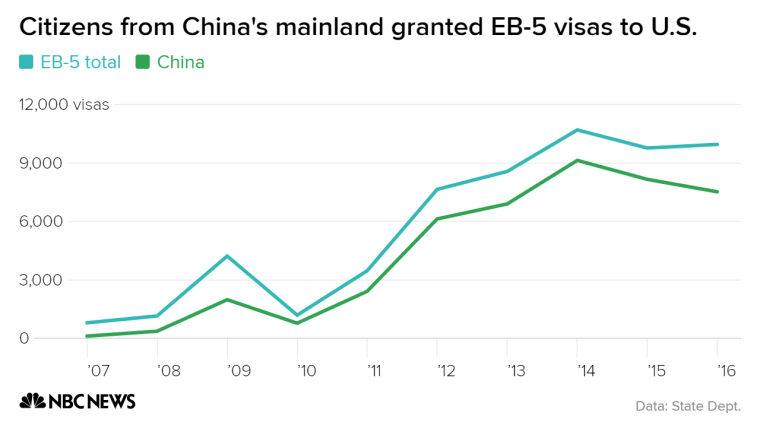 "It used to be a little more cosmopolitan," David North, a fellow at the conservative Center for Immigration Studies, told NBC News.
Why is this program so popular with Chinese citizens?
North said the political climate in China and a growing upper middle class have contributed to an increase in applicants.
"Many of them have a large amount of money, but are also very afraid of what could happen to them under the Communist dictatorship," North said. "So, that leads to a lot of people putting up half a million dollars for this collection of visas."
Bagdoyan said that the financial crisis, plus crackdowns by the government on corruption and on money leaving the country, may have motivated Chinese nationals to become the primary seekers of EB-5 visas.
"Perhaps the people who are applying are trying to get ahead of the game, even if they're clean otherwise — just have some money out of the country and have a green card just in case," he said.
In addition to transferring their assets, children's education in the U.S. was another motivator, say other observers.
"Children's education, less pollution and transferring assets overseas are three top reasons why U.S. green cards are so attractive to many Chinese investors," said an L.A-based EB-5 immigration agent who declined to share his name to CNBC in April.
The crush of Chinese applicants means they to have to wait longer for approval than applicants for other countries.
"The composition of the applicant pool is roughly 85 percent Chinese nationals. That may pose unique circumstances in terms of visibility and transparency," Bagdoyan said. "We don't really have any sort of insight into the finances of these people."
Why is the program so controversial?
Critics of the program have said it has been rocked by major fraud scandals, raises potential national security or transparency issues and essentially amounts to letting rich foreigners buy their way into a green card.
Bagdoyan said certain aspects of the program made it "inherently at risk for fraud and in some instances may even raise national security concerns."
"For example, if you don't know what the affiliation is of a Chinese national, they could be People's Liberation Army, or intelligence services or a government functionary wanting to embed themselves through this program," he said. "Again, that's speculative, we don't have any real proof of that, but it has been brought to our attention that those are certain risks that you run."
"That would probably apply to any foreign national under those circumstances," he added.
"I've long called for an end to the EB-5 program. It says that visas — and eventual U.S. citizenship — are for sale, a terrible message for the 4.4 million people waiting in line for visas—some for as long as 23 years," Sen. Dianne Feinstein, D-Calif., an outspoken critic of the program, said in a statement on Monday following the report on Kushner's sister.
North echoed the sentiment.
"I don't think we should sell visas to anybody — it's a scandal-ridden program and it's run very badly," North said.
What allegations of fraud?
The financial scandals surrounding the program involve multi-million fraud cases stretching from California to the ski slopes of Vermont.
Just last month, federal authorities raided a Los Angeles-area business suspected of defrauding the program and seeking green cards for more than 100 Chinese nationals for projects that were never built, according to the Associated Press.
Also in April, Vermont Gov. Phil Scott announced a $145.5 million settlement in a case related to two Vermont ski resorts, after two businessmen were accused of misusing about $200 million from foreign investors through the visa program. The April settlement came on top of $5.95 million settlement back in June, according to the AP.
And earlier this year, a former monk in Washington state pleaded guilty to defrauding visa program investors and lenders of nearly $240 million.
What has President Trump said about the program and where does it stand?
While the president called for an overhaul for the nation's legal system during the campaign, much of his rhetoric was focused on illegal immigration at the U.S.-Mexico border and the creation of an impenetrable border wall.
On Monday, after reports of the Kushner family's EB-5 pitch in China surfaced, the White House told the New York Times that the Trump administration "is evaluating wholesale reform of the EB-5 program to ensure that the program is used as intended and that investment is being spread to all areas of the country."
Congress extended the EB-5 program through Sept. 30, the end of the government's fiscal year, in their $1 trillion compromise budget bill last week, which Trump signed into law on May 5.
The White House said Jared Kushner has divested from his family firm and had "nothing to do" with the investor recruitment in China over the weekend. His sister, Nicole Kushner Meyer, said through a spokesperson that she was sorry if anyone misinterpreted her mention of her brother.