Education Secretary Betsy DeVos is dispatching a team of civil rights investigators to Michigan State University to examine how the school handled allegations against former gymnastics doctor Larry Nassar, who was convicted of molesting patients for years.
"This new Title IX investigation will look at systemic issues in the University's handling of sex-based incidents involving Dr. Larry Nassar," DeVos said in an statement Monday.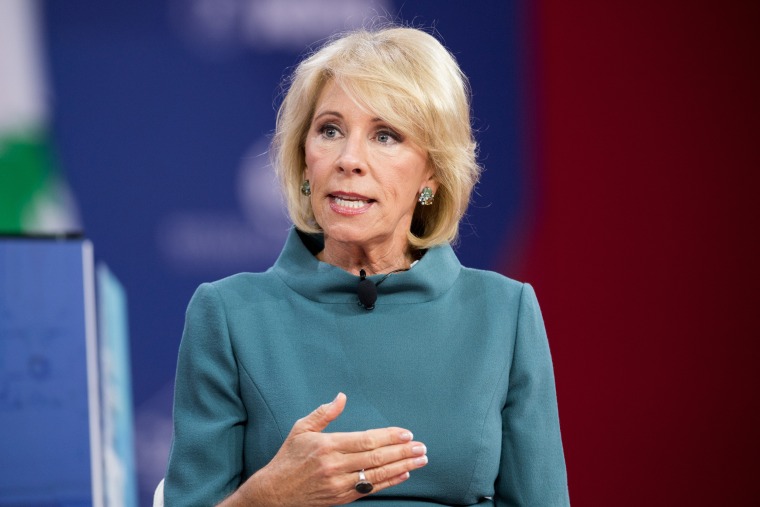 The federal probe is only the latest for MSU, which is under investigation by the Michigan Attorney General's Office and a congressional committee. It also faces dozens of lawsuits that allege it ignored reports and warning signs about Nassar's predation going back to 1997.
DeVos' announcement came hours before some of Nassar's victims gathered in Lansing, Michigan, for a news conference on new state legislation prompted by the case. The bills would change the statute of limitations for sexual crimes against children, expand the class of people who must report claims of sexual abuse to law enforcement, and allow prosecutors to use evidence of prior assaults at trial.
"We are learning activism creates action," said Olympic gold medalist Jordyn Wieber, who revealed last month that Nassar preyed upon her.
The scandal over Nassar's abuse has rocked both the gymnastics work and MSU, where he had his medical practice when he wasn't working as the team doctor for USA Gymnastics.
The Big Ten school's last president, Lou Anna Simon, and athletic director Mark Hollis stepped down amid criticism after scores of Nassar's victims testified at a televised sentencing hearing.
Related: Eight times Larry Nassar could have been stopped
Former Michigan Gov. John Engler, serving as interim president, has made more heads roll and hired the outside investigations firm Kroll to look into sexual misconduct complaints filed under Title IX.
The number of reports has shot up 35 percent since the Nassar scandal unfolded — largely because of increased awareness, according to school officials — but it takes almost three months to complete an investigation.
"We are taking active steps to make MSU a shining example of Title IX compliance," Engler said earlier this month. "Eighty days is not only far too long for a response to a complaint, it's totally unacceptable."
MSU said it was notified of the federal investigation last week.
"As we have been, MSU is cooperating fully with this and all investigations. Our focus is on taking the actions that demonstrate the voices of the survivors have been heard and on creating a culture that provides a safe environment for all members of our community," spokeswoman Heather Swain said.
MSU was the subject of an earlier Education Department Title IX review that had nothing to do with Nassar.
The Education Department's Office of Civil Rights investigated complaints lodged in 2011 and 2014 and concluded that "a sexually hostile environment existed for numerous students and staff on campus" and that "the University's failure to address complaints of sexual harassment, including sexual violence, in a prompt and equitable manner caused and may have contributed to a continuation of this sexually hostile environment."
After DeVos, a Michigan native, took over as education secretary, she rolled back guidelines put in place under the Obama administration that govern how colleges judge allegations of sexual abuse or assault. While some have applauded the changes, saying they restored due process for the accused, anti-violence groups have sued DeVos, arguing that the higher standard of proof now required will have a chilling effect on victims.