The mom of a special needs child is suing actor Edward Norton's production company after her apartment building went up in flames during the filming of a movie there.
Erica Cruz lived on the fourth floor of the Harlem, New York, building, which Norton's company was using as a set for "Motherless Brooklyn" — a film starring Norton, Bruce Willis, Willem Dafoe, and Alec Baldwin.
Late last Thursday night, a fire broke out during filming, killing decorated 15-year veteran FDNY firefighter Lt. Michael Davidson, 37. Two other firefighters suffered serious burns, officials said, and several civilians received minor injuries.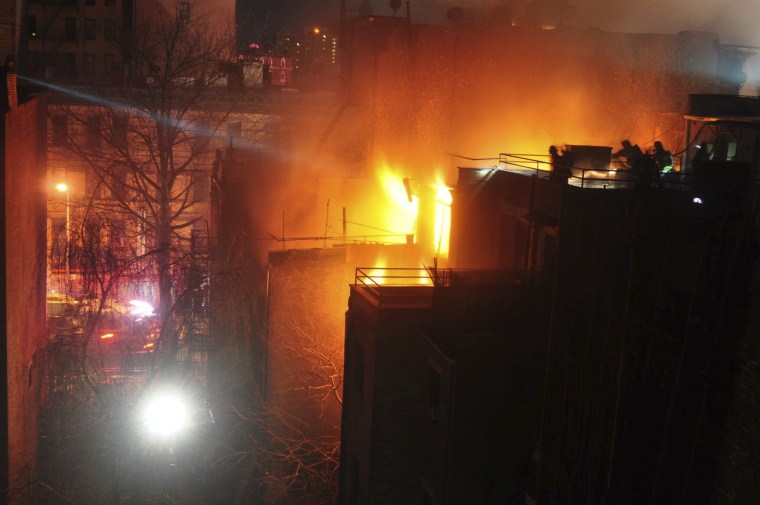 David Jaroslawicz, an attorney for Cruz, filed the $5 million lawsuit in Manhattan Supreme Court on Tuesday, the same day that thousands mourned Davidson during a funeral.
Cruz's brother, George Cruz, who holds the lease for the apartment, is also listed as a plaintiff.
"They're homeless," Jaroslawicz said. "Part of the reason they want to bring suit rapidly is in the hope that the movie company at least would come up with enough money, either as a loan or as a partial payment, to permit them to live somewhere."
The blaze forced Cruz "to run for her life down several sets of dark stairs engulfed in smoke unable to breathe or see where she was going while fearful of falling each step," the lawsuit states. It also left her with post-traumatic stress disorder and nightmares, and cost her all her belongings, according to the filing.
In addition to displacing Cruz and her 6-year-old child, who has special needs, Jaroslawicz said, the smoke from the fire also aggravated Cruz's asthma.
"She's gotten medical help and will continue to get medical help, and that's not cheap," he said.
The building's landlord, Vincent Sollazzo, and Norton's production company, Class 5 Films, are named as defendants.
Sollazzo was "reckless, careless and negligent in having a building that was in a hazardous condition; in failing to have proper and working smoke detectors," and in failing to have fire extinguishers, the suit alleges.
And Class 5 had "highly flammable ultra-hazardous materials and equipment on the premises" and misled tenants "into believing the fire had been extinguished," the suit also claims.
Class 5 told NBC News it had no comment regarding the suit. Sollazzo could not be immediately reached.
Sollazzo was included as a defendant "to make sure the landlord's on notice, that he doesn't profit by this fire, because their property is worth more as a vacant lot to some developer than as a rent-stabilized building," Jaroslawicz said.
The fire broke out in the basement of the building. The firefighter who was killed battling it, 37-year-old Davidson, leaves behind a wife and four children.
A couple of days after his death, Norton tweeted, "I have learned that @FDNYFoundation has already set up a dedicated scholarship fund for the 4 children of Firefighter Michael Davidson 100% of funds for education costs for this brave man's children. I can't think of a better way to honor his sacrifice."