A man opened fire outside a mall in suburban Milwaukee on Friday, injuring eight people, including a teenager, police said.
Conditions of the victims were not released but Wauwatosa, Wisconsin, police Chief Barry Weber said there were no fatalities.
The shooter, a man thought to be about 30, was not in custody, and authorities were working to determine his identity, the chief said.
Gunfire was reported about 2:50 p.m. at the Mayfair mall, outside the northwest entrance to Macy's, Weber said at a news conference Friday night.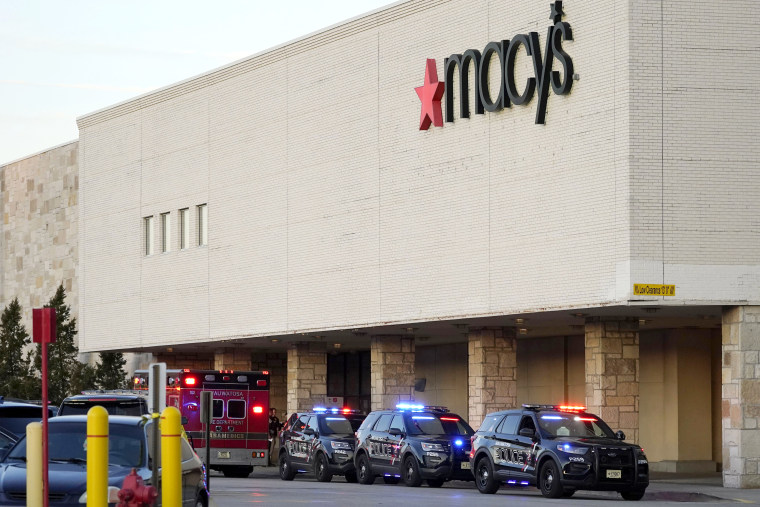 "Preliminary investigation has led us to believe that this shooting was not a random act, and was the result of an altercation," Wauwatosa police tweeted late Friday.
"Events like this shake a community, and we remain committed to protecting those who live in and visit Wauwatosa," the force added.
The Mayfair mall was closed and would remain so through Saturday, with law enforcement personnel remaining at the mall to process the scene, police said.
Wisconsin Gov. Tony Evers also offered his support "for the entire Wauwatosa community as they grapple with this tragedy," on Twitter.
"We are also thinking about all the customers and workers affected by this act of violence and are grateful for the first responders who helped get people to safety," he wrote.
Download the NBC News app for breaking news and politics
Trauma departments at local medical facilities, Froedtert Hospital and Children's Wisconsin, were notified of the attack shortly after 3 p.m. and prepared for patients, spokeswoman Nalissa Wienke said.
Mall operator Brookfield Properties said in a statement to The Associated Press they were "disheartened and angered that our guests and tenants were subject to this violent incident today." They declined further comment.
While Macy's spokeswoman Julianne Olivo wrote in an email: "We are saddened about the incident tonight at Mayfair mall, as the safety of Macy's customers and employees is our top priority."
Adding, "We are working closely with the Wauwatosa Police Department and local officials on this investigation," she said.
The FBI and agents from the Bureau of Alcohol, Tobacco, Firearms and Explosives responded to the scene.