Eight migrants traveling with a caravan of asylum seekers through Mexico have been allowed into the United States to have their claims processed, a U.S. Customs and Border Protection spokesperson confirmed Monday.
An aid group that helped organize the caravan, Pueblo Sin Fronteras, said the migrants were allowed in for processing after 24 hours of "standby" at a border crossing between Tijuana, Mexico, and California.
The group of roughly 150 migrants — many of them women and children — reached the border Sunday after a grueling journey through Mexico.
Most of them are Central Americans escaping violence and persecution in their home countries.
Federal officials said Sunday that the San Ysidro port of entry had reached capacity and that people without documentation might remain stranded in Mexico.
Erika Pinheiro, an attorney with the nonprofit Al Otro Lado who has been providing free legal counseling to members of the caravan, denounced the CPB for delays in processing all of the migrants in a timely manner.
"The fact that they're saying that they can't process large groups is ludicrous. They've had several weeks of notice that the group is coming," Pinheiro said late Monday. "We feel like the argument they don't have the capacity to process such a large group is just a pretext for denying these folks access to the asylum system."
Also on Monday, 11 migrants who federal officials believe were part of the caravan were charged with illegally entering the United States, a misdemeanor.
It was unclear how the officials determined that the migrants were part of the caravan. NBC News could not independently verify the claim.
Charging documents said the 11 people were from Guatemala, Honduras, Mexico and elsewhere.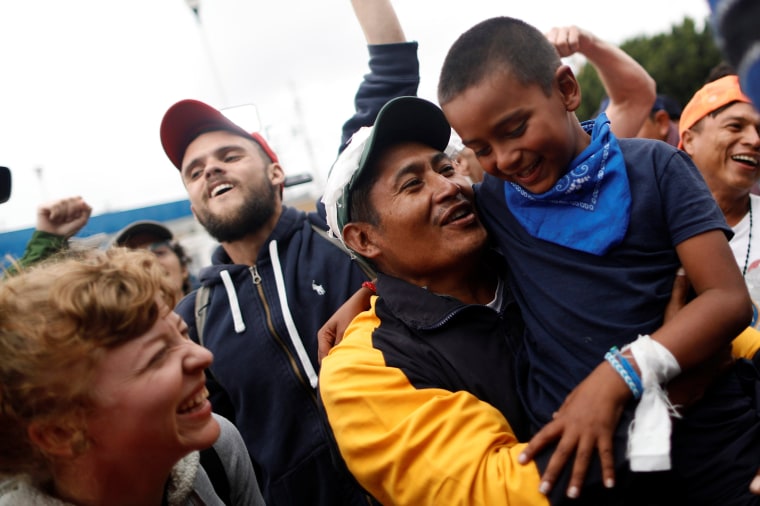 In a statement, the Justice Department said border patrol agents apprehended them in areas west of San Ysidro.
Pinheiro said she had not seen any evidence that those arrested were from the caravan. "We've been advising everyone to follow the law and ... warning parents that they could be separated from their children if they try to cross illegally," she said.
The Trump administration has previously described the group as a threat, and in a statement Monday, Attorney General Jeff Sessions said the country would "not stand by as our immigration laws are ignored and our nation's safety is jeopardized."