Joaquin "El Chapo" Guzman and his beauty-queen wife were briefly reunited Friday in a New York City courthouse, a day after a judge ruled she cannot visit him in the federal jail where he is waiting for a trial that won't happen until next spring.
Emma Coronel Aispuro, 27, waved at the drug kingpin from the second row of the public seating area when he was brought into the packed courtroom for a hearing.
The 59-year-old accused cartel leader wore jailhouse blues and locked eyes frequently with his wife, a U.S. citizen who was raised in Mexico.
Coronel, who listened to a translation of the hearing through headphones, married Guzman a decade ago while he was a fugitive after his first Mexican prison breakout.
A mother of twin girls, she has said she doesn't recognize the portrait authorities have painted of her husband as a ruthless drug trafficker who exported millions of pounds of cocaine to the United States and ordered his rivals murdered.
Coronel did not speak to reporters after the hearing, rushing to a taxi in black stilettos as a horde of international media crowded around her.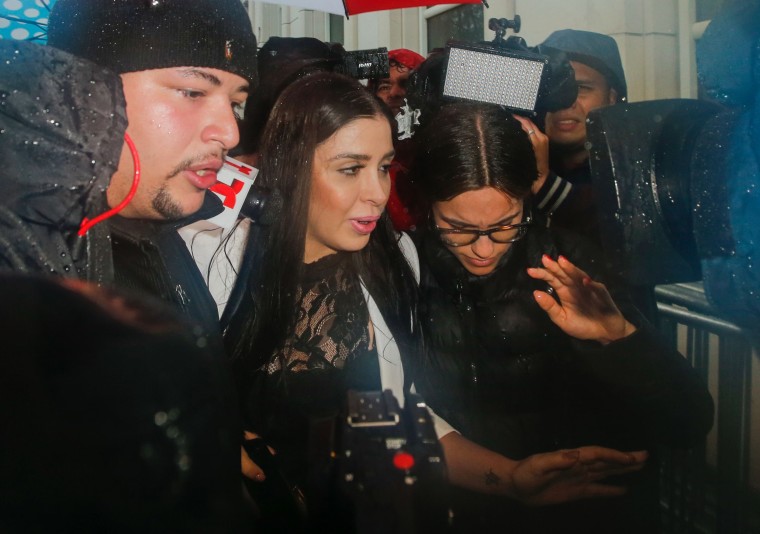 But a woman who identified herself as one of Guzman's 16 children and gave her name as Rosa stood outside the federal courthouse in the rain and said she missed him.
"I am sad about what's happening," she said in Spanish.
She said she had not seen her father in more than a year before Friday's court appearance and sthat he wept when she laid eyes on him.
"I love him a lot," she said. "He is not alone."
But Guzman is very much alone at the Metropolitan Correctional Center's Special Housing Unit, where he is kept in solitary confinement for 23 hours a day, except for meetings with his court-appointed lawyers from the non-profit Federal Defenders of New York.
Prosecutors have not allowed him to meet with Coronel, whose father and brother are accused of being members of the Sinaloa cartel. This week, a judge gave him permission to exchange messages with her, but said the FBI, the DEA and other agencies can screen them first.
Related: El Chapo Stays in Solitary, But Can Write to Wife Emma Coronel Aispuro
The judge set a trial date for April 2018 but conceded that might be ambitious given the sprawling nature of the case, which covers two decades of alleged crimes. The trial, prosecutors said, could last up to three months. The evidence includes 1,500 recordings and 10,000 documents, the attorneys said.
Guzman's defense team complained that the government has still not turned over the documents that led to his extradition from Mexico to the U.S. And they questioned whether the proceedings in Brooklyn are even legal since the extradition petition called for Guzman to be brought to Texas or California, not New York.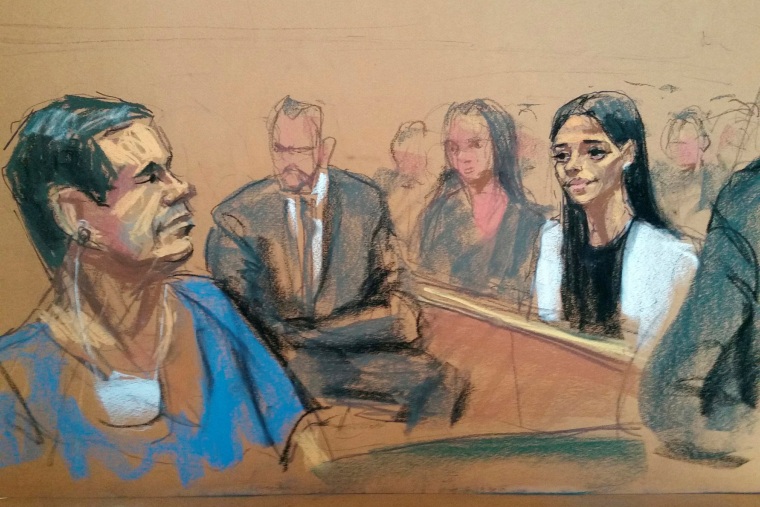 Related: El Chapo Guzman Still Searching for Lawyers, And Money To Pay Them
They also argued that they should be allowed to have contact visits with Guzman, while prosecutors say there is no area in the MCC that is secure enough to let the two-time prison escapee sit next to his lawyers.
The judge seemed to agree that it is too cumbersome for Guzman and his lawyers to be separated by a partition while reviewing mountains of paperwork and said he would send a magistrate to the Manhattan lockup to review the situation.
The bulk of the session was devoted to a hearing on whether El Chapo's public defenders have a conflict of interest because other lawyers in their office have briefly represented confidential witnesses who may testify against him.
Guzman waived the conflict, telling the judge through a translator, "I would like to continue with my current attorneys because I feel well with them."
Guzman has already met with at least 16 private lawyers but has said he can't hire another attorney until he communicates with his wife about who would pay the legal fees. The feds are seeking the forefeiture of $14 billion in drug proceeds, but his public defender said Friday that the feds have not been able to find "a single dollar."