A boardwalk fire that tore through two Jersey Shore communities, destroying dozens of businesses that had barely found their footing after Superstorm Sandy, was caused by electrical components that had been compromised by the storm, officials announced Tuesday.
The cause of last Thursday's massive blaze in Seaside Heights and Seaside Park, N.J., had been a mystery until Tuesday, when officials confirmed it was an electrical problem. The fire was accidental and human involvement has been ruled out, they said.
Investigators said the fire began under a building that housed an ice cream stand and a candy store. It was the result of failed electrical equipment and wiring under the boardwalk and subfloor, compromised by Sandy floodwaters.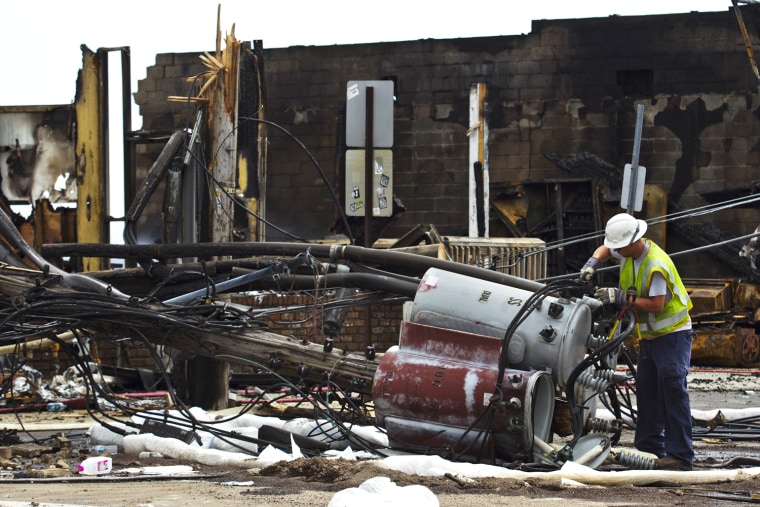 "During the storm, this wiring and these connections became fully submerged in saltwater and subject to sand and wave action contrary to the intended use," Ocean County Prosecutor Joseph Coronato said in a news conference. "Over time, degradation of this wiring and these connections occurred."
The wires were installed in the 1970s, Coronato said, and came in contact with each other after Sandy. As for why the electrical equipment failed and the wires touched, "We will never know," he said.
He urged homeowners and other businesses affected by Sandy to inspect their own wiring inspected for similar issues, but said, "We don't want to start a panic mode. We just want to be reasonable. If you're a property owner and you think your electrical work came in contact with water and sand, we strongly recommend you have it inspected."
It's not clear who owns the corroded wires, NBCPhiladelphia.com reported. Local electrical company JCP&L spokesman Scott Surgeoner said an investigation would begin in the next 24 hours.
More on the boardwalk fire findings from NBCPhiladelphia.com
More than 50 businesses went up in flames in the blaze, which required 400 firefighters to extinguish. 
Since Thursday, authorities had asked the public for photos and videos of the fire in in its early stages as a team of prosecutors, fire marshals, police and arson and bomb investigators searched for clues as to what set the boardwalk ablaze. 
"I feel like I want to throw up," New Jersey Gov. Chris Christie said of the devastation last week, immediately following the fire. "We lost a place that has provided generation of memories to our citizens."
President Obama vowed to support the state's efforts to rebuild, and issued a statement expressing his gratitude that there had been no loss of life — although three police officers leaving the scene were injured when they fell off an emergency vehicle.
Christie ordered state crisis counselors to Seaside to comfort residents last week.
"We been through a storm and now a fire," Tim Hussey, the owner of Kupper's French Fries on the boardwalk, said last Friday. "Is this some type of message?"
NBC's Tracy Connor, Tom Winter and Matthew DeLuca contributed to this report.