The Thunderbirds pilot killed in a fighter jet crash in central Nevada was an experienced aviator who had logged more than 3,500 flight hours, the Air Force said Thursday.
The Air Force identified the pilot as Maj. Stephen Del Bagno, who had joined the elite Thunderbirds team this season and was on a routine demonstration training flight when he was killed on Wednesday. He was alone in the F-16 Fighting Falcon when it departed from Nellis Air Force Base, near Las Vegas, and crashed at the Nevada Test and Training Range at about 10:30 a.m. (1:30 p.m. ET).
"We are mourning the loss of Major Del Bagno," Brig. Gen. Jeannie Leavitt, commander of the 57th Wing at Nellis AFB, said in a statement. "He was an integral part of the team, and our hearts are heavy with his loss."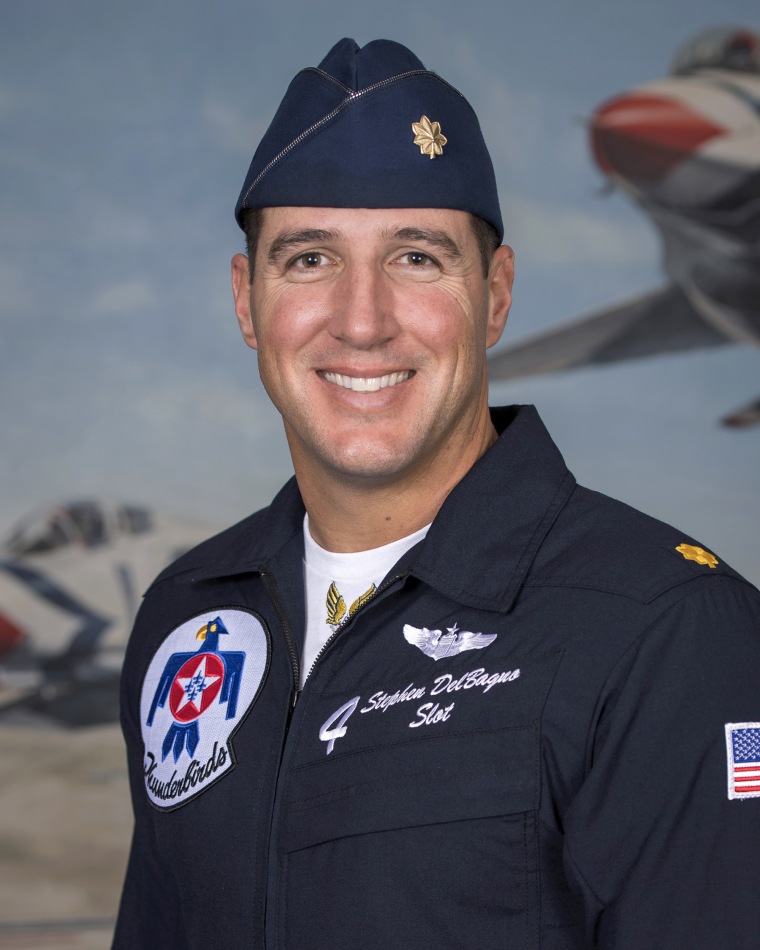 The Thunderbirds said in a statement that the team's participation this weekend at an expo at the March Air Reserve Base in Southern California had been canceled.
The squad is known as "America's Ambassadors in Blue." The highly trained pilots perform aerobatic formations and maneuvers during military ceremonies.
Del Bagno, of Valencia, California, was known as a slot pilot who flew the team's No. 4 jet. He graduated from Utah Valley State University in 2005 and after joining the Air Force served as an evaluator pilot, logging more than 3,500 total flight hours, according to his Thunderbirds biography.
Marvel Studios said Thursday night that Del Bagno was a consultant on "Captain Marvel," starring Brie Larson, which is scheduled to open next March. "We lost a friend yesterday," Marvel said on Twitter.
An investigation has been opened into the cause of the accident, which was the third U.S. military aircraft crash this week.
Four crew members were killed when a Marine CH-53E Super Stallion helicopter crashed Tuesday in California during a training mission along the U.S.-Mexico border west of El Centro. The Marine Corps identified the four members on Thursday.
The same day, a Marine Harrier jet crashed during takeoff from an airport in the East African nation of Djibouti. The pilot ejected ad was medically evaluated.
In September, a U.S. Air Force pilot, Lt. Col. Eric Schultz, died of injuries after a crash on the training range at Nellis, about 100 miles northwest of the base. He was assigned to a military command that conducts research and weapon system tests. Officials did not disclose the type of aircraft Schultz had been piloting.