Sen. Elizabeth Warren, D-Mass., and Rep. Alexandria Ocasio-Cortez, D-N.Y., teamed up Thursday to pepper Treasury Secretary Steven Mnuchin with pointed questions about his alleged role in the decline of the once mighty Sears department store chain.
Before joining the Trump administration, Mnuchin served on the board of the Sears Holding Corp. and is a close friend and ex-Yale roommate of Eddie Lampert, the former Sears CEO who has been accused of making billions for himself and investors while closing 3,500 stores and firing 20,000 workers.
"Eddie Lampert put his friend Steven Mnuchin on the Sears board and then he drove the company into the ground," Ocasio-Cortez said in a video posted on Twitter.
"Instead of investing in the company, he sucked about $6 billion in value out of it and then did stock buybacks, which certainly made him a lot of money," Warren, a Democratic presidential candidate, said of Lampert.
Mnuchin, Lampert and several other former Sears board members were accused in a lawsuit filed by Sears Holdings in April of allegedly stealing billions of dollars from the store chain.
"We are deeply concerned by the financial engineering and potentially illegal activity that took place at Sears Holding Corporation while you served on the company's board," the lawmakers wrote in a letter dated May 23 to Mnuchin. "In addition, we are concerned that, as Treasury Secretary, you are in a position to take actions that benefit Sears' shareholders and owners at the expense of workers and taxpayers."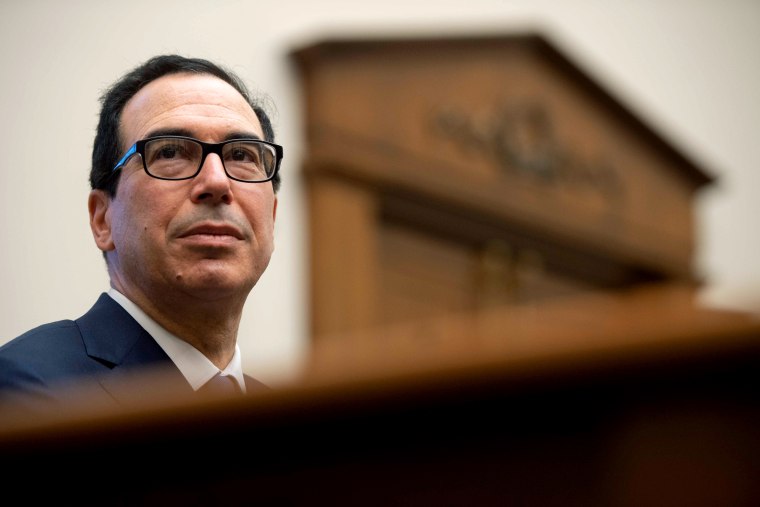 With that in mind, Warren and Ocasio-Cortez posed several questions to Mnuchin and gave him a June 13 deadline to respond.
Among other things, they asked Mnuchin what advice he gave when Lampert decided to buy back almost $6 billion in Sears stock, what advice he gave Lampert about loading Sears "with large amounts of debt," and what advice he gave Lampert about selling off or shuttering stores and laying off thousands of workers.
NBC News has reached out to the Treasury Department for Mnuchin's response.
Sears Holdings filed for bankruptcy in October after years of losses under Lampert, who was also the largest shareholder.
The company's creditors contend Lampert, along with Sears' biggest shareholders, unduly benefited from deals that occurred on his watch. Specifically, the spinoff of Lands' End in 2014 and transactions with Seritage Growth Properties, a real estate investment trust Lampert created through some Sears properties a year later.
"Altogether, Lampert caused more than $2 billion of assets to be transferred to himself and Sears' other shareholders and beyond the reach of Sears' creditors," the Sears Holdings lawsuit alleges.
It further alleged that, "In an effort to create a false record to cover up their asset stripping, at Lampert's personal direction, Sears employees repeatedly produced financial plans reflecting fanciful, bad-faith predictions that the company would experience an immediate and dramatic turn-around from deep and mounting losses to sudden profitability."
Both Warren and Ocasio-Cortez have been harsh critics of predatory corporate practices that have resulted in thousands of workers losing their jobs while enriching the people at the top.
Warren also has a personal connection to Sears. After her father suffered a heart attack, Warren's mother kept the family afloat by getting a job as a phone operator in the catalog department at a Sears store in Oklahoma.