Michigan's top medical officer admitted to NBC News on Wednesday that an email from a state health worker — raising the alarm about lead poisoning in Flint six months ago — was a "missed opportunity" to attack the crisis that may have sickened thousands of small children.
The epidemiologist identified a spike in kids' lead levels in July, August and September 2014, which was soon after Flint switched water sources to save money. She got the same results when asked to take a broader look at the numbers.
"This doesn't say anything about causality, but it does warrant further investigation," the epidemiologist, Cristin Larder, wrote in the July 2015 email to higher-ups at the state health department, which was obtained by Virginia Tech researchers.
"There are several steps we can employ if the folks upstairs ask us to look deeper into the data."
Instead of digging deeper, the agency decided the fact that the levels had slipped back down in October meant the surge that Larder found significant was merely seasonal, Michigan's chief medical executive, Eden Wells, told NBC News.
It wasn't until October, more than two months after the email, that the state acknowledged the water coming out of taps in Flint could be dangerous for the 99,000 people who live there, especially young children. A state of emergency wasn't declared until this month.
In hindsight, Wells said, she wishes Larder's email — which was first highlighted in the Detroit Free Press — had sparked a closer look and quicker action.
"Can I look back and say that was a missed opportunity?" she said. "Absolutely."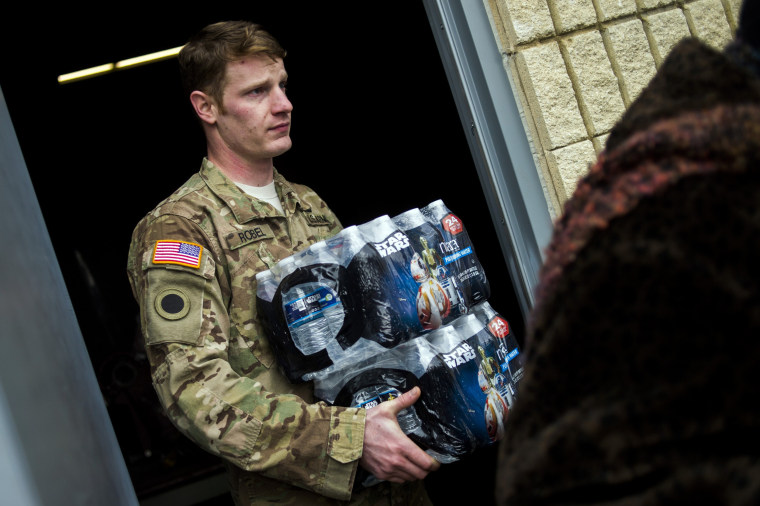 The impact of the missed opportunity is difficult to quantify.
Wells said that health officials are now tracking nearly 10,000 children under the age of 6 who were likely exposed to lead, which can be fatal in extreme cases.
The more lead that builds up in a child's system over time, the greater the chance they will have mental or physical problems, some of which may not become obvious for years. Medical authorities agree there is no safe level of lead.
Health officials said they did not know whether Larder had taken any action beyond sending the email and suggestion for followup.
"She did her job and provided her analysis to her superiors," said Jennifer Eisner, a spokeswoman for the health department.
The water crisis dates to April 2014, when the city, in a cost-cutting move, stopped getting its water from Detroit in April 2014 and began sourcing it from the Flint River.
The new water supply was saltier. So in addition to problems with bacteria and other impurities, corroded pipes that leached lead into the water became an issue across the cash-strapped city.
Officials who initially assured citizens that the supply was safe now acknowledge the water was dangerous for 21 months and is still unsafe to drink.
Gov. Rick Snyder, who this week activated the National Guard to distribute bottled water and filters to Flint residents, has been under fire for his handling of the contamination.
Another email from July revealed that Snyder's own chief of staff, Dennis Muchmore, had told the state health department that Flint's residents were "rightfully" concerned about lead levels.
"These folks are scared and worried about the health impacts and they are basically getting blown off by us," Muchmore wrote.