A vandalized memorial to civil rights martyr Emmett Till in Mississippi was removed and is set to be replaced with a new bulletproof sign.
The marker, near where the murdered 14-year-old Till's body was found in 1955, was at the center of a disturbing photograph of three white University of Mississippi students posing with guns.
One of those students posted the photo to his private Instagram account in March, according to an article published this week by the Mississippi Center for Investigative Reporting and ProPublica. All three of the students have been suspended from their Ole Miss fraternity.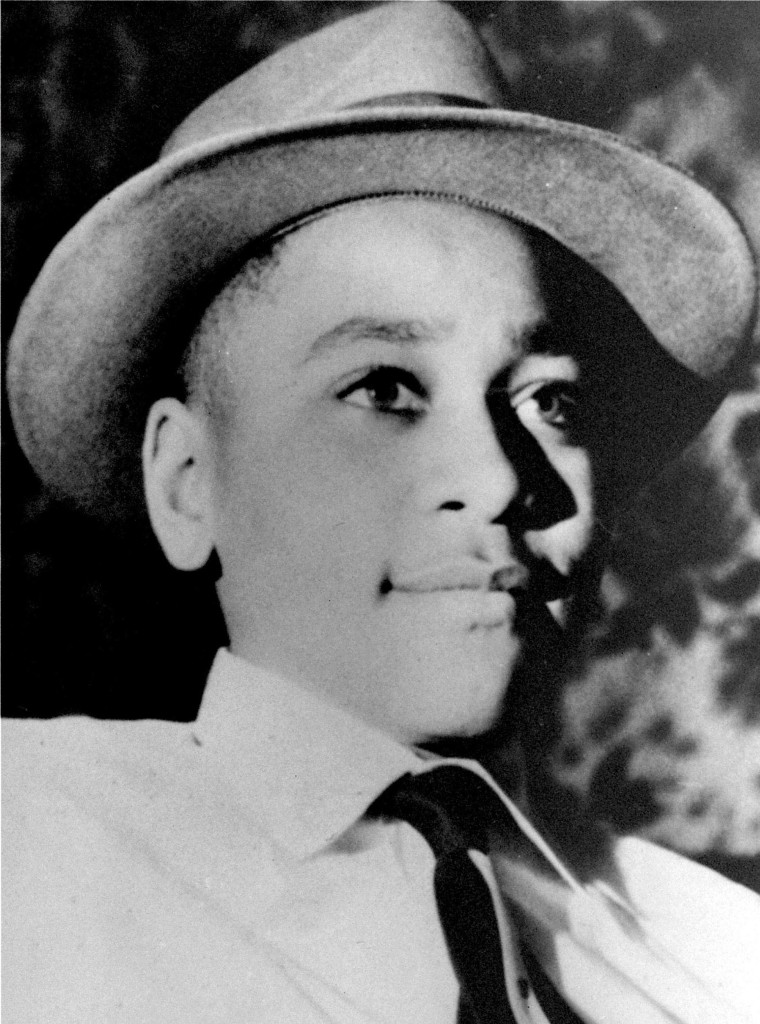 The photo showed the purple history marker riddled with bullet holes, though it's not clear who was responsible for that damage.
When the Emmett Till Memorial Commission, which maintains the marker, got word last week that a story on the photo was going to be published, it decided to remove the 50-pound sign that is to be swapped out with a 500-pound reinforced steel replacement.
The commission's executive director, Patrick Weems, told NBC News on Friday that the memorial has been destroyed previously by vandals, and he is sure others will try to ruin the new one, which will be the fourth one on the site.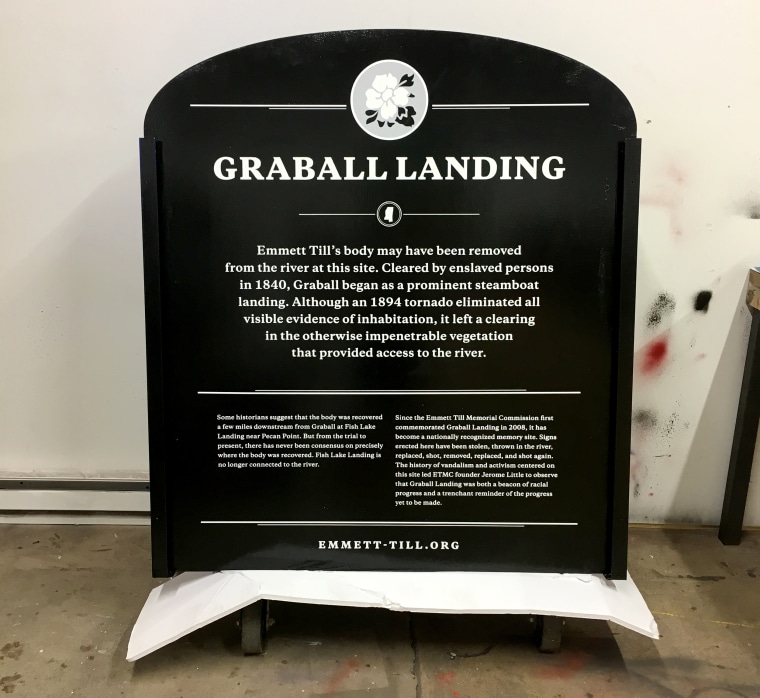 "We're under no naiveté that this is going to end," Weems said. "The manufacturers said that this is a bulletproof sign. We'll test that theory."
"This is an ongoing saga," he said.
The repeated efforts by vandals to destroy the memorial arise from the difficulty of confronting the history around Till's brutal killing, said Susan Glisson, co-founder and partner in Sustainable Equity, which consults with the commission on how to memorialize Till.
"It's easier to cancel out that story for some people than it is to engage with the truth," Glisson said.
Larry Sparks, interim chancellor of Ole Miss, decried the picture as "offensive and hurtful" on Friday but pointed out that the picture was taken off-campus "and was not part of any university-affiliated event."
And thus, the school has "limits on the tools available to remedy this offensive behavior," according to a statement Sparks issued to the Ole Miss community Friday.
Sparks made passing reference to Ole Miss' racist past in a lengthy post on the matter.
Students and Ole Miss supporters rioted in the fall of 1962, when federal forces were used to enforce the court-ordered enrollment of James Meredith as the university's first black student.
"In light of our history, our University of Mississippi community of more than 25,000 people needs to come together to make it clear that these students and their actions do not represent the values of our institution," Sparks said. "They do not speak for our institution, and they do not define us."
Till, a teenager from Chicago, was visiting family in the Mississippi Delta in the summer of 1955 when a gang of white men abducted, tortured and murdered him.
His mother had her son's casket open at his funeral to show the violence done to her son. An all-white, all-male jury acquitted two white men accused of the slaying.
News of the killing, the shocking pictures of his brutalized body and the acquittal of the suspects became a galvanizing force for the civil rights movement.
Till would have turned 78 Thursday.
The new memorial is planned to be installed at an Oct. 19 ceremony, and some of Till's relatives are expected to attend.