California lifted a moratorium on executions in November and is now set to execute Kevin Cooper — even though several federal judges say he may be innocent.
Having exhausted all his options in court, Cooper, 57, is about to file a last-ditch appeal with Gov. Jerry Brown. In a new interview from death row, Cooper says he is pleading with Brown to bring "an open mind" about the evidence in his case.
"I am the only person in the history of the state to have five federal circuit judges say that 'the state of California may be about to execute an innocent man,'" Cooper told NBC News.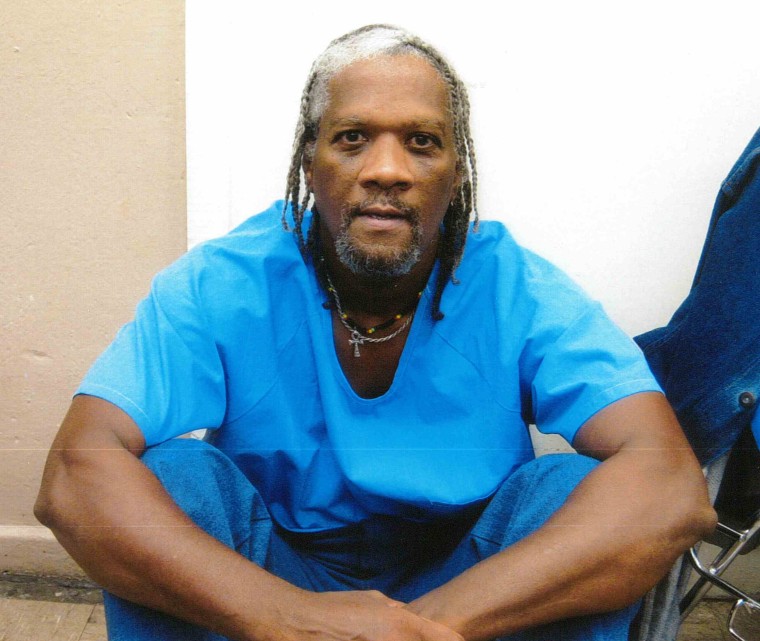 Cooper is referring to rulings by the top federal court in California, the Ninth Circuit, which found prosecutors illegally withheld evidence that cast doubt on his guilt. Still, the court upheld his conviction for an infamous quadruple murder.
It all began in June 1983, when four people were found brutally murdered in a ranch house in Chino Hills, a Los Angeles suburb.
Douglas and Peggy Ryen, their 10-year-old daughter Jessica, and 10-year-old Chris Hughes, who was staying at the house, were all hacked and slashed to death. They received over 144 wounds in four minutes, according to the coroner. Josh, the Ryens' 8-year-old-son, was found with his throat slit but managed to survive.
The boy's memory of the murders would prove to be pivotal in the case, cited by prosecutors to prove Cooper was the killer — and by those who insist Cooper is innocent.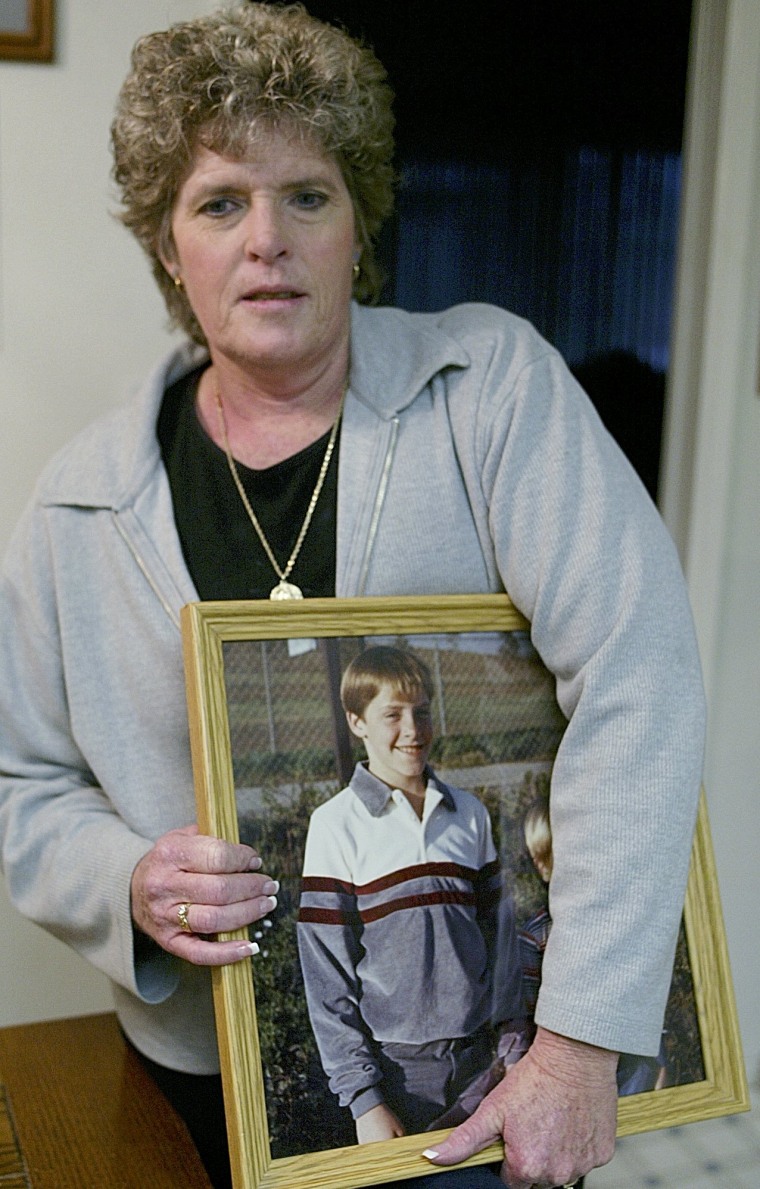 Ryen initially said that three white or Latino men murdered his parents. That account, combined with physical evidence that suggested multiple killers, led police to release a criminal bulletin seeking three suspects who were "white or Mexican males."
Other early clues supported that theory.
On the night of the murders, two witnesses saw three white men driving a station wagon down the dead-end road away from the house. The family's station wagon was stolen that night.
Then a local woman, Diana Roper, told police she thought her estranged husband was involved in the "Chino Murders," according to records from the sheriff department.
The man, Lee Furrow, was a white convicted murderer. She said his hatchet was missing. And, most critically, she told police he left coverall pants, splattered with blood, at her house on the night of the murder.
Roper gave police the bloody pants, but they did not test them.
Instead they threw the pants out in a dumpster.
Destroying evidence was not only bad police work — it was also illegal, as the Ninth Circuit court would later rule.
But why did police scuttle a potential lead? They had begun zeroing in on Cooper. And they had a reason.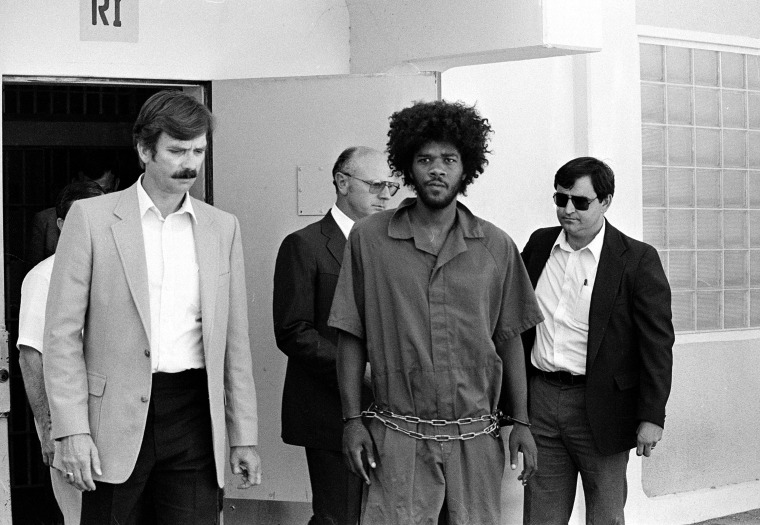 Police discovered that before the murders, Cooper escaped a minimum-security prison and hid out at a house right by the Ryen residence. As a local NBC anchor reported during at the time, police began to think "the murderer may have stayed in the house next door," then attacked the Ryens.
That led to a new theory: fugitive Kevin Cooper as the sole killer.
Authorities began with circumstantial evidence for the theory. It was undisputed that Cooper was nearby, had a criminal record of burglary convictions, and was on the run from the law. Prosecutors, however, usually need more than circumstance for a murder conviction.
At trial, they offered other evidence to physically link Cooper to the crime, such as blood, shoeprints and testimony from Josh Ryen, the 8-year-old survivor.
When Cooper was first arrested and his face was shown on TV in June 1983, Josh Ryen said that was not the man who killed his parents. On two occasions, in fact, he told his grandmother and a sheriff's deputy that Cooper was not the killer.
At trial, however, prosecutors were able to present different testimony.
Prosecutors said Ryen no longer thought three white or Latino people killed his family, and that he had come to realize there was one killer — Kevin Cooper. They introduced that version of the testimony at trial. (In later hearings, Cooper's lawyers would argue that he was denied the right to fully cross examine the one eyewitness accuser).
Prosecutors also argued that crucial shoeprints at the scene must be from Cooper, because they were prison-issued shoes which he owned that were not for sale to the general public.
It sounded like damning evidence — although the warden at Cooper's own prison said it wasn't true. Prosecutors hid that rebuttal from the jury, which an appeals court later held was illegal.
Finally, prosecutors said they had Cooper's blood in the house. They alleged that a drop on the wall matched Cooper's blood sample — a crucial allegation, since he claimed he had never been in the house, or met the Ryen family.
After seven days of deliberation, the jury found Cooper guilty and he was sentenced to death.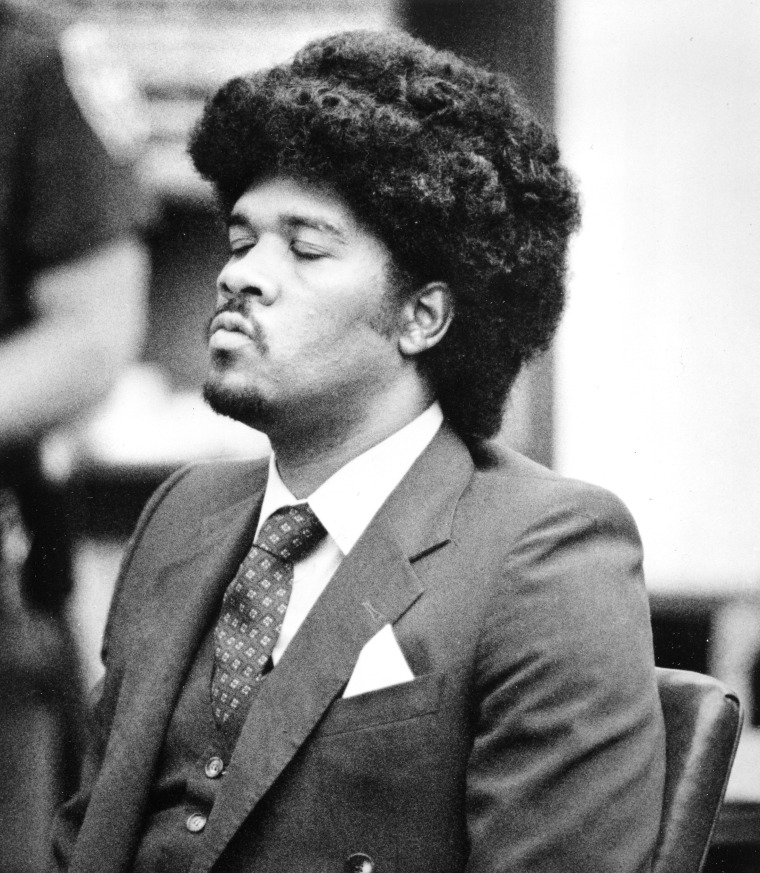 "I MET THEIR VOLUNTEER EXECUTIONERS"
Cooper maintained his innocence, but state courts rejected all his appeals.
Then-Governor Arnold Schwarzenegger declined to intervene, saying evidence of Cooper's guilt was "overwhelming," and Cooper's execution was scheduled for Feb. 10, 2004. His only hope was intervention by a federal court.
As the date approached, that seemed increasingly unlikely, and Cooper recalls being led into the death chamber that day.
"I met their volunteer executioners," Cooper said. "They had me stand there butt-naked in that death chamber."
"You watch the clock as your life goes off, minute by minute," Cooper told NBC News. "I was ten feet away from being murdered."
Then with three hours left, the Ninth Circuit halted the execution.
The judges decided to convene a special review of the case by every member of the court — which happens in less than one percent of cases — and then they ruled that some evidence used against Cooper was flawed and illegal.
The court found that the warden of the prison where Cooper served, in 1983, said that prison did not give out special prison shoes. That undercut the prosecution's claim. And the warden said he told investigators that fact before the original trial, which they hid.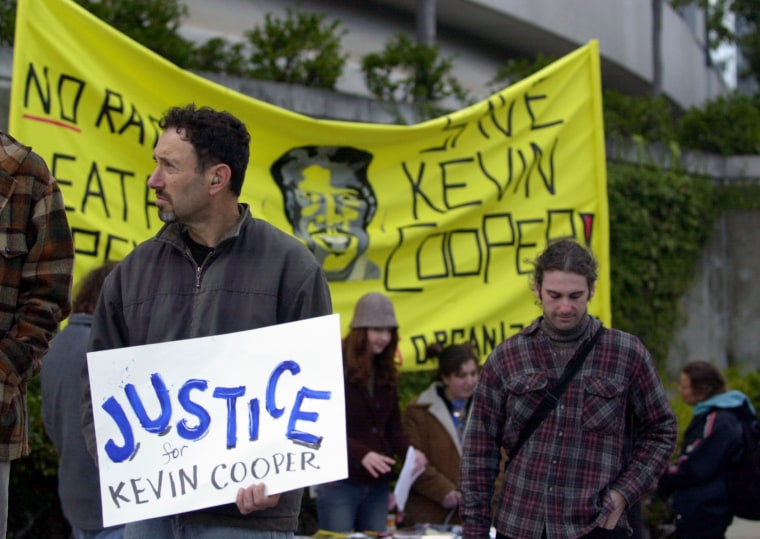 The court ruled prosecutors broke the law by withholding that evidence, and "Cooper was almost certainly not wearing" the shoes from the crime scene.
If they weren't Cooper's shoeprints, whose shoes were they? That question has never been answered.
The judges went further, probing the police destruction of Lee Furrow's bloody coveralls. They also noted a new jailhouse confession from an associate of Furrow's, who said he did the crime part of an attempted revenge killing, but it mistakenly "hit the wrong house."
The court ordered new proceedings and blood testing, noting that "no person should be executed if there is doubt" about guilt.
MORE EVIDENCE, MORE QUESTIONS
As the evidence in the public record shifted, some jurors from Cooper's original trial expressed doubts.
"I let the police misconduct go and sentenced Mr. Cooper to death," one wrote in 2004. "I now regret that decision."
Others involved in the case vigorously disagreed.
Dennis Kottmeier, the district attorney who prosecuted Cooper, maintained it was "the strongest evidentiary case" he "had ever seen."
Bill Hughes, the father of victim Chris Hughes, said the 2004 ruling was "unfathomable."
"We know he's guilty," he said after the ruling. "We know that we have the truth on our side."
The Court's decision did not overturn Cooper's conviction. It stayed the execution pending further tests and fact-finding by a lower court. That process unearthed more irregularities.
A "STARTLING" BLOOD DISCOVERY
It turned out that the state's original test on blood in the house did not match Cooper. Then a later test did, and the state changed the criminologist's original notes about the shift.
Then, when the state lab provided material for new tests under the 2004 court order, it accidentally sent out Cooper's original blood sample, drawn in August 1983, for testing. This was the first time that blood evidence was ever examined by independent experts who did not work for the prosecution.
What they found was, as a judge would later write, "truly startling."
The blood which had always been presented as a sample of solely Cooper's blood, drawn from his body, actually contained DNA from two different people.
That meant either the original blood sample was compromised, such as by lab error, or someone with access to the sample deliberately, illegally tampered with it.
"They put my blood in that container"
When Cooper's lawyers asked for a hearing on this discovery — that the blood sample supporting his murder conviction was flawed — the judge denied any further inquiry into the issue.
Speaking from death row now, Cooper says that evidence is critical.
"We now know that was not my blood, it had somebody else's DNA in it," he said. "They put my blood in that container" for blood found at the crime scene, he alleged, "and that's why you've got two DNAs in there. That's what I believe."
The issues with the blood evidence could raise reasonable doubts, but in the new proceedings, the state emphasized other evidence that it said proved Cooper's guilt, from cigarettes found in the Ryen family car to Josh Ryen's testimony.
"HE SLIT MY THROAT"
Ryen, then an adult, spoke at the new hearings and offered a powerful recollection of the crime.
"The first time I met Kevin Cooper, I was eight years old and he slit my throat," Ryen said.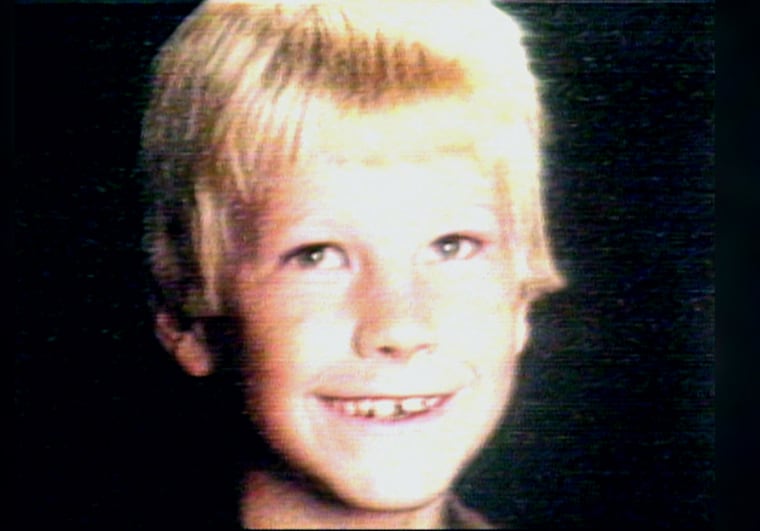 The judge did not allow Cooper's lawyers to cross-examine Ryen, who gave unsworn testimony. The judge also denied fact-finding on the reliability of Ryen's original memories, or the impact of police interviews when he was a child.
The state insists Ryen's testimony, both from the original trial and as an adult, speaks for itself. Cooper's lawyers say experts suggest Ryen's initial account — of three white or Latino killers — is probably more accurate than a story which shifted after interrogation.
When asked about Ryen's testimony, Cooper says "I don't blame him."
"He told the truth — he saw my picture on TV and said, 'No that's not him,'" Cooper says, citing Josh's first reactions as an 8-year-old. "They manipulated him... So I am not angry with him, I understand what they did to him."
"There is no way to say this politely... The district court failed to provide Cooper a fair hearing"
The district court ultimately upheld Cooper's conviction. The Ninth Circuit again reviewed the case in 2009, this time upholding the conviction.
That ruling featured an unusually blunt and vigorous dissent by five judges, which not only said Cooper may be innocent — as he has highlighted — but also suggested the lower court judge defied its 2004 order for new tests.
"There is no way to say this politely," the judges wrote. "The district court failed to provide Cooper a fair hearing and flouted our direction" on testing.
On the critical questions regarding Josh Ryen's memories, the judges wrote that police "misrepresented his recollections and gradually shaped his testimony so that it was consistent with the prosecution's theory that there was only one killer."
To be clear, no court has ever established that the state framed Cooper, but the judges did call out California prosecutors for suspicious activity regarding the spot of blood at the crime scene.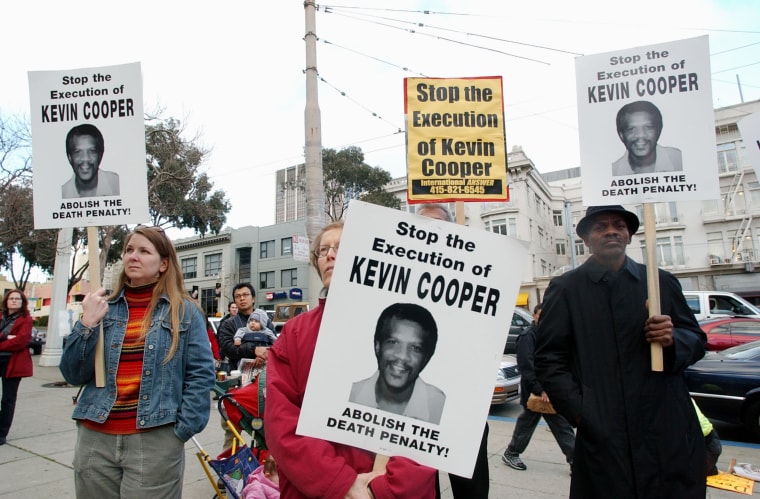 "The drop of blood has a history of being 'consumed' during testing," they wrote, "and then inexplicably reappearing in different form for further testing when such testing would prove useful to the prosecution."
Taken together, the judges concluded the evidence against Cooper was so weak, it's "highly unlikely that Cooper would have been convicted" if prosecutors had not illegally denied exculpatory evidence at trial.
It's a rare and detailed dissent — but in the end, more judges on the court upheld Cooper's conviction.
That majority opinion stressed that the questions in Cooper's case are mostly old, known, and have been extensively litigated; that the California Supreme Court ruled the "volume and consistency of the evidence is overwhelming" for Cooper's guilt; and that any shortcomings discovered did not put that in serious doubt.
Cooper has no more court appeals, so barring intervention by Gov. Brown, he will be executed. No date has been set; Cooper is one of 28 convicts on the state's death row who have exhausted all court appeals.
"I AM INNOCENT"
Cooper says he is hopeful the public or Gov. Brown will focus on the evidence, not on him.
"I'm not asking America as a whole, or any one person in particular, to believe me. Forget what I say," he told NBC News. "I'm asking people to believe those [judges]," he said.
When asked about the murder and his criminal record, Cooper says he did not kill the Ryen family or enter their home, and that he didn't lie about his earlier crimes.
"When I was convicted of burglary, I pled guilty to those," Cooper said, "because I did them."
Asked about what he's learned through this process, Cooper said he thinks the justice system discriminates based on money.
"The only people who are on death row are poor people," he says. "No matter what their culture, or their skin color, or their religion, we're all poor."
Finally, when asked what he would want people to know about his case if he is executed, Cooper was unequivocal.
"I am innocent," he said. "And it's not my execution, it's my murder."
Editor's note: One of Cooper's lawyers is the family member of an NBC employee, who was not involved in the assignment or production of this story.