An environmental activist who was marching barefoot across the country to raise awareness about climate change was killed over the weekend.
Mark Baumer, 33, died Saturday after being struck by an SUV on a Florida highway as he was walking on the shoulder.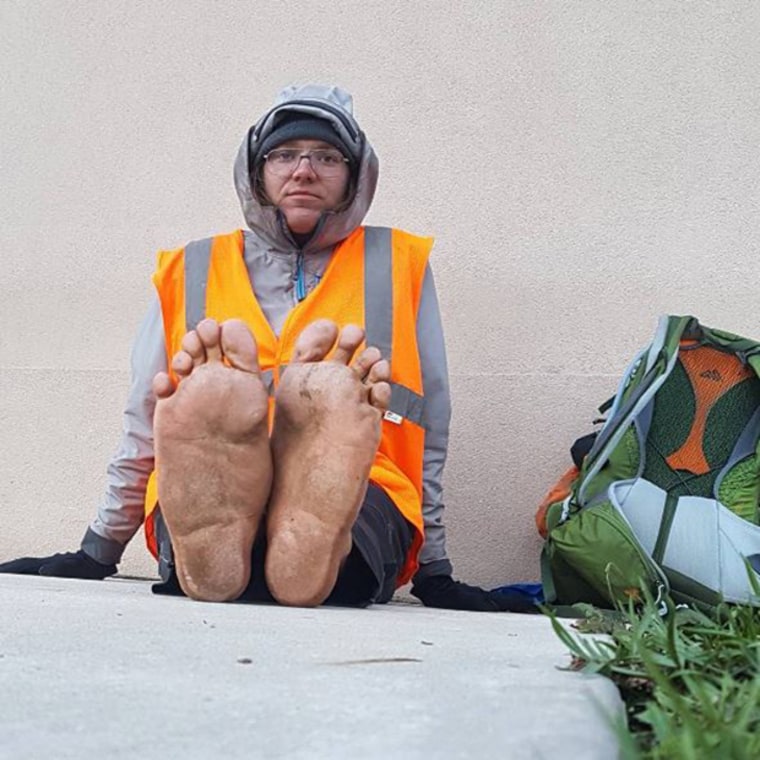 His death sparked a tribute from The FANG Collective, a Rhode Island-based environmental group that opposes the natural gas industry and on whose behalf he had already marched hundreds of miles and raised more than $3,000 dollars.
"Mark was an amazingly compassionate, empathic, humble, joyful, generous, mindful and caring person," the group said in a statement. "He was a talented poet and artist with an ability to tap into the human experience with his work."
"I am crossing America barefoot to save the earth. Climate change is the greatest threat we've ever faced as a civilization."
Baumer, of Providence, Rhode Island, was walking westbound on the south shoulder of US 90 in Walton County, in the northwestern part of the state when he was struck at 1:15 p.m. by an SUV, according to the Florida Highway Patrol.
The 51-year-old driver, Sonja Moore Siglar of Westville, Florida, had been driving eastbound and "failed to maintain her lane and entered the south shoulder" before colliding with Baumer, the report states.
Baumer "was pronounced deceased at the scene," according to the report. Charges against Siglar were pending Monday.
The activist's death came after he had logged his 100th day on the road in a post on his ominously named blog notgoingtomakeit.com, which included an equally ominous photo of his bare toes beneath the word "Killed" painted in yellow on a road.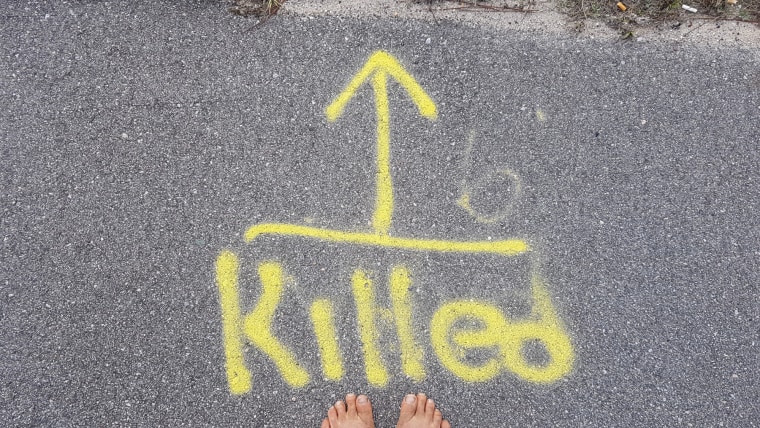 "On day 100 of crossing America barefoot I traveled from Defuniak Springs FL to Mossy Head FL," he wrote.
Baumer then went on to chronicle his impressions from the journey, the disapproving looks he got when he stopped to buy kale at a grocery store, the call to his father, his fears about President Trump handling the "nuclear codes."
He also included a video and a poem which began: "A tree/does some/thoughts/and/thinks/it doesn't/look good/for us."
On his Barefoot Across America site, Baumer laid out his reasons for the trek.
"I am crossing America barefoot to save the earth," he wrote. "Climate change is the greatest threat we've ever faced as a civilization. A lot of scientists agree. I am not a scientist. I am a poet. I am also a regular human being."
Baumer said he set off on his journey on Oct. 13, 2016. "I don't know when it will end," he wrote.
On his site, Baumer also included a whimsical biography of sorts which revealed that he had played baseball at Wheaton College in Massachusetts before he "retired" in 2006, that he'd been accepted to the fiction writing program at Brown University, that he worked at a library and owned a home.
It also revealed he was no stranger to cross-country treks, having hitchhiked to California at least once and marched across the country — in shoes — in 81 days, an adventure he chronicled in a book called "I am a Road."
FANG, whose acronym stands for Fighting Against Natural Gas, did not explain why Baumer was walking shoeless or immediately return an email for comment. But in an interview last month with Vice, Baumer gave this explanation:
"In 2010, I did a cross-country walk with shoes on," he said. "I wanted to do this walk for a cause and use the attention to generate money for something good."