Opponents of a five-year-old plan to build a natural gas compressor station in a historically black community of Virginia say they've scored a "major victory" for environmental justice after a federal court invalidated a key permit for the project.
In announcing its decision Tuesday, a three-judge panel of the 4th U.S. Circuit Court of Appeals in Richmond unanimously agreed that Virginia's Air Pollution Control Board failed to consider how the project would disproportionately affect residents of Union Hill, some of whom can trace their lineage to slave ancestors and freedmen who settled in rural Buckingham County after the Civil War.
The ruling is a setback for Dominion, which has seen its larger effort — a 600-mile, multistate natural gas pipeline project known as the Atlantic Coast Pipeline — hampered by delays.
While the appeals court essentially vacated the air permit, it allowed it to be kicked back to the control board for review with the judges' expectations in mind.
"It was the first time I woke up in five years and took a breath and said, 'Justice is being served,'" Chad Oba, the co-founder of the grassroots environmental group Friends of Buckingham, said Wednesday of the appeals court's ruling.
The activists gaining momentum in unincorporated Union Hill, about 60 miles west of Richmond, have put a wind in the sails of similar campaigns.
In Northampton County, North Carolina, where Dominion was approved in 2018 to build a compressor station as part of the Atlantic Coast Pipeline, resident Belinda Joyner said the latest development out of Union Hill "lifted her spirits." Construction, however, has already begun on Northampton County's station, located in a census block where 79 percent of the population is black.
But some members of the community are still in opposition of the pipeline coming through, and say they're inspired by what has happened in Virginia.
"This is giving us strength," Joyner, of the Concerned Citizens of Northampton County, said. "This right here just gives us extra fuel to know that somebody somewhere is listening to what we're saying."
The case against the State Air Pollution Control Board's decision to grant Dominion an air permit in January 2019 was brought by the Friends of Buckingham, which was represented by the Southern Environmental Law Center, and the Chesapeake Bay Foundation.
Dominion has maintained that the Buckingham compressor station would have fewer air emissions and "more air quality monitoring than any other facility of its kind." A study conducted last September by the Virginia Department of Health noted that while households within a 2-mile radius of the site suffer from a variety of health ailments, an air concentration model examining potential pollutants from the station determined they "are not a health hazard."
In its decision, the appeals court noted that "if true, it is admirable" that the compressor station would have stringent requirements. But the judges also took the control board to task for failing to consider zero-emission electric turbines for the station as an alternative to gas-fired ones.
Ultimately, Judge Stephanie Thacker wrote in the ruling, "even if all pollutants within the county remain below state and national air quality standards, the Board failed to grapple with the likelihood that those living closest to the Compressor Station — an overwhelmingly minority population according to the Friends of Buckingham Survey — will be affected more than those living in other parts of the same county."
She added that "environmental justice is not merely a box to be checked," and that the control board's failure to consider the "disproportionate impact" on those living closest to the compressor site resulted in a "flawed analysis."
Dominion has disputed the findings of a 2018 door-to-door study by the Friends of Buckingham concluding that more than 80 percent of people around the compressor site identified as minorities and were predominantly black.
Dominion spokesman Aaron Ruby said that from the company's perspective, the appeals court is simply "requiring more explanation and analysis from the state" before the air permit can be given the green light again.
"We will immediately begin working with the state to resolve the procedural issues identified by the Court and are confident this can be completed in a timely manner," Ruby said.
If the air permit is successful on a second attempt, construction could resume on the compressor project this summer.
But Union Hill activists say the appeals court's decision has given them the extra shot in the arm to keep fighting.
Last year, the community gained national attention with a visit from former Vice President Al Gore and the Rev. William J. Barber II, who teamed up with their respective campaigns focusing on climate change and the poor. The pair had asked Virginia Gov. Ralph Northam, a Democrat, to oppose the Atlantic Coast Pipeline.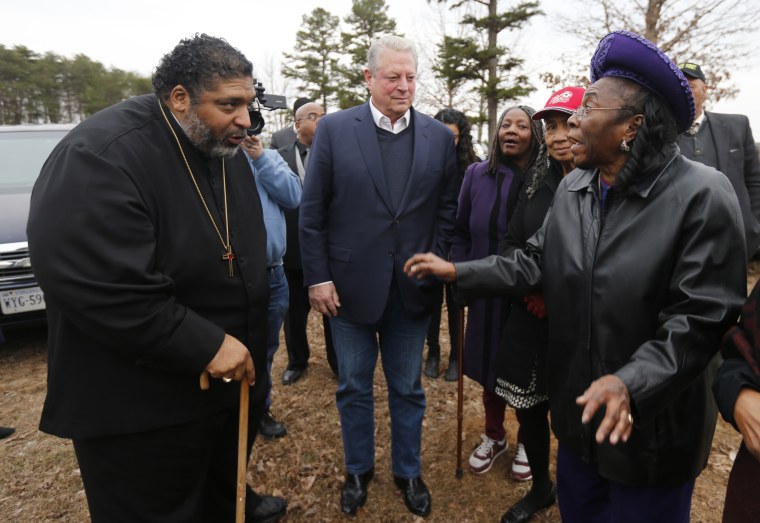 Barber tweeted Wednesday that the appeals court's move was a "huge win."
Activist Richard Walker, whose great-grandfather purchased land in Union Hill as a freed slave in 1885, echoed the decision as a "major victory." He said he met Northam at an event on Wednesday morning in Richmond, asked him to come to Buckingham County and hear from residents, and that the governor "is now willing to speak to us."
"We invited him several times to Union Hill in the past and he denied each request," Walker added.
Northam's office did not return a request for comment.
He has been accused of remaining silent on issues of environmental justice when it comes to the Atlantic Coast Pipeline. In a move that stoked outrage in November 2018, Northam removed two members of the control board who had publicly questioned the compressor project in Union Hill.
At the time, a spokeswoman for the governor's office said he was "exercising his statutory authority to appoint members of his choosing to these boards."
David Neal, a senior attorney with the Southern Environmental Law Center, said he hopes other communities struggling with issues of environmental justice won't back down and will see that in places like Virginia, it does matter where companies want to build.
"It reflects the power of showing up at public meetings and voicing their concerns," he said, "because for so long, their concerns have been written off."
The broader fight over the Atlantic Coast Pipeline is looming after the U.S. Supreme Court agreed to hear a case next month involving appeals filed by Dominion and other energy companies seeking to construct the pipeline project through two national forests. Dominion has argued that the project, which was halted in December 2018 amid the legal wrangling, will create more jobs and bring natural gas to communities experiencing shortages.
But during a time of surging natural gas use and record fossil fuel emissions, Oba said, communities concerned about health and environmental risks must remain vigilant.
"We're fighting for our lives," Oba said. "When you're fighting for your life, you don't give up."