A river that turned a troubling shade of orange after toxic waste was accidentally released into it a week ago is "restoring itself," the country's top environmental official said Thursday.
Speaking at the Animas River in Farmington, New Mexico, on Thursday, Environmental Protection Agency Administrator Gina McCarthy told reporters that the water quality has returned to "pre-incident conditions" after toxic sludge from an abandoned gold mine upstream in southern Colorado flowed into it.
"The very good news is that we see that this river is restoring itself," McCarthy said.
Her agency has taken full responsibility for the spill, in which more than three million gallons of toxic wastewater spewed out of the Gold King Mine near Silverton, Colorado, while an EPA crew was cleaning it up.
On Wednesday, Colorado officials said it was safe for Durango — the town just downstream from the spill site — to pull drinking water from the river again.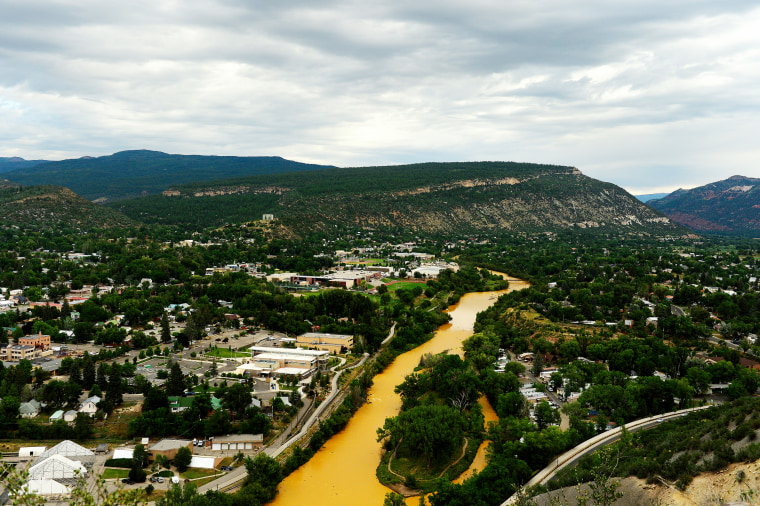 There are still concerns about the river basin sediment, which absorbed contaminants from the spill and could release them back into the river during stormy weather in the future.
Related: A Week After Toxic River Spill in Colorado, Environmental Impact Remains Unclear
"We know that the sediment is an issue," McCarthy said. "The sediment is where the longer-term responsibility is for this agency, and we will meet that responsibility."
The EPA is determined to "make sure this never happens again," she added, and said she expects congressional discussions to take place on how to safely address other shuttered mines.
Related: Ticking Time Bombs? Abandoned U.S. Mines Posing Toxic Spill Dangers
"What we're doing is an independent analysis as well as an EPA analysis on what led to this incident," she said.