Internal documents released late Friday show managers at the U.S. Environmental Protection Agency were aware of the potential for a catastrophic "blowout" at an abandoned mine that could release "large volumes" of wastewater laced with toxic heavy metals.
EPA released the documents following weeks of prodding from The Associated Press and other media organizations. EPA and contract workers accidentally unleashed 3 million gallons of contaminated wastewater on Aug. 5 as they inspected the idled Gold King Mine near Silverton, Colorado.
Among the documents is a June 2014 work order for a planned cleanup that noted that the old mine had not been accessible since 1995, when the entrance partially collapsed. The plan appears to have been produced by Environmental Restoration, a private contractor working for EPA.
Related: Ticking Time Bombs? Abandoned Mines Pose Environmental Risks
"This condition has likely caused impounding of water behind the collapse," the report says. "ln addition, other collapses within the workings may have occurred creating additional water impounding conditions. Conditions may exist that could result in a blowout of the blockages and cause a release of large volumes of contaminated mine waters and sediment from inside the mine, which contain concentrated heavy metals."
A subsequent May 2015 action plan for the mine also notes the potential for a blowout.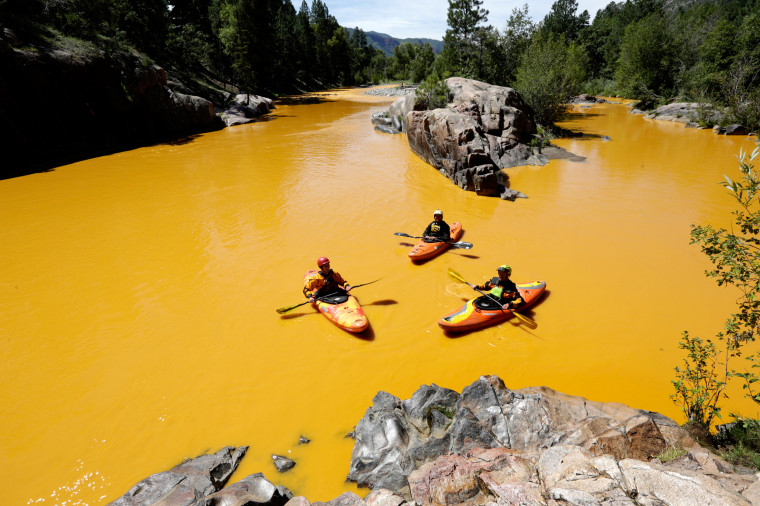 There are at least three ongoing investigations into exactly how EPA triggered the disaster, which tainted rivers in Colorado, New Mexico and Utah with lead, arsenic and other contaminates. EPA says its water testing has shown contamination levels have since fallen back to pre-spill levels, though experts warn the heavy metals have likely sunk and mixed with bottom sediments that could someday be stirred back up.
The documents, which the agency released about 10:30 p.m. ET Friday, do not include any account of what happened immediately before or after the spill. The wastewater flowed into a tributary of the Animas and San Juan rivers, turning them a sickly yellow.
Elected officials in affected states and elsewhere have been highly critical of the EPA's initial response. Among the unanswered questions is why it took the agency nearly a day to inform local officials in downstream communities that rely on the rivers for drinking water.
Much of the text in the documents released Friday was redacted by EPA officials. Among the items blacked out is the line in a 2013 safety plan for the Gold King job that specifies whether workers were required to have phones that could work at the remote site, which is more than 11,000 feet up a mountain.
EPA did not immediately respond Friday night to questions from the AP.