The severe ice storm sweeping the South is expected to finally dissipate Thursday, but not before leaving chaos in its wake, with at least 8 people suspected to have died due to it and more than 370,000 utility customers still without power.
"The epic ice storm across a portion of the Southern U.S. will come to an end on Thursday," the National Weather Service said. "A system tracking near the Gulf Coast will clear-out the frozen mess, while also producing heavy rain and perhaps a severe thunderstorm for the Gulf Coast states," it said.
The weather service warned that hazardous travel conditions were still expected, with an additional glaze of ice accretion possible, as well as a chance for light sleet accumulations. Tree damage and further power outages were also possible before the ice begins to melt, it said.
As of Wednesday, at least eight deaths had been connected to the storm, which hammered parts of the South from Texas to Tennessee. Seven of those fatalities were in Texas, while a person driving a truck died in Benton County, Arkansas, after it slid on an icy spot and hit a pole.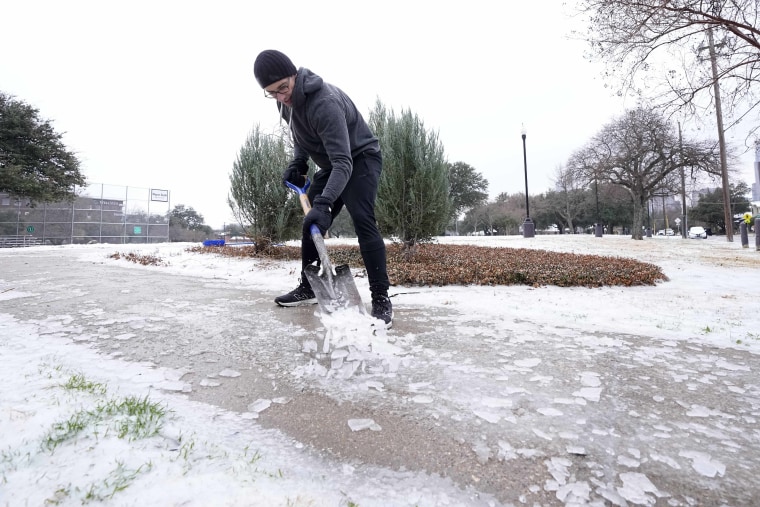 Meanwhile, more than 370,000 utility customers across Texas were without power as of early Thursday, according to the outage tracking website PowerOutage.us.
"Ice and tree limbs are still breaking as our lineworkers are working on restoration," utility provider Austin Energy tweeted Wednesday. As of early Thursday, the company had more than 154,700 customers without power, according to PowerOutage.us.
The utility company said some areas could be without power until Friday and noted that restoration efforts were also being hampered by accumulating ice and freezing temperatures.
U.S. flight cancellations also appeared to dwindle after hundreds of flights were canceled this week due to the severe weather.
As of early Thursday, just under 670 flights within, to and from the U.S. were canceled, according to the online flight tracker FlightAware. At least 257 of those cancellations were related to Dallas-Fort Worth International Airport, while 48 were listed at Austin-Bergstrom International Airport. Dallas Love Field had just under 30 cancellations, according to FlightAware.
As the severe storm system exits over the Southeast, steady rain was likely Thursday from the lower Mississippi Valley to the Southeast, creating the possibility of isolated flooding, the weather service said.
"The next impulse of arctic air to sweep into the nation from Canada is forecast to impact the northern Plains and Upper Midwest" on Thursday, it said. Wind chills could become "dangerously cold," it warned, and areas with fresh snow cover could also face brief whiteout conditions due to gusty winds accompanying the arctic front.
Frigid temperatures are expected to "engulf the Northeast and northern mid-Atlantic" by Friday, it said. The core of the cold is expected to pass over the Northeast and specifically, northern New England, bringing potentially the coldest weather that parts of the region have felt in decades.