Advocates of women's economic equality gathered on the steps of New York City Hall Tuesday to speak out against the various barriers women encounter in the workplace.
The rally was one of several events throughout the country marking Equal Pay Day, the day intended to highlight the wage disparity between men and women, with some places finding creative ways to poke at the persistent gender pay gap. At bake sales in a handful of cities and towns, cookies and other treats were priced according to gender and race to illustrate the varying degrees of inequality. (On average, women make 77 cents to every dollar a man earns. For women of color, that difference widens.)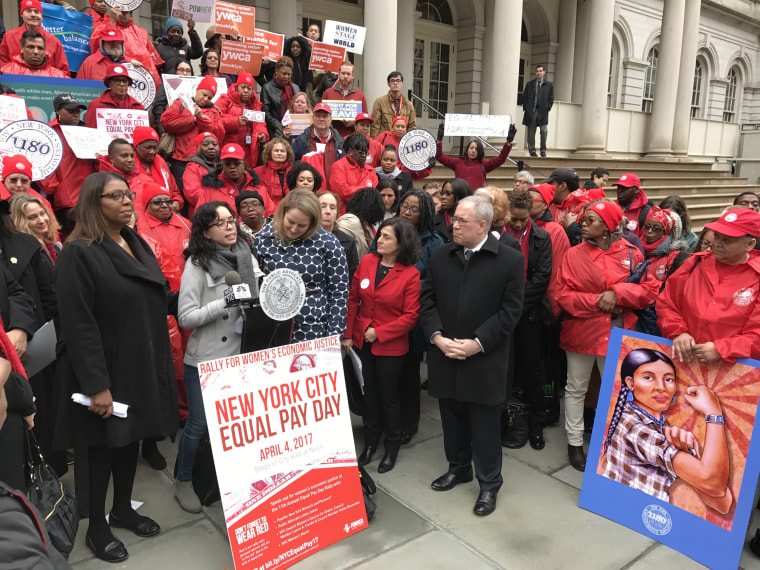 At the New York City rally, Public Advocate Letitia James decried the exploitation of women workers, which she said starts with companies and agencies that offer no transparency in terms of what they pay employees. James also discussed legislation she sponsored to prevent employers from inquiring about previous salaries.
"Asking questions about salary history during the hiring process perpetuates a cycle of wage discrimination," said James. The legislation she introduced would bar employers from using salary history to determine wages, and the City Council is set to vote on the bill Wednesday.
James introduced the legislation to ban salary history in August 2016 after releasing a report that showed the dramatic scale of wage disparity in New York City, where Hispanic women make only 54 percent of what white men are paid for the same job.
Related: Trump Pulls Back Obama-Era Protections For Women Workers
For workers making little more than minimum wage, the problem isn't always as clear-cut as a dollar sign. Retail worker Janika Reyes addressed the small crowd on the steps of City Hall, explaining that she struggled to get enough hours at her job.
"I was hired for 15 hours a week with the promise of increased shifts," said Reyes at the rally, "but unfortunately just a few weeks in it became clear that the shifts wouldn't come, but instead on-call scheduling would."
Reyes said that the erratic schedule her employers imposed on her made it difficult to care for her sick mother. When she took two days off to help her mom with chemotherapy, she said, her employer punished her by cutting her hours in half — for a period of three months.
"I was required to find and work a second job babysitting just to make ends meet," she said.
The City Council introduced legislation in December that would prohibit on-call scheduling for retail and fast food employees in New York. It is currently awaiting committee votes.
Behind the speakers stood a crowd of workers, many of them black women, who hold administrative jobs with the city of New York. They wore the color red to symbolize being "in the red" economically. Their union, Communications Workers of America (CWA) Local 1180, sued after finding that the city was dramatically underpaying female workers and workers of color.
"We expected that these women and people of color would be paid fairly since the Equal Pay Act has been the law of the land since 1963," said CWA Local 1180 President Arthur Cheliotes. "Yet administrative managers, women with decades of experience, were paid less than 60 cents for every dollar their male predecessors earned."
On average, black women earn 63 cents to every dollar a white man makes.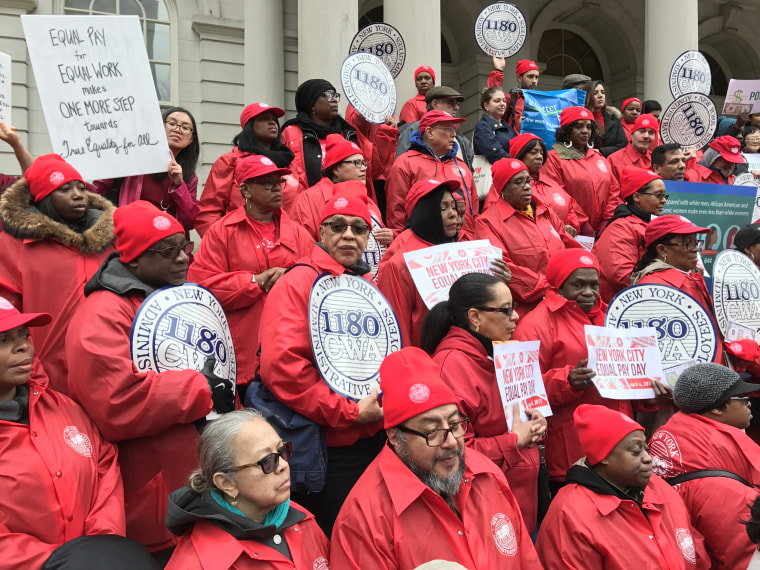 Meanwhile, research at the Economic Policy Institute shows that even as women climb the ladder to positions with more responsibility and higher pay, the gap widens — with men being paid even more money for the same job.
"As you move up, women are not occupying places at the top the way men are," Elise Gould of the Economic Policy Institute told NBC News. "The wage gap at the top is much larger than it is at the middle or the bottom."
City Comptroller Scott Stringer, who spoke at the City Hall rally Tuesday, compared the wage gap to a sluggish elevator: "Women get in the door on entry level salaries, but then they get on the elevator and the elevator slows down."