Daytime television is teeming with cringe-worthy ads for local attorneys. But in eastern Kentucky, disability lawyer Eric C. Conn truly cut through the noise. You might say he turned bad TV promos into an art form.
Where to begin? There's the one where Conn — better known in Kentucky as "Mr. Social Security" — cruises around town in a Rolls-Royce, pulls up in front of a Lincoln Memorial replica, and banters with a young woman in a trench coat.
There's another — purportedly the "first lawyer 3-D commercial" — where a tiny computer-generated version of Conn bounces around the screen. Oh, there's also a music video where late bluegrass star Ralph Stanley and Amber "Obama Girl" Ettinger beseech the 44th president to appoint Conn to the Social Security Advisory Board.
Of course, strange TV ads are no crime. The real offense, according to the federal government, is the $550 million Social Security fraud scheme to which Conn pleaded guilty in March to one count of theft of government money and one count of payment of gratuities.
And that was all before he disappeared.
The Federal Bureau of Investigation office in Louisville said Saturday that Conn, 56, had removed his electronic monitoring device in violation of his bond and that authorities had no idea where he was. The U.S. District Court has issued a warrant for his arrest.
Conn pleaded guilty to pilfering from the Social Security Administration and paying bribes to a judge to sign off on disability claims for thousands of his clients. The colorful attorney — who had been charged with conspiracy, fraud, false statements, money laundering and other related offenses in connection with the scheme — faces up to 12 years behind bars.
Federal investigators discovered that Conn, who launched his law practice in 1993, had been bribing a doctor and a judge to rubber-stamp disability claims based on sham medical evidence. (The doctor and the judge have also been charged in the scheme.) Conn, as part of his plea deal, agreed to pay the feds $5.7 million and reimburse Social Security some $46 million.
What's more, a judge ordered him to shell out $12 million in damages and $19 million in penalties to the government and two former Social Security employees who tried to expose the alleged dirty dealings, according to the Associated Press.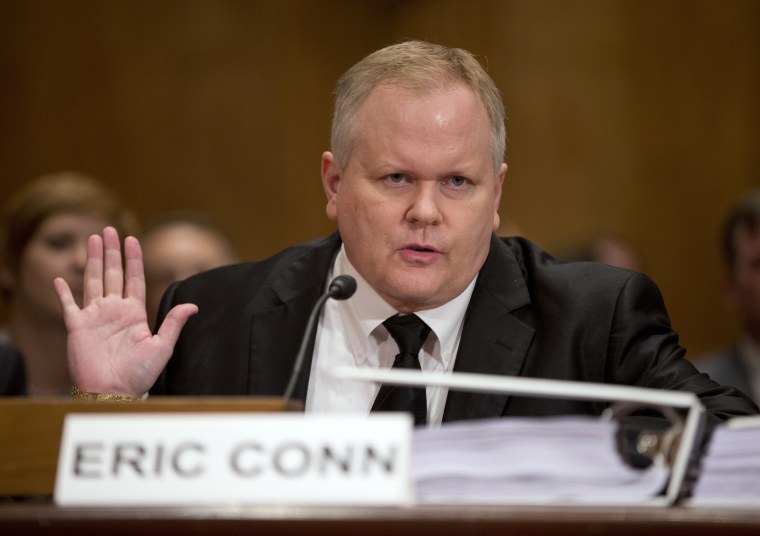 "It was totally predictable that he would flee," attorney Ned Pillersdorf, who represents Conn's ex-clients, told the AP. "I was always shocked that, when he was arrested, he was actually allowed out on bond. And there has been a betting pool going on in Prestonburg on not if he would flee, but when."
Pillersdorf told the AP that Conn's world traveling was brought up in court to determine whether he was a flight risk. An FBI agent testified at one hearing that employees in Conn's office had even heard him say he would run off to Cuba or Ecuador to evade criminal charges, according to the Lexington Herald-Leader. Conn had wired substantial sums of money out of the country, the agent reportedly testified.
"If he were to leave, to cross a border, he could go to wherever he has stashed some money and flee," Assistant U.S. Attorney Trey Alford said at the time, according to the Herald-Leader.
Conn's attorneys, however, had apparently downplayed the flight risk, saying he had not fled even though he had known for years he was under investigation, the newspaper reported.
Conn's lawyer, Scott White of Lexington, Kentucky, was not immediately available for comment.
At least one of Conn's ads, available for all to see on YouTube, suggests that life on the lam is just not his style.
"He's not one to walk away from a fight," the gruff-sounding narrator of the Rolls-Royce spot says. "That's just who he is. That's his story."