A man convicted of killing a Pennsylvania state trooper in a 2014 ambush was sentenced to death Wednesday.
A jury said Eric Frein, 33, should be executed in the Sept. 12, 2014 sniper attack that killed state Cpl. Bryon Dickson and wounded another trooper.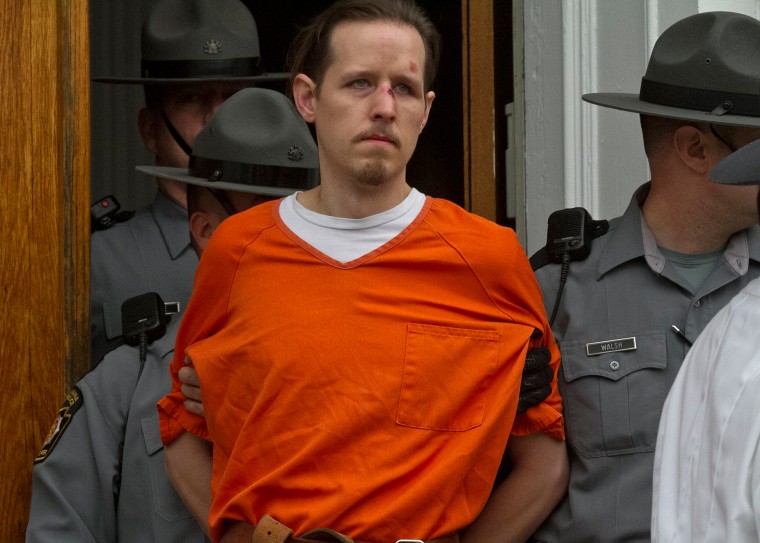 Frein was the subject of a six-week manhunt until he was arrested on Oct. 30, 2014. He was convicted last week of 12 charges, including first-degree murder and terrorism. He'd faced the possibility of life in prison or the death penalty.
Frein opened fire on Dickson during a shift change, and shot trooper Alex Douglass after he came to his colleague's aid, authorities have said.
Nearly 1,000 members of law enforcement participated in the six-week manhunt in the northeastern Pennsylvania woods before U.S. marshals captured Frein outside an abandoned airplane hangar. Authorities have described Frein as an anti-government survivalist.
Frein's defense attorney said his client grew up in a dysfunctional household and asked the jury to sentence Frein to life in prison without the possibility of parole, NBC Philadelphia reported.
A reporter for NBC affiliate WBRE of Wilkes-Barre said Frein showed no emotion after the verdict was read, and there was an audible "yes" from members of the state police in the courtroom.
Pike County District Attorney Ray Tonkin said the death sentence was "richly deserved" and said he hopes it brings some comfort to the family of Dickson and also to Douglass and his family.
"There is a satisfaction that the jurors have delivered full justice in this case and issued the penalty that is so richly deserved by Eric Frein," Tonkin told reporters after the jury delivered the sentence.
"This verdict is for each and every member of law enforcement who dons a uniform and goes out to protect us each and every day," he said.
A judge will impose a formal sentence of death on Thursday, Tonkin said.
It's unclear when or if the death penalty could be carried out. Gov. Tom Wolf, a Democrat, has imposed a moratorium on the death penalty, and Pennsylvania's last execution took place in 1999.
Pennsylvania State Police Commissioner Col. Tyree C. Blocker thanked the community for their support and said Dixon will remain in the hearts of the state police forever.