Demonstrations were held from coast-to-coast Thursday as outrage grew following grand jury's decision to not indict a police officer in the chokehold death of Eric Garner.
Chanting "hands up, don't shoot," and "shut the whole system down," thousands of protesters marched across the Brooklyn Bridge, shut down parts of the West Side Highway, and blocked traffic in demonstrations all over Manhattan.
In Chicago, protesters walked onto the Dan Ryan Expressway and brought traffic to a halt. And in Washington, D.C, a crowd staged a "die-in" a block from the National Christmas Tree lighting ceremony near the White House.
"Anger is not even a word, outrage is my word. Those words don't begin to define the decomposition of your soul when you hear something like this," said one protester at New York's Foley Square, who identified himself as Graham D., 33. "Before, no one believed this was happening, but now we have clear distinct evidence that police abuse is happening and still nothing happens."
A grand jury on Wednesday declined to indict white NYPD officer Daniel Pantaleo in the July 17 death of Garner, who was black and unarmed. He died after being wrestled to the ground with Pantaleo's arm around his neck, while telling officers, "I can't breathe." A bystander captured the incident on video.
The decision in the Garner case came a week after a Missouri grand jury declined to indict a white Ferguson police officer, Darren Wilson, for fatally shooting black 18-year-old Michael Brown, who was unarmed, on Aug. 9.
"I'm college educated and I still have to be seen like I'm a threat due to my skin color," said protester Isaiah Jones, 22, who demonstrated with a large group at Brooklyn's Fulton Mall. "We have to slow down everything in Brooklyn and Manhattan. If they keep killing us, the system doesn't deserve to keep going. It's the best we can do right now."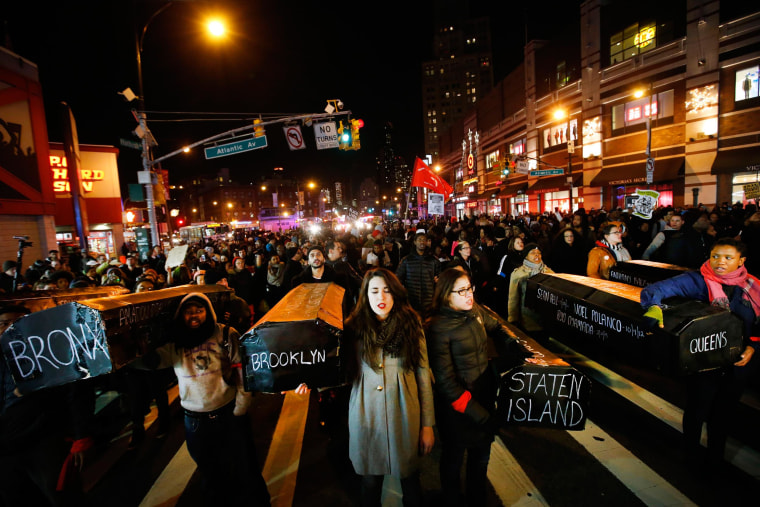 At around 11 p.m., a large crowd converged on 42nd Street in Times Square and there was a tense moment when objects were thrown at police, who moved in and made eight arrests, law enforcement sources said.
Police arrested at least 36 people during protests in New York by late Thursday, law enforcement sources said.
Protesters also marched in Washington, D.C., for a second straight day. A group of about 100 people staged a "die-in" near the White House as a tree lighting ceremony went off about a block away, NBC Washington reported. Several hundred protesters marched in Boston ahead of a tree lighting ceremony on the Boston Common, NBC station WHDH reported. Protesters later forced several roads to close and got onto train tracks, suspending mass transit for a brief period.
In Chicago, hundreds marched during rush hour Thursday. Crowds later walked onto the Dan Ryan Expressway, briefly closing it, until police escorted them off the road. Protesters staged a "die-in" on Roosevelt and shut down traffic for 10 minutes. There were also protests in Dallas, San Francisco, Atlanta and Portland, Oregon.
On Wednesday, hundreds of protesters in New York shut down a section of the West Side Highway and another group staged a "die-in" at the main concourse of Grand Central Terminal and rallied in Times Square. Police said they made 83 arrests at various protest sites around the city.
Some protesting in New York on Thursday said they had no doubt that Wilson would not be indicted for shooting Brown in Missouri. But with the video showing Garner's arrest in such detail, they were certain of a different outcome.
"Ferguson, I wasn't surprised at all, I think we saw that coming, but with this one I was horrified," said Margaret Rodgers, 72, who was demonstrating in Foley Square. "It's unbelievable and a total miscarriage of justice."
U.S. Attorney General Eric Holder announced Wednesday that the Justice Department will launch a civil rights investigation into Garner's death.
Jonathan Dienst and Phil Helsel of NBC News contributed to this report.