Erica Garner, who became an activist for police reform after her father's words of "I can't breathe" were used as a rallying cry for a movement, died Saturday after being in a coma for several days, according to a statement posted to her official Twitter account. She was 27.
Garner, the oldest daughter of Eric Garner, suffered from cardiac arrest a week prior and was being hospitalized in Brooklyn, New York, her family said.
"Erica the world loves you. I love you. I am glad you came into our lives," family members said in a tweet. "May you find the peace in the next life that you deserved while you were here."
Her mother, Esaw Snipes-Garner, earlier told the New York Daily News that the medical emergency was triggered by an asthma attack. Garner had suffered an earlier heart attack after giving birth to her son in August, Snipes-Garner said. Her heart was later found to be enlarged.
The Rev. Al Sharpton told NBC New York that Garner died of natural causes Saturday morning at Woodhull Hospital while surrounded by her family.
"They stayed with her to the end — she was a warrior to the end," Sharpton, the president of the National Action Network and an MSNBC contributor, told reporters.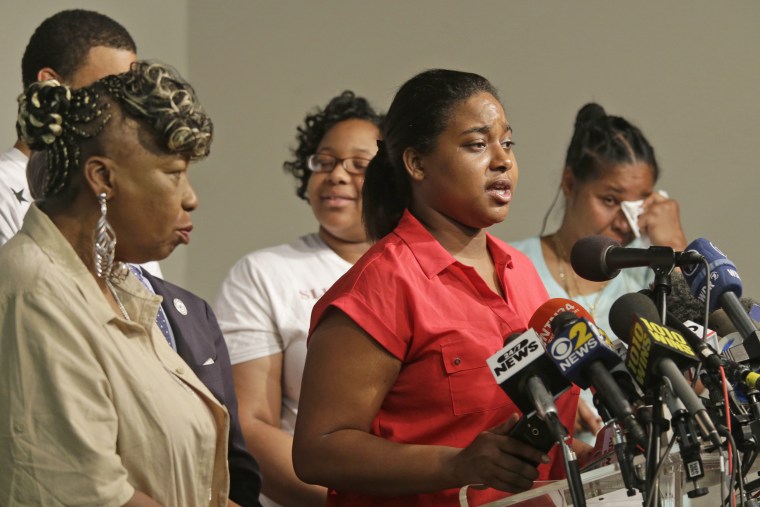 Garner gained national prominence after speaking out in the wake of her father's death in 2014 — an incident caught on cellphone video and one of several high-profile police encounters involving unarmed black men.
The NYPD tried to arrest Eric Garner, 43, for allegedly peddling loose cigarettes. When he refused to be handcuffed, video showed him being taken down by an officer who put him in a chokehold. He was recorded repeating the phrase "I can't breathe" 11 times, and later died at the hospital.
Related: Why Erica Garner will not stop marching
A medical examiner ruled his death a homicide. A grand jury declined to indict the officer involved, although the city of New York reached a $5.9 million settlement with the Garner family in 2015 for a wrongful-death lawsuit.
"Sometimes [people think] he had a heart attack ... It's a shame because I know what happened on that video," Garner told NBCBLK in March 2015.
Eric Garner's death drew condemnation from the Black Lives Matter movement and led New York Mayor Bill de Blasio to reexamine the department's use-of-force policy and neighborhood policing program.
Garner became on outspoken critic of de Blasio, as well as the Democratic establishment. Shortly after confirming her death, Garner's official Twitter account lashed out at the mayor, demanding that he "explain how she died with no justice." It also asked that "out of respect to Erica please do not request comment if the journalist is not Black."
De Blasio later offered his condolences to Garner's family, and called her death "a horrible tragedy."
"This city will miss her unshakable sense of justice and passion for humanity," he tweeted.
Erica Garner was also a public supporter of Vermont Sen. Bernie Sanders in the 2016 presidential election. Sanders on Saturday posted a series of tweets memorializing Garner and her fight for equality.
"I had the honor of getting to know Erica and I was inspired by the commitment she made working towards a more just world for her children and future generations," Sanders tweeted. "She was a fighter for justice and will not be forgotten."
Garner often marched in anti-police brutality and Black Lives Matter demonstrations, and set up a foundation in honor of her father. She also told NBCBLK that her goal was to continue fighting for justice for him and others caught in similar situations.
"People ask, 'When will you stop marching? What do you want from marching?' He was my father," Garner said. "I will always march."