Erin Andrews thought her career was finished — and she still can't forgive the stalker who made her feel that way when he posted nude video of her all over the internet.
Eight years later, her career isn't over. Far from it.
Because Erin Andrews does not back down from a fight.
Andrews — co-host of ABC's "Dancing With the Stars" and the lead sideline reporter for Fox Sports' coverage of the National Football League — said in an interview on NBC's "Sunday Night With Megyn Kelly" that the name Michael David Barrett still "makes me want to throw up and hit him in the face."
In December 2009, Barrett pleaded guilty to stalking Andrews at three hotels. He altered the peephole of her hotel room door and secretly videotaped her in the nude; then he posted the video online. At the time, Andrews was a sports reporter for ESPN.
"I was just stunned. I was in shock. I was embarrassed," Andrews told Kelly. "I was freaking out so much that when I called my parents, my dad thought I had been injured in a car accident because I was just screaming bloody murder on the other end."
Barrett was sentenced to 2½ years in prison — not enough time, said Andrews, who believes the criminal justice system should take stalking more seriously.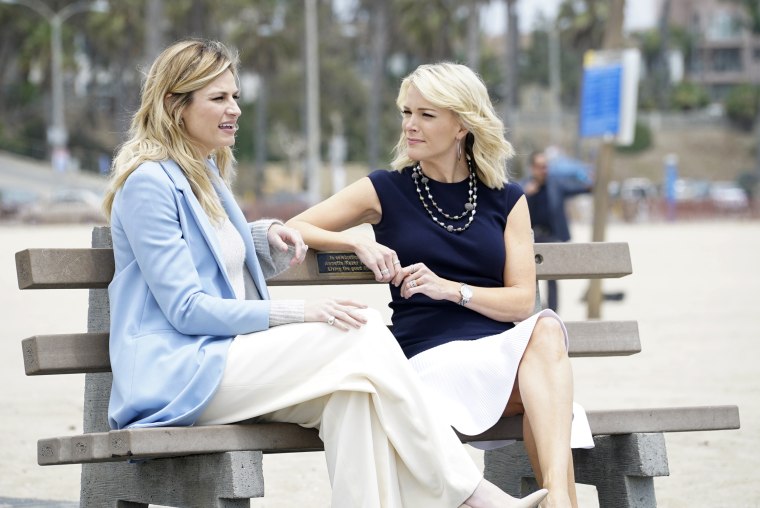 Erin Andrews does not back down from a fight.
Andrews sued Barrett and the companies that owned and managed one of the hotels — mainly, she said, to hold them accountable. Walking into the courtroom in Nashville, Tennessee, she'd tell herself: "I'm going to be the Green Bay Packer offensive line right now. I'm going to walk in like I am going to crush that D-line, and I'm going to go after them."
She won a $55 million judgment in March 2016, a verdict that she eventually settled for an undisclosed sum.
With the trial behind her, Andrews was looking forward to getting back to life as usual. But just months later came a new battle.
Andrews got a text message from her gynecologist. It read: "You need to call me right now."
"I was like, 'Oh, this isn't good,'" Andrews said. Cancer cells had been discovered in her cervix.
Erin Andrews does not back down from a fight.
She needed surgery right away, but she was determined not to miss any games. She had the procedure and then, despite her doctor's recommendation, flew to Green Bay, Wisconsin, for a ceremony honoring Packers legend Brett Favre.
"Brett Favre is one of my favorite NFL players of all time. I'm not missing this," she said. "This is my life. This is what makes me happy. This is what makes me feel safe."
But then, shortly thereafter, Andrews' doctor called again.
"She said, 'The cancer cells have gone past the margin, and we need to do a hysterectomy.'" That's an operation to remove part or all of the uterus.
"I remember thinking, 'This isn't happening, because I just went through hell a few months ago," Andrews said. "I was like, 'This can't even be real.'"
Erin Andrews does not back down from a fight.
She sought a second opinion and chose to undergo a less invasive procedure.
This time, her doctor told her, "I have really good news." She was cancer free. She didn't have to go through a hysterectomy. Kids are "definitely possible," she said.
And there was one more reason to celebrate at the end of the year. Andrews became engaged to her boyfriend, Jarret Stoll, who retired last year after a long career in the National Hockey League.
Andrews acknowledged that she's been through a year of hell. But "it's made me feel like the vet that's down, maybe, two scores in the Super Bowl that wills his team back."
Erin Andrews does not back down from a fight.
"I'm proud of myself," she said. "I know I try to act really tough, [like] 'I got it, I got it.' But sometimes, you know, you really wonder if you do.
"But when you really sit back, you say, 'OK — but I've handled it.'"