Two felons who broke out of a maximum-security Wisconsin prison showed up at a center for the homeless more than 100 miles away in Illinois, where they were recognized and captured, authorities said Friday.
The founder of Miss Carly's homeless services center in Rockford quickly identified the men, James Newman, 37, and Thomas Deering, 46, as the escapees and called police, official said.
"We're just extremely happy that two extremely violent individuals were apprehended," the Rockford police chief, Dan O'Shea told reporters.
Newman and Deering are prisoners at the Columbia Correctional Facility in Portage, Wisconsin, about 40 miles north of Madison. Miss Carly's is about 105 miles south of the Wisconsin state prison, a straight shot down Interstate 90.
The pair were allegedly helped out of their lockup by kitchen employee Holly Marie Zimdahl, 46, of Pardeeville, the Columbia County Sheriff's Office said on Friday. She was arrested on suspicion of being a party to the crime of escape, officials said.
Newman and Deering got out of their prison at about 4:30 a.m. Thursday and eventually got a ride, meeting a driver outside a Piggly Wiggly in Poynette, about 14 miles away, a little before 6 a.m. on Thursday, authorities said.
The sheriff's statement did not detail how Newman and Deering traveled 14 miles in 90 minutes, or if the kitchen employee is the suspected driver.
"Our focus is finding everyone that helped them escape from both inside and outside of the prison," the sheriff said. "As the investigation continues, additional arrests are expected."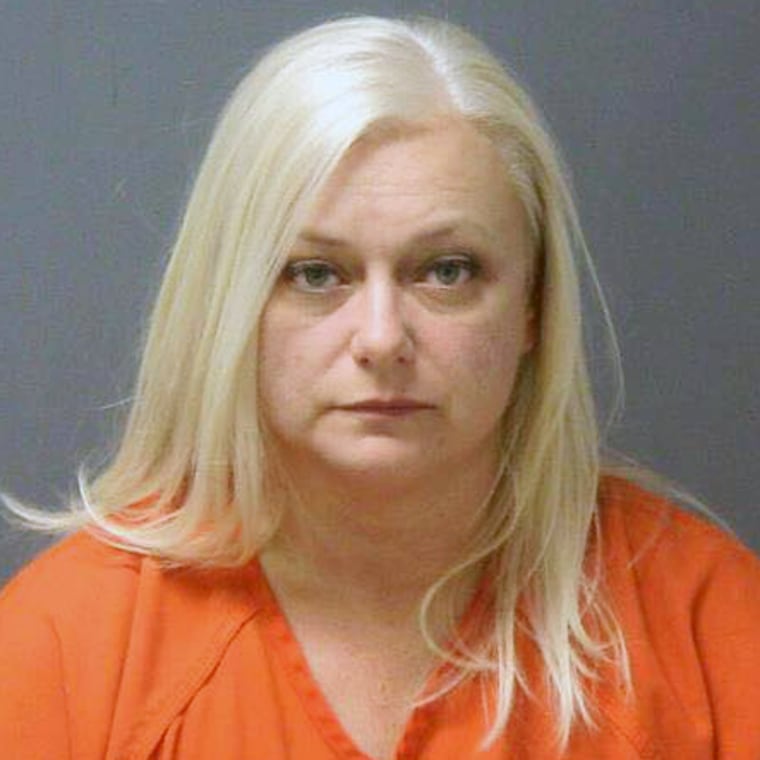 The escape unraveled not long after they showed up at the Rockford homeless center at 8:30 a.m. Friday, police said.
"Two men showed up at our door shivering, frozen," the center's founder, Carly Rice, wrote in a statement on Facebook. "They had emergency blankets stuffed under their clothing. They looked just like the kind of people we want to help ... but they weren't."
Rice told NBC News that when Newman and Deering asked for fresh clothes, she noticed they were both wearing thermal underwear tops and gray sweatpants — classic prison garb.
"I have a lengthy criminal record myself, so I'm familiar with the clothes," Rice told NBC News.
The homeless advocate doesn't have a television but recalled seeing a Wisconsin friend's social media post on Thursday night about the escape.
So while a center volunteer served the men coffee and cigarettes to stall their departure, Rice excused herself to another room to call 911.
She said she also reached for a donated fur coat for herself, so that the long jacket could cover her hands while she waited for the police.
"I was trembling, I was scared and I didn't want them to see my hands trembling," she said.
When officers arrived after about five minutes, the men surrendered without incident, according to Rice.
O'Shea said one of the pair insisted he was not one of the wanted men, though the police chief said photographs and records of tattoos clearly identified him.
"It's a picture, and by gosh we can all look at a picture and say that, 'You sure that's not you, because it sure looks like you?'" he said.
O'Shea praised Rice for her quick thinking.
"It does take a lot of courage to recognize that somebody there could be dangerous" and call police, O'Shea said. "That's what we want every citizen to do. I'm not saying every citizen would do that, but we applaud her and her staff."
Friday's capture brought back sad memories for Rice of her mother's 2003 slaying in Los Angeles when they were both homeless and living on Skid Row, she said.
"See, my mom was homeless and she was kidnapped, raped and murdered years ago," Rice wrote on Facebook. "So, these guys faces stuck in my memory after seeing their photos and reading about their charges."
Newman has firearm, kidnapping and theft convictions. Deering has been convicted for sexual assault, kidnapping and battery.They are off the streets now.
Rice thanked Rockford police for handling "the situation with professionalism and cool heads."
"I have a huge heart for the unloveable and the lost, but I will always fight to keep our city safe," she concluded her post.