Heavy-hitting lawyers plan to sue President Donald Trump in federal court Monday over business interests that they say put him in violation of the Constitution by receiving payments from foreign governments.
The nonprofit good-government group Citizens for Responsibility and Ethics in Washington, or CREW, will file the suit Monday morning in U.S. District Court in Manhattan, the organization said.
The suit alleges that Trump violated the Constitution the moment he was sworn in as president on Friday because he had not divested his interests in the Trump Organization — among them:
Leases held by foreign-government-owned entities in Trump Tower in New York,
Bookings at Trump International Hotel at the Old Post Office in Washington, D.C.
Payments from foreign-government-owned broadcasters related to "The Apprentice" and other transactions and leases at a broad array of other establishments owned or licensed by Trump. (NBC, which broadcasts "The Apprentice," severed its business ties with Trump in June 2015. Trump is continuing as an executive producer of the show.)
Saying "the president has no conflicts," Hope Hicks, the White House director of strategic communications, referred NBC News on Sunday night to Sheri Dillon, a prominent D.C. lawyer who has represented Trump as a tax counsel since 2005.
Related: Why Donald Trump's Business Dealings Matter
Dillon said at a news conference Jan. 11 that "no one would have thought when the Constitution was written that paying your hotel bill was an emolument."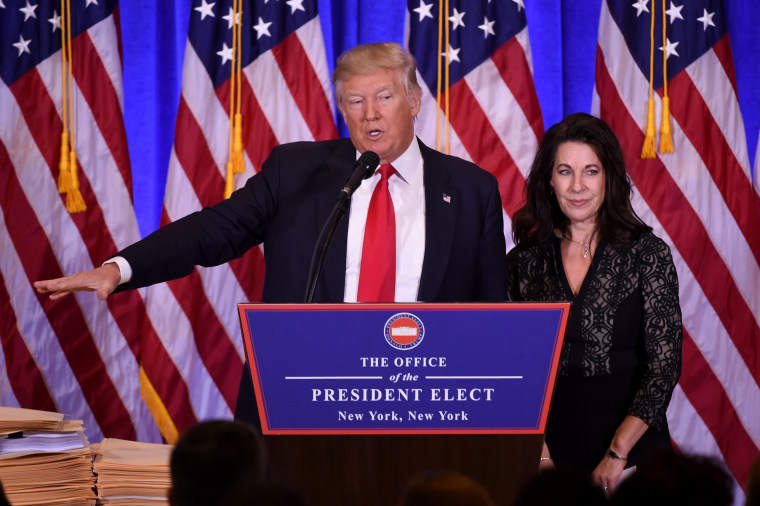 At issue is Article I, Section 9, Clause 8 of the U.S. Constitution — less tongue-twistingly known as the Emoluments Clause — which says "no Person holding any Office of Profit or Trust ... shall, without the Consent of the Congress, accept of any present, Emolument, Office, or Title, of any kind whatever, from any King, Prince, or foreign State."
Related: Experts Agree Trump's Ethics Plan Falls Short
But Trump "wants to do more than what the Constitution requires," Dixon said on Jan. 11, so "he'll voluntarily donate all profits from foreign government payments made to his hotels to the United States Treasury."
"This way, it is the American people who will profit," she said.
But the lawsuit alleges that's the problem — if there are foreign government profits at stake, the president can't legally accept them in the first place.
Ultimately, it's up to a federal judge to decide whether the case goes forward. The first hurdle the lawyers suing Trump face is winning standing to bring the case — that is, persuading a judge that they have been directly harmed by Trump's actions.
Richard Painter, the chief White House ethics lawyer under President George W. Bush, told NBC News that the group thinks it has a good shot in the Manhattan court.
Others prominent lawyers leading the litigation include CREW co-founder Norman Eisen, President Barack Obama's top White House ethics adviser, and Harvard University law Professor Laurence Tribe, co-founder of American Constitution Society.