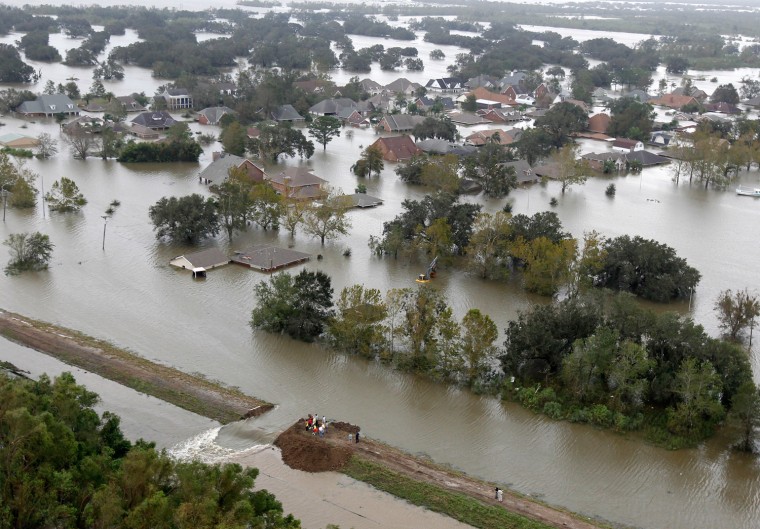 Updated at 1:24 a.m. ET: Up to 50,000 people in Louisiana's Tangipahoa Parish were ordered to evacuate Thursday when water from Isaac -- which by late afternoon had weakened to a tropical depression -- threatened to overwhelm a dam across the state line in Mississippi.
By late Thursday, the Percy Quin State Park dam, located about 100 miles north of New Orleans, was no longer an imminent threat, dam safety engineer Dusty Myers said.
Mississippi officials, for their part, said they didn't think the volume of water in the 700-acre lake at Percy Quin State Park near McComb, Miss., would add enough flow to threaten communities downstream.
And Gov. Bobby Jindal said that if the dam were to break, a natural flood plain would prevent communities in Louisiana from being flooded. 
Officials by late Thursday afternoon had started a controlled release from the dam to minimize flooding.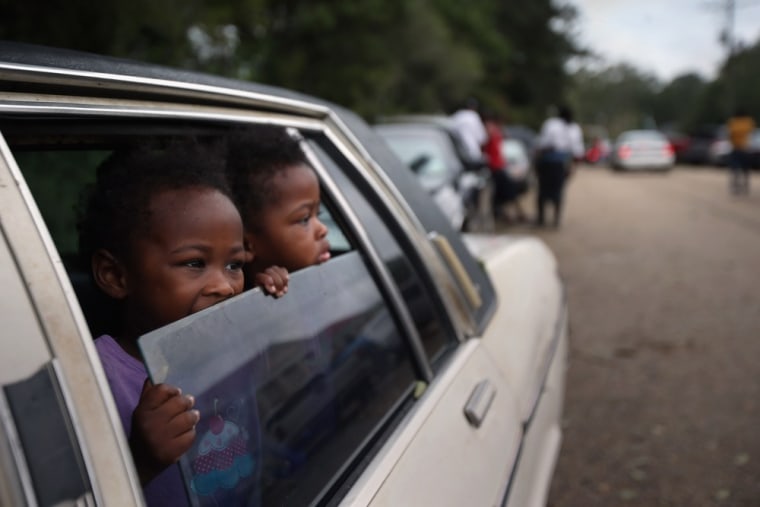 Hundreds were evacuated in darkness overnight while new areas in southern Louisiana flooded as Tropical Storm Isaac crawled north. Its eye was heading toward Arkansas, but its heaviest rain bands were now moving over Mississippi.
"We still have people penned in both (Plaquemines and St. John) parishes," Lt. Col. Michael Kazmierzak, a Louisiana National Guard spokesman, told The Weather Channel Thursday morning. "We're still assisting with evacuations in both of those parishes."
"The big thing we've been doing through the night is with St. John's," he said. "We've assisted locals with evacuations of more than 3,000 people" there.
"The weather was definitely a major part of the difficulty," he added, "but when you get into darkness that creates a problem of its own, just being able to see and identify where the people are located."
Protected by federal levees, central New Orleans appeared to have escaped the worst of the storm, but rural areas of Louisiana and neighboring Mississippi were swamped and power outages widespread.
The first death from Isaac was reported in Mississippi early Thursday. A tow-truck driver died after a tree fell on his cab while he was trying to move a large tree from a main street in Picayune.
Two other deaths were confirmed Thursday evening; a man and woman were found floating in a flooded kitchen in Braithwaite, La. "Unfortunately, I believe we will find more bodies, " Plaquemines County Coroner's chief investigator John Marie told NBC News' Gabe Gutierrez.
More than 1,800 people died during Hurricane Katrina.
In Slidell, La., areas that had never flooded, including during Hurricane Katrina in 2005, saw up to five feet of water after drain pumps were overwhelmed.
Numerous homes and businesses were swamped, and police rescued 145 residents, NBC's Gabe Gutierrez reported from the scene.
"Water is currently backing up into the city through Bayou Pattasat," Mayor Freddy Drennan said in a statement on the city's website. "The pumps are currently unable to pump the water out as fast as it's coming in. It is anticipated that until Bayou Bonfouca recedes, the city will continue to be inundated with water."
Slidell is on the north side of Lake Pontchartrain, north of New Orleans. 
Around 850,000 homes and businesses across Louisiana and Mississippi were without power Thursday.
The Red Cross said almost 4,000 people were being accommodated in emergency shelters across Florida, Alabama, Mississippi, Louisiana and Texas.
Isaac is expected to be a soaker for days. 
"It's still pulling up all kinds of Gulf moisture, producing a large shield of rain," said Weather Channel hurricane specialist Carl Parker. 
"The worst of the rain has spun off to the east and north into Mississippi," added the Weather Channel's Mike Seidel, who reported from Baton Rouge, La., where rainfall was light.
Meteorologists have found Isaac vexing and tricky to pin down, describing the storm as "disorganized" and "uncharacteristic."
George Dubaz, a New Orleans tour guide, put it more simply to Reuters: For him, Isaac was a lumbering "pain in the ass."
"Most of them blow through and are over with. This one is just hanging around too long," Dubaz said, comparing the storm to "somebody that comes for Mardi Gras and they stay two weeks afterwards."
President Barack Obama declared federal emergencies in Louisiana and Mississippi late Wednesday to supplement state and local recovery efforts beginning on Aug. 26, according to a White House statement.
In Plaquemines Parish, a sparsely populated area of south of New Orleans that is outside the post-Katrina federal levee system, dozens had to be rescued when a levee was overtopped Wednesday.
The storm pushed water over the 18-mile levee and put so much pressure on it that authorities on Thursday intentionally punctured the floodwall to relieve the strain.
Along the shores of Lake Pontchartrain just north of New Orleans, officials sent scores of buses and dozens of high-water vehicles to help evacuate residents.
Related: Blessing and curse for drought areas due to Isaac
Related: Resident reports on how post-Katrina defenses saved town
Related: Stories from the storm: 'They were screaming away'
Related: Isaac stirs up horrible memories for New Orleans residents
Isaac arrived seven years after Hurricane Katrina and passed slightly to the west of New Orleans, where the city's fortified levee system easily handled the assault. But, low-lying areas outside the city were harder-hit.
New Orleans set a daily record of 7.86 inches of rain on Wednesday, The Weather Channel reported, breaking the previous record for an August 29 -- 4.5 inches set by Katrina in 2005.
On Thursday, the rain was finally letting up in New Orleans but 40 percent of the city was still without power. 
"We're hearing from stores here that they're planning to open later today," reported NBC News' Danielle Lee. "This area relies on tourism, and they don't want to miss out on that Labor Day weekend travel."
"The mayor has been calling other stores who are able to sell emergency supplies, generators, things that may help people without power, asking them to please get open as quickly as possible," Lee added.
Police reported few problems with looting, after New Orleans Mayor Mitch Landrieu ordered a dusk-to-dawn curfew. He lifted the curfew Thursday.
Forecasters expected Isaac to move farther inland over the next several days, dumping rain on drought-stricken states across the nation's midsection before finally breaking up over the weekend.
In coastal Mississippi, officials used small motorboats Wednesday to rescue at least two dozen people from a neighborhood Isaac flooded in Pearlington. In addition, the National Weather Service said there were reports of at least three possible tornadoes touching down in coastal counties. No injuries were reported.
About 5.5 percent of total U.S. refining capacity was still idle Thursday because of Isaac, Reuters reported, although oil and gas companies prepared to reboot their operations as the storm weakened and water receded. The refiners had decided to shut down or run at reduced rates to protect their operations.
Meanwhile, gas prices jumped again in the wake of the storm; AAA reported they reached $3.82 nationally on Thursday.
The Associated Press, Reuters, NBC's Gabe Gutierrez, Thanh Truong and Alastair Jamieson contributed to this report.
More content from NBCNews.com: