WASHINGTON — March 16 was supposed to be a normal Monday for the more than 7,000 Peace Corps volunteers stationed across more than 60 countries. But that morning, one email changed everything: For the first time in its nearly 60-year history, the Peace Corps was suspending all operations and evacuating volunteers as the coronavirus pandemic spread around the globe.
Eight days later, by March 24, all Peace Corps volunteers had left their posts. The original plan had been to stagger departures over several days, but due to the ever-changing situation at borders around the world, volunteers ultimately had 48 to 72 hours from receiving the email before they were on flights home.
A Peace Corps spokesman, Matthew Sheehey, said that the organization took action when it did "out of an abundance of caution to avoid a situation where volunteers would have been stranded overseas as borders and air space were shutting down."
Now, the returning volunteers find themselves in limbo, back in an America that they don't recognize.
Katie Fiorillo — a volunteer from Pennsylvania — had settled into her life working with a Ugandan nongovernment organization for almost two years, forming a farmers' cooperative and helping residents with things like irrigation. She'd adopted a dog and was celebrating being newly engaged. Three days later, she was waking up in Pennsylvania again — without her dog or any feeling of finality after leaving her temporary home, and her work, behind.
"I just feel split," Fiorillo said. "There's a Ugandan version of myself that feels like she's still there, because I had a huge project that's just completely left unfinished."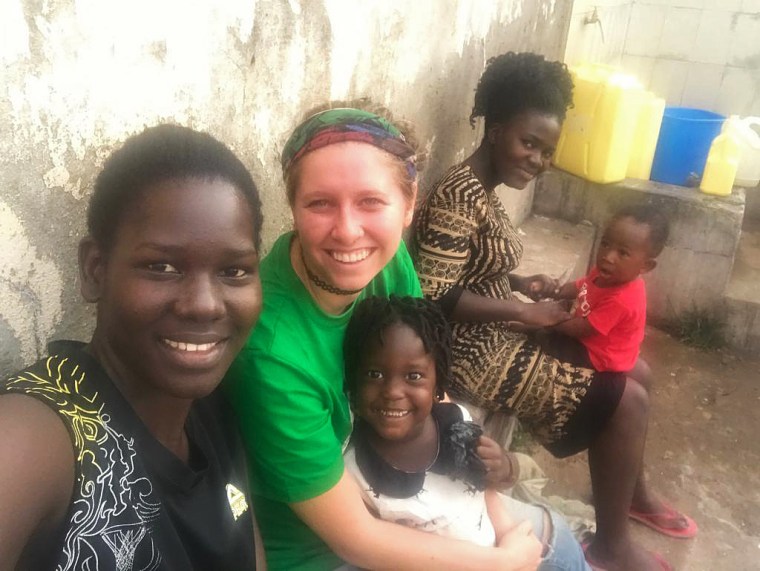 After an expedited "Close of Service" ritual, volunteers were informed about their readjustment allowances (allocated by how much time they'd served) and an additional $5,000 evacuation allowance, as well as a second month of health insurance.
The Peace Corps is also inviting volunteers to apply for another 27-month term of service with expedited processing, if they desire, once the organization is cleared from concerns about the virus. Meanwhile, the State Department continues its efforts to repatriate 50,000 stranded Americans abroad.
NBC News spoke with a dozen Peace Corps volunteers who've returned home about their experience. All said they were grateful to the organization for acting quickly to get them home — but many are finding the readjustment amid a pandemic especially difficult.
Katherine Davis had to quickly leave her village in Benin, the West African country where she'd served nine months as a rural community health volunteer. She barely had time to give her cat, Pipo, to a neighbor, much less say goodbye to her community, before flying home to Maryland.
Today she is self-quarantining with three fellow volunteers; the only two Americans she has seen in person are her mom and a Taco Bell drive-through worker. She has not seen her father, siblings, or dogs.
"I was very numb at the time." she said of leaving, expressing concern about how Benin, without a strong health care structure, will handle the virus as it spreads. "Now, we're in this weird isolation bubble — physical isolation, because we can't see anybody — and also mental bubble where it's like we're not really sure what's next."
In normal times, returning volunteers are typically told to expect reverse culture shock and sadness as they figure out their next steps. Re-entry is doubly difficult now: Those who were evacuated are now self-quarantining for 14 days and practicing social distancing as a precaution. It's the opposite of the cultural norms of close proximity in many of their service countries, after coming home to nearly empty airports described by volunteers as "eerie" and "apocalyptic."
"You expect hugs and balloons when you come home, but that's not what happened," Willow Pastard said, describing her situation as "ambiguous." Pastard is now back from Senegal, where she volunteered at a health clinic for almost two years. She's living temporarily at an Airbnb in her hometown, St. Louis, but has not made it home or seen her family yet because of the self-quarantine.
Another volunteer, Khaina Cole, served in Madagascar in education for nearly 20 months, and has returned home to Arizona. Like many other young, financially limited volunteers, Cole plans to move back home and live with her father. Because he's over 50 with health issues, making him more vulnerable to coronavirus infection, she's in temporary quarantine lodging, found through a volunteer alumni group on Facebook.
The volunteers said that while some were tested for fever and asked to fill out coronavirus questionnaires when traveling through Africa, they didn't receive any additional temperature checks or medical testing upon arriving in the U.S., much to their surprise.
Several volunteers expressed frustration about the level of medical and financial support they are receiving from the organization, and many have signed a petition calling for more aid. While the Peace Corps extended the length of the typical health insurance coverage, the organization has not expanded the allotment of three sessions with a psychologist to address mental health.
When Emily Goff found out she had to evacuate from Zambia, where she had been doing aquaculture work for 11 months, she was advised not to go home to New York because of the extensive spread of coronavirus there. But she had no other option, so she returned to the COVID-19 hotspot.
The Peace Corps typically offers medical and dental exams to volunteers before they leave their assigned countries, but wasn't able to prescribe necessary medications or complete these exams because of the emergency nature of the evacuations.
"Now, there's no way we can do it in the United States now, either," Goff said, citing the overwhelmed health system and closure of dentist offices due to the pandemic. "Given the situation, I feel like [our health coverage] should be extended. Maybe even six months."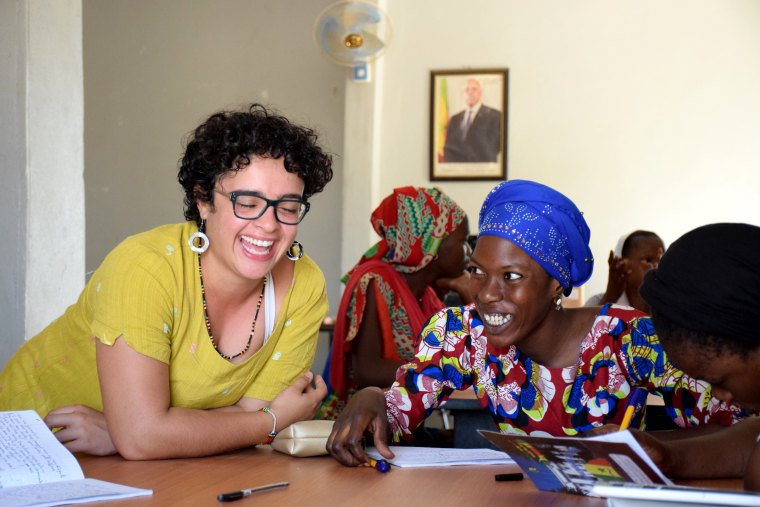 As so much of the country has halted business operations, the job search for volunteers has essentially halted as well.
"A lot of us get this experience with the Peace Corps and expect to come back with not only a strong resume but also a really strong job market," Karina Osorio said, who said she wanted to return to Senegal, where she had been preparing to complete a third year as a training coordinator after volunteering in economic development for two years.
"A week ago I was ready to just pour myself into Senegal, I still want to be back there," Osorio said. "I'm happy I'm home and to be safe and sound. But Senegal opened my heart and mind to different ways of living, and I'd personally prefer to be over there."
Making matters more difficult are Department of Labor rules saying individuals enrolled in the Peace Corps are volunteers, not employees. That means evacuated volunteers cannot apply for unemployment benefits.
Others were pessimistic about job opportunities in the U.S., even as some are hoping for a return to normalcy and the Peace Corps soon enough.
"If there's a chance that we can go back to Madagascar in three to five months, I don't want to commit to a job right now and end up leaving it in such a short notice," Cole said.