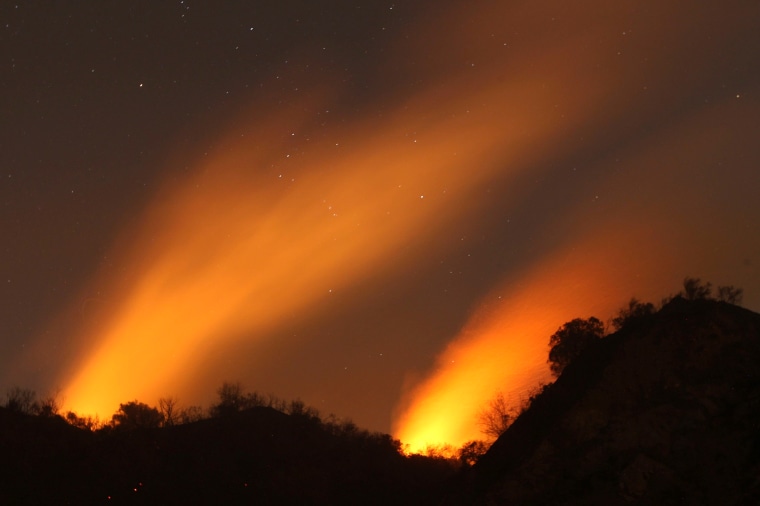 Officials lifted all remaining mandatory evacuation orders Saturday evening as fire crews worked to gain ground over a 1,906-acre brush fire sparked by an out-of-control campfire a forest northeast of Los Angeles.
The wildfire had forced thousands from their homes in Southern California.
The blaze was 61 percent contained and had burned 1,906 acres as of Saturday evening, fire officials said. Full containment was expected for Tuesday.
"We haven't had the winds," said Sherry Rollman, a U.S. Forest Service spokeswoman.
Evacuation orders for the Mountain Cove community of Azusa were lifted at 6 p.m. Saturday, the last group of residents allowed to return to their homes during the blaze, according to the Los Angeles Sheriff's Department.
"It's exhilarating," Azusa resident Alexandra Ramos told NBC Los Angeles. "We're very appreciative to all the police and firefighters for saving our little community."
The dry weather prompted California Gov. Jerry Brown to declare a drought emergency for the entire state on Friday after one of the driest years ever in the state.
While the lack of humidity contributed to sparking the fire, three men were also arrested for burning an illegal campfire that officials believe ignited the blaze — dubbed the Colby Fire.
At the peak of the Colby Fire's strength, more than 3,500 people were ordered to evacuate their homes, Rollman said. Residents of fewer than 300 homes remained evacuated on Saturday, she said.
Five homes were destroyed by the flames in addition to 17 structures that were damaged, according to early assessments.
NBC Los Angeles and NBC News' Becky Bratu contributed to this report. 
Related: 
Calif. firefighters make progress, say conditions 'pretty good' around homes