More than 600 people on Maui were in shelters and thousands were ordered to evacuate because of a large brush fire in the central part of the island Thursday, officials and local media reported.
The blaze had reached an estimated 3,000 acres, the Maui County mayor said at a news conference. No injuries or significant property damage had been reported, he said.
Flights into Kahului Airport were temporarily diverted, but normal operations later resumed, the Hawaii Department of Transportation said.
Maui Mayor Mike Victorino said at a Thursday night news conference that the fire was not contained, and some roads were closed. The fire had burned in fallow former sugarcane lands and dry brush, the county said in a statement.
"We can't fight the fire tonight. I said, 'I'm not going to send any of our firefighters or any of our emergency personnel into harm's way,'" Victorino said, adding that responders were staging themselves to be ready in case the blaze threatens areas with residences or commercial properties.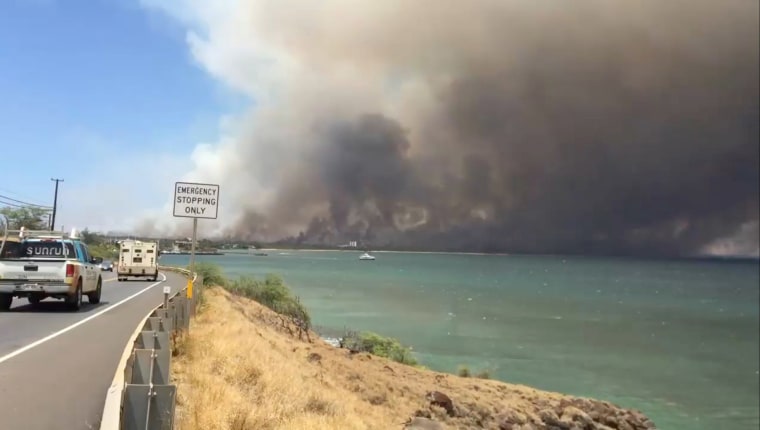 Residents were urged to vigilant. "We don't know where this will move, we don't know how quickly it could move overnight," he said.
The fire was first reported about 10:45 a.m. and was fanned by winds of 15 to 20 mph, the county said. By 2:30 p.m., it had grown out of control, prompting evacuations, NBC affiliate KHNL reported.
Mandatory evacuations were ordered for Maalaea and north Kihei residents. Maalaea residents were later allowed to return, while Kihei residents were urged to remain at shelters, Maui County said.
Huge plumes of smoke rose above the fire Thursday, and the National Weather Service tweeted satellite video that showed the drifting smoke visible from space.
Victorino said some farm equipment and a few dilapidated wooden structures were destroyed.
"I ask the people in my county and throughout the state to pray that this fire has been at its peak and now will subside and we'll have some control over it early in the morning," Victorino said.
Three shelters operated by the department of parks and recreation and the Red Cross had more than 600 people staying there, the county of Maui said in a statement Thursday night. The county emergency operations center has also been activated.
The fire prompted the evacuation of the Maui Humane Society, and officials and volunteers moved the animals in crates to Maui High School, the county said in the statement.
Oprah Winfrey owns property in Maui and said in a tweet that she "immediately" granted access to a private road to county officials to help with the evacuations. She wrote that she was "hoping for the safety of all."
Hawaii Gov. David Ige thanked Winfrey. "A big mahalo to @Oprah for giving @mauicounty access to your private road for use to assist," he tweeted.