A flash flood watch remained in effect Tuesday across California, where the threat of dangerous mudslides and rivers of debris triggered thousands of mandatory evacuations in a state already devastated by wildfires.
The year's first major rainstorm is testing areas where scorched land has lost vegetation that could soak up the water. Parts of Southern California could get inundated with up to 6 inches of rain in just a few hours, reported NBC Los Angeles.
Forecasters say that is worrisome following a dry spell in which Los Angeles has only gotten .12 inches of rain since Oct. 1 instead of the average 4.75 inches and San Diego has seen just 0.9 inches instead of the average 3.5 inches.
"We've talked about the need for rain, but the problem is when you get this much at once, especially when it's been so dry … we could be looking at making up the average all in one big fat dose in over just a couple days span," said Weather Channel meteorologist Danielle Banks.
Light to moderate rain had already begun falling Monday afternoon over much of Santa Barbara, Ventura and Los Angeles counties, turning the evening commute into a hazard. Heavier rain was expected for Tuesday morning, said the National Weather Service office in Los Angeles.
Dangerous winds were also expected to move in.
The NWS said the heaviest rainfall was expected in Santa Barbara County from 10 p.m. to 7 a.m. PT, in Ventura County from midnight to 9 a.m. PT and in Los Angeles County from 2 a.m. to 11 a.m. PT.
Peak rainfall rates of half an inch and an inch an hour up to 1.5 inches an hour were possible.
Santa Barbara County officials issued evacuation orders beginning at noon Monday for communities below the burn areas of the Thomas, Whittier, Sherpa and Rey fires "due to an approaching winter storm."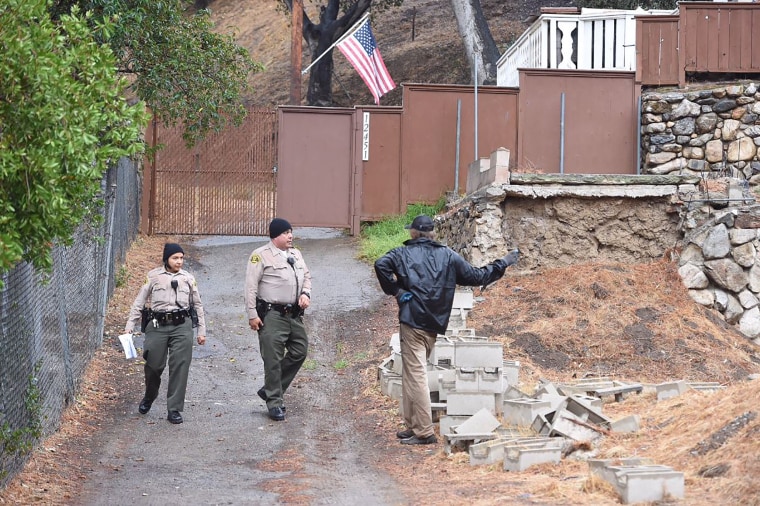 Mandatory evacuations were also underway Monday in parts of Los Angeles County, Kathryn Barger, a Los Angeles County supervisor, said on Twitter. Some residents in Ventura County were also forced to leave Monday.
Several inches of rain were expected in Ventura and Santa Barbara counties — areas that were ravaged by the Thomas Fire and other recent wildfires stoked by dry Santa Ana winds.
The Thomas Fire is the largest wildfire in California history, fire officials have said. The blaze, which has burned more than 280,000 acres since it broke out on Dec. 4, is blamed for at least two deaths.
The fire was about 92 percent contained as of Monday night, according to the joint local-state-federal incident management team.
"We're going from one natural hazard straight into another," Banks said.
Meanwhile, steady precipitation and high winds pounded Northern California on Monday, NBC Bay Area reported.
In San Francisco, almost 2 inches of rain fell through the afternoon, making it the wettest calendar day since Dec. 11, 2014, according to The Weather Channel.
A heavier band of rain was expected to move into the center of the state Monday night and then make its way south. A flash flood watch was in effect in Marin, Napa and Sonoma counties through 6 a.m. PT Tuesday, and forecasters warned of wind gusts of up to 60 mph.