A quarterback at a New Jersey high school died after sustaining an injury in a varsity football game, school officials said.
Evan Murray, a senior at Warren Hills Regional High School, died Friday night, according to a statement from Gary Bowen, interim superintendent of schools.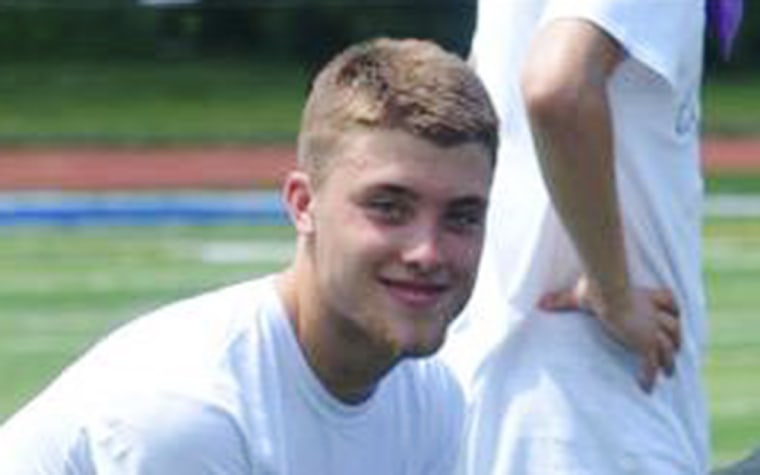 No details about his injury were immediately made public. According to a GoFundMe fundraising page set up for the Murray family, Evan was "hit in the back field and suffered a life taking injury."
"It looked like a normal tackle," classmate William Heerwagen, 17, who has played on various teams with Murray in the past but was watching the game Friday.
Murray was on the ground "for about a minute" and then he got up and walked off the field with the coaches, Heerwagen, a senior, said. When he got to the sidelines, "he kind of stumbled and then when I looked over, he was on the ground," he said.
"We thought at worse it was a concussion and that we'd see him Monday," Heerwagen said.
Murray was a bright student who "excelled in academics and in sports," and was a three-sport athlete, the fundraising page said. He served as varsity quarterback since sophomore year and was a varsity baseball pitcher and varsity basketball player.
More than $12,000 had been raised for his family as of early Saturday afternoon.
Murray's cousin, Danielle Killgore Hobson, told NBC News that Murray was "an amazing kid."
"Just a really, really good-hearted person," she said.
Murray's sudden death prompted an outpouring of support on social media, including from New Jersey Gov. Chris Christie, who tweeted, "On behalf of all the people of New Jersey, Mary Pat and I send our heartfelt thoughts and prayers to the Murray family on the loss of Evan."
The New York Jets also sent condolences to Evan's friends and family.
The tragedy occurred a week before a milestone event at Warren Hills Regional High School — Friday's Homecoming Game at which Murray was expected to be one of the members of the Homecoming Court, from which the king and queen are chosen, Heerwagen said.
Murray would have been escorted onto the field by his parents as part of the ceremony before the game against conference rivals Voorhees, he said.
Teammate Mark Formichelli called Evan a "true hometown hero" and "the face of the school."
"You'll be missed. You'll always be the leader of this team," he tweeted.